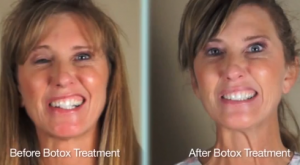 Botox is an effective treatment for improving facial symmetry and synkinesis in patients with facial paralysis or Bell's palsy. Botox has been generally performed in patients with long-term facial synkinesis with great results but recent studies indicate its efficacy in patients with acute facial paralysis or Bell's Palsy. As a facial paralysis and Botox specialist in Charlotte, NC, I commonly treat patients with patients with Bell's palsy with a variety of non-surgical methods.
Botox for Bell's Palsy
Bell's Palsy is a sudden loss of all movement of half of the face. While it has an excellent prognosis, it can significantly impact a patient's quality of life during the recovery phase. Bell's Palsy can cause:
Severe asymmetry of the face
Drooling
Inability to close one eye
Change in smile
Difficultly speaking
Unfortunately, many patients with acute facial paralysis brought on by Bell's palsy are not offered treatment options. Many physicians believe that treatment is unnecessary because patient's have a greater than 90% of complete recovery. Patients feel like they do not have options and must live with the condition and the associated aesthetic changes. I believe that the medical community is doing a disservice to patients with Bell's palsy by not offering treatments to approve their appearance during this difficult time. Botox is an effective way to help improve facial symmetry in patients with acute facial paralysis.
Botox is used to treat Bell's palsy by injecting the "good side" of the face to help improve facial symmetry.  You can imagine as you weaken muscles on the side opposite of the paralysis, it can improve symmetry of the face.
When a patient receives Botox for Bell's palsy facial paralysis, I will determine the proper amount required based on your individual condition and then carefully inject the Botox into the muscles on the non-paralyzed side of the face. The Botox will stop the transmission of neural signals to the muscle, causing it to relax.
One recent study demonstrated after one month after Botox injections, patients experienced an increase in facial symmetry, and a few months later, improved facial function as well.
Botox is a useful treatment for patients living with facial synkinesis who wish to improve their facial symmetry. It is also useful to those with acute Bell's palsy facial paralysis who are not candidates for other medical or surgical treatments.
Watch An Actual Patient Treated With Botox for Bell's Palsy in Charlotte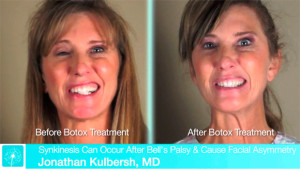 Botox for Bell's Palsy FAQ
Dealing with facial paralysis can be a difficult and overwhelming time, especially when trying to find the right treatment for your condition. As a Botox specialist in Charlotte, Dr. Jonathan Kulbersh is here to help you decide if Botox is the right treatment for your facial paralysis condition. He has answered some frequently asked questions for you below, but please contact Carolina Facial Plastics if you have any more questions.
Q: I thought Botox was for cosmetic purposes. How does it treat facial paralysis?
A: It is a common misconception that Botox is strictly for cosmetic purposes. We often think of it as a wrinkle relaxer, but Botox is indicated to treat many medical conditions. Botox is a neuromodulator that relaxes the muscle that is injected. In the case of facial paralysis, the active muscle on the non-paralysed side can be targeted so that they will relax and facial symmetry will improve.
Q: Why Go To Carolina Facial Plastics for Botox?
A: Dr. Kulbersh is a Beverly Hills-trained facial plastic surgeon who was trained by one of the best facial nerve surgeons in the country, Dr. Babak Azizzadeh. This prestigious training gives Dr. Kulbersh a unique ability when it comes to performing Botox on patients with acute facial paralysis secondary to Bell's Palsy. You couldn't be in better hands when seeking Botox treatment for facial paralysis in Charlotte.
A: Bell's palsy is the most common form of facial paralysis and is caused by the inflammation of the facial nerve. It is thought that this inflammation is caused by the activation of a virus, but the exact cause is still unknown. Bell's palsy causes sudden and complete to near complete paralysis of half of the face. It is important to seek medical attention immediately as urgent treatment with high dose of steroids and possibly an anti-viral medication can improve the prognosis.
Contact Carolina Facial Plastics for More Information on Botox for Bell's Palsy
If you or someone you love is living with acute facial paralysis brought on by Bell's palsy, contact Dr. Kulbersh to learn more about Botox injections. This non-invasive treatment can be a great treatment option for patients during this difficult time in their lives. Call (704) 842-3644 today to schedule a consultation.