Facial paralysis happens when nerves connected to the facial muscles are damaged for one reason or another. Depending on the severity of the damage, the paralysis can affect either the entire face or just a smaller portion.
Regardless of the cause or even the extent of the facial paralysis, it often raises both aesthetic and functional concerns. The paralyzed muscles may make the face look unbalanced or asymmetrical while they can also make chewing or swallowing—even breathing—difficult.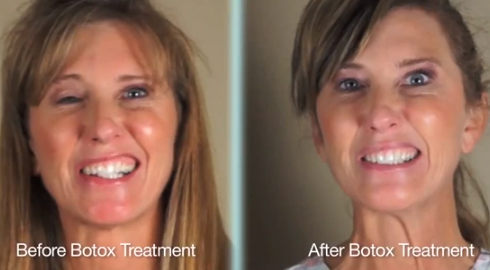 Two manifestations of facial paralysis are known as Bell's palsy and synkinesis, both of which significantly impact one's quality of life. At Carolina Facial Plastics in Charlotte, double board-certified facial plastic surgeon Dr. Jonathan Kulbersh and staff help patients who are suffering from Bell's palsy or synkinesis find relief with a non-surgical method. Many patients are surprised to learn that Botox has a consistent track record of addressing both facial disorders.
Understanding Bell's Palsy
Bell's palsy is a common type of facial paralysis or weakness on one side of the face but it should not be confused with general facial paralysis. A facial plastic surgeon with expert knowledge of facial nerves and facial muscles is able to understand the difference and, thus, make an accurate diagnosis.
General facial paralysis is often caused by a tumor, injury, or inflammation of a facial gland. Bell's palsy occurs when a facial nerve suddenly becomes inflamed and swells. This interrupts communication between it, the brain, and the facial muscles and negatively affects the ability to move one's facial muscles in familiar patterns when expressing emotions.
The cause of this nerve inflammation is not fully known, but it is widely held that a virus is responsible; consequently, the period between the onset of this facial disorder and having a full-fledged paralysis should be quick. Patients experience a quick restriction of or even full loss of movement, immediate swelling, and loss of feeling.
However, in many cases, just as suddenly as the condition can occur, the symptoms of Bell's palsy can resolve on their own within a matter of days, weeks, or months. It is crucial to seek a diagnosis at the first sign of facial paralysis in order to take the appropriate steps for managing or treating the condition.
Patients with Bell's Palsy are at Risk of Synkinesis
Risk factors for the disorder include genes, a prior occurrence of a palsy, a tumor, Lyme disease, and even pregnancy. With proper treatment, however, nearly 9 in 10 patients fully recover with their previous facial symmetry restored. About 1 in 10 experience partial recovery, as some paralysis or weakness still remains in the face.
Although the risk is quite small – it happens in less than 5% of patients – some will develop synkinesis, which is a loss of control of one's facial nerves and muscles.
What is Synkinesis?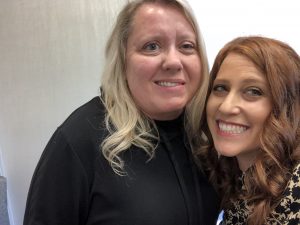 Sometimes, patients with Bell's palsy lose the ability to control the nerves and muscles in their face, although it can also happen as a result of injury to or surgery on the facial nerves. The facial muscles spasm involuntarily or move in patterns that, in context, are unusual. One example is an abnormal eye narrowing while smiling (the normal pattern is a widening of the eyes).
During synkinesis, the facial nerves to become mismatched with the wrong muscles. In other words, the nerves often get connected to muscles they don't normally connect to, leading to the spasms, abnormal movements, or a general tightness to the face.
Synkinesis is different from general facial paralysis. Patients with general facial paralysis don't display good facial tone or noticeable muscle movement. Patients with synkinesis have excellent tone and have limited face movements. For patients afflicted with this disorder, facial muscle patterns can still be displayed despite limited muscle movement. However, the patterns appear abnormal due to the unexpected simultaneous movements that accompany the facial expression.
In addition to facial muscle spasms, other symptoms include unintended cheek tightness, chin dimpling, neck pulling, and eye narrowing, which can be uncomfortable and embarrassing.
Learn more about facial paralysis at WebMD.com.
How Botox Injections Can Help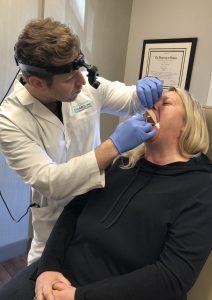 Botox injections are an effective Bell's palsy treatment alternative to facial nerve surgery. They can relax muscles that involuntary spasm and temporarily improve the symmetry and functions of the face.
Dr. Kulbersh had advanced facial nerve training with Dr. Azzizadeh in Beverly Hills on an innovative technique where Botox is injected inside of the mouth.
When Botox is injected into the paralyzed side of the face, the tight muscles relax, which can reduce the spastic, involuntary muscle movements that cause so much discomfort or embarrassment. If injected into the unaffected side of the face, it relaxes the dominant muscles to create better facial symmetry.
The aesthetic effect of Botox normally lasts 3-4 months, after which periodic follow-up visits to maintain the results should occur every 4-5 months.
The injections for Bell's palsy treatment and synkinesis can be even more effective when a regular regimen of neuromuscular physical therapy is also implemented. It helps increase the chances of fully restored facial muscle movement, more efficient recovery, and overall better aesthetic results.
Facial Dermal Fillers for the Treatment of Synkinesis
With synkinesis, patients can develop asymmetries including a deepened nasolabial fold or smile line and asymmetries in the cheek areas. It is common during synkinesis that one cheek appears high and the other cheek appears flat. At his Charlotte practice, Dr. Kulbersh commonly uses facial fillers such as Restylane or Juvéderm to help improve the symmetry of the smile lines in the cheek region.
Contact Carolina Facial Plastics to Learn More
Botox as a Bell's palsy treatment or for synkinesis can be a viable alternative to surgery for many patients. To find out more, please contact Carolina Facial Plastics online or by calling our practice in Charlotte at 704.842.3644.
Next, read Get Ready for Summer with These Facial Rejuvenation Treatments