Botox, Dysport and Xeomin injections are the most commonly performed non-surgical cosmetic procedures at Carolina Facial Plastics in Charlotte, NC.  Over time, our face develops fine lines and wrinkles that causes a fundamental change in the why light reflects off of the face.  Light is best reflected off of a smooth surface of the face.  When the face reflects light, the face looks awake, healthy and vibrant.  Fine lines and wrinkles on the face will prevent effective reflection of light from the face and will cause the face to appear tired or older.  One the best ways to improve the appearance of the face in a quick non surgical fashion is injections with Botox or Dysport.  In this webpage, I will go into detail about their qualities.  
How does Botox, Dysport and Xeomin work?
The fines lines and wrinkles on the face can be caused by:
 Repetitive Muscle Movement
Damage to the Skin from Sun Exposure
Botox, Dysport and Xeomin can be used to improve or ride the face of wrinkles caused by repetitive muscle movement such as the forehead or frown lines between the eyes.  Botox and Dyport work by temporarily blocking the nerve impulses that are responsible for the contraction of facial muscles.  When the muscles are not able to forcibly contract, the area will not be able to make the repetitive movement allowing the wrinkled skin time to "heal".  Over a short time, the area that once had multiple wrinkles and shadows will appear smooth and relaxed.  This will allow the face to more effectively reflect light.  This will greatly improve the overall appearance of the face.  When placed correctly, the injections will not affect the surrounding muscles, allowing you to maintain normal facial expressions.
What are the Common Areas are Treated by Botox, Dysport and Xeomin at our Southpark Office?
Botox, Dysport and Xeomin reduce the appearance of moderate to severe wrinkles on your face caused by muscle movement. Areas that can be treated include:
Crow's feet

"11 lines" or frown lines (set of lines between your brows)

Forehead creases

Bunny lines (lines on your nose)

Brow (non-surgical brow-lift)

Lift the corners of the mouth

Bands in neck

Excess wrinkles and dimples in chin
Dr. Kulbersh explains the use of Botox around the eyes: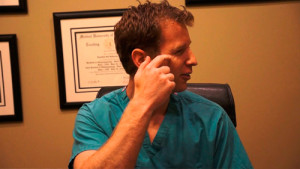 How is Botox injected?
A Botox, Dysport or Xeomin treatment takes just a few minutes. Dr. Kulbersh will use the smallest needle possible to inject the appropriate amount of Botox, which varies depending on the patient's specific needs. It is Dr. Kulbersh's goal to give you natural looking results, relaxing the muscles just enough to reduce your wrinkles without compromising normal facial expressions. The procedure is generally painless, though you might feel a little pinch. 
Is there Downtime after Injections with Botox?
After injections with Botox, there is no downtime.  Patients can resume their normal activities, but Dr. Kulbersh does recommend that patients do not vigoursily exercise the same day as their injections.
At What Age should Patients Start Botox or Dysport Injections?
We are commonly ask what is the best time to start Botox or Dysport injections in our Charlotte office.  Dr. Kulbersh recommends starting Dysport injections when the fine lines and wrinkles that are created from muscle movement are present on the resting and non-animated face.  Injections at this time will improve the light on the face and will prevent deepening of the lines.  Dr. Kulbersh does not believe age is not factor in the decision to start Botox injections.  For this reason, Dr. Kulbersh will recommend some patients to start Botox injections in their 20's while other patients may not need to start until their 40's or 50's
It is import to start Dysport injections when the lines are present at rest as an anti-aging preventative measure.  If the lines are not treated, it is likely they will become deeper overtime.  If the lines become too deep, they will not be effectively treated with Botox and patient will require other more aggressive treatments.
Dr. Kulbersh Explains the Difference Between Botox and Fillers: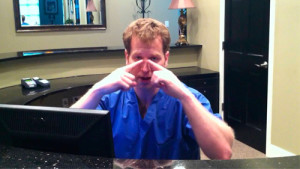 How long does it take for Botox to work?
Dyports works a little faster than Botox.  Dysport will begin work in 3-4 days while Botox start to work in 4-6 days.  Both injections will have full effect about 1 week after injection.
How long does Botox last?
Botox, Dysport and Xeomin generally last for about 3 months, and sometimes up to 6 months.  Dr. Kulbersh believes Dysport appears to last a little longer than Botox or Xeomin.  
What is the difference between Botox and Dysport?
Botox and Dysport are very similar. However, there are slight differences between the two, which an expert injector can use to your advantage. Depending on your goals, Dr. Kulbersh will determine which injectable should be used to achieve optimal results. Additionally, the results of Dysport might appear a little quicker and last longer than Botox.
How much does Botox Cost in Charlotte, North Carolina?
The cost of Botox injections varies from patient to patient depending on which areas are treated. The cost of Dysport and Xeomin are also unique to each patient. Call our Charlotte medical spa and schedule a consultation with Dr. Kulbersh to find out how much your personalized cost of Botox will be.
Is Botox Safe?
Botox, Dysport and Xeomin-like products have been used in medicine for over 30 years.  All have excellent safety records and are approved by the FDA.  As with any cosmetic treatment, there are minimal side effects of Botox that some patients may experience. Botox side effects can include localized pain, tenderness, inflammation, redness, itching, bruising and/or swelling.
Why Choose Dr. Kulbersh and Carolina Facial Plastics for Botox and Dyport Injections?
Injections to the facial region should be taken seriously.  The most import decision in undergoing Botox or Dysport is the choice of your injector.  Dr. Kulbersh believes the real skill behind facial injectables is the artistic eye and depth of knowledge of the injector.  Dr. Kulbersh is a Beverly Hills trained and double board certified facial plastic surgeon.  As a facial plastic surgeon, he has a great depth of knowledge of both the anatomy and function of the facial anatomy and musculature and understands the complexities of facial aging.    Some patients have a higher level of comfort having a specialize facial plastic surgeon performing their Botox and Dysport injections. To learn more about Botox, visit fda.gov
How Do I Schedule a Consultation with Carolina Facial Plastics?
Carolina Facial Plastics is located in the Southpark region in Charlotte, North Carolina.  To schedule a consultation or get more information about Botox, Dysport or Xeomin treatments call our office at (704) 842-3644 or fill out online form under the contact us tab.