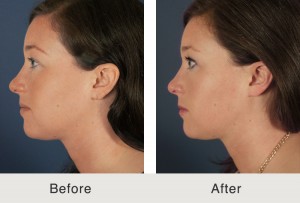 If you've a torn earlobe in Charlotte, before undergoing surgery to have it repaired, it is important to know what to expect the day of the surgery as well as the recovery process afterward. Please review the following information and contact Carolina Facial Plastics to discuss your specific circumstances and goals with an expert in facial plastic surgery, Dr. Jonathan Kulbersh.
THE DAY OF SURGERY:
Take all medications as prescribed
Do not eat anything the morning of surgery
AT HOME:
Rest with your head elevated on 2 – 3 pillows for 2 nights.
No strenuous activity or lifting anything heavier than a gallon of milk
No driving if on prescription pain medications
Clean the incision twice a day with 1/2 strength hydrogen peroxide.  (Mix in a cup 1/2
hydrogen peroxide and 1/2 distilled water.  Clean up scabs with q-tips)
Apply Bacitracin to incision 2 times a day for 3 days then apply Vaseline to incision 3 times a day.
FOLLOW-UP CARE:
Eat before coming to the office for the post-operative visits.
Keep area out of sunlight for 6 months
Keep the area as still as possible
Sutures will be removed about one week after surgery.
Do not get the area wet with tap water for 48 hours.  Takes baths for the first 48 hours.  (Limit talking, yawning, wide chewing).   You may then shower and wash the area with warm gentle soap.
Avoid trauma to the area.
Your area may be swollen and discolored.
HEALING CARE:
Numbness, swelling, tingling, itching, discoloration, bumpiness, hardness, crusting and tightness around the incision are normal complaints and should go away with full healing.
Full healing takes a number of months and a final check-up is advisable 6-12 months after surgery.
Schedule a Consultation for Earlobe Repair Today!
If you have any questions or concerns prior to or following your surgery, please contact our office at (704) 842-3644.