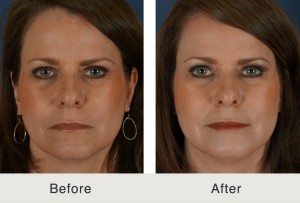 The use of fillers, such as Juvéderm, in the treatment of the aging face has exploded over the past 5 years in Charlotte. Restylane, Perlane, and Juvéderm are the most commonly used facial dermal fillers that lift and fill the face with great success. The newest filler to be approved was Juvéderm Voluma XC, and we are excited to be offer this injectable in Charlotte to enhance facial features.
Juvéderm Voluma is similar to Restylane, Perlane, and Juvéderm as they are all composed of the same active ingredient, hyaluronic acid, also known as HA. HA is a naturally occurring substance found in the human body and has been safely injected into areas of the face for many years. Over time, the fillers will slowly dissipate and patients may seek additional treatments anywhere from 6 months to 2 years later.
Juvéderm Voluma XC to be injected into the cheek region to correct volume loss related to age. By adding volume to the area with fillers, the cheek region will be lifted and smooth to improve facial harmony and a more youthful appearance. Juvéderm Voluma is unique from previous HA dermal fillers because it has a unique proprietary manufacturing process — Vycross Technology. Vycross technology improves the stability of the filler for longer lasting results. In recent clinical trials, up to 50% of patients maintained results two years after their initial treatment. The trial indicates that Juvéderm Voluma may be the longest lasting hyaluronic acid filler available on the market today.
Juvéderm Voluma is injected to other areas of the face including:
Chin
Jawline
Smile lines
Marionette Lines
There are a few key features of Juvéderm Voluma:
Immediate results
Reversible – It can be dissolved
Long lasting – Results lasting up to and longer than two years
Safe when injected by a properly trained professional
When undergoing facial fillers in Charlotte, the most important decision is not selecting the type of product, but selecting the right doctor who will be performing the injection. Injecting facial fillers is an art that requires medical training and skill. I use a needless injection technique with blunt tipped cannulas for my facial fillers. I believe this techniques is safer and decreases the chance of bruising. As a Beverly Hills trained double board certified facial plastic surgeon, I have top notch training and results and I perform injections in my practice, Carolina Facial Plastics located in Charlotte, North Carolina.
Juvéderm Voluma is not approved for patients that are pregnant, breast feeding, or have multiple severe allergies.
Carolina Facial Plastics is located in the Southpark region of Charlotte, North Carolina and is proud to offer Juvéderm Voluma. Please contact our office at (704) 842-3644 to see if you would be a candidate for Juvéderm Voluma.
Next, read about Perlane Dermal Fillers.