Hair loss is inevitable, but the onset or speed of hair loss will vary between patients. There are many options to restore and maintain the hair. One great option to stimulate hair growth is the injection of PRP into the areas of concern.
What is PRP?
PRP stands for platelet-rich plasma. Platelet-rich plasma is a type of regenerative medicine that is created from the patient's own blood. A small amount of blood is drawn from the patient, and it is then spun in a centrifuge. After the blood is spun, the platelets will be separated from the other blood products. This liquid, which is rich in platelets, is an ideal solution that can be used to stimulate hair growth.
The entire treatment takes approximately one hour.
How Platelet-Rich Plasma Treatments Stimulate Hair Growth
Platelets have many functions of the body including clotting and healing. Platelets do this by releasing a variety of growth hormones and cytokines. These same growth hormones can stimulate the hair to grow.
Injecting a concentrate of a patient's own platelets into an area of hair loss can stimulate the thickening of hair and the growth of new hair. As the platelets are injected into the hair, they will become activated and will release stimulating growth hormones to promote hair growth.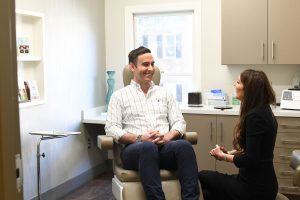 From current research, it's been shown that PRP treatments can improve hair density by approximately 15%. ncbi.nlm.nih.gov has a published study of PRP being effective for hair growth. It has also been shown to significantly stimulate the growth of fine thin hairs into thick terminal hairs. During a consultation, we will evaluate the hair. Patients that have fine, thin hairs would be excellent candidates for a PRP injection to stimulate the growth of new thick hair.
Remarkable Results, Exceptional Care 
Patients will begin to see improvement in the thickness and the number of hairs at 3 to 6 months. This result will last for approximately six months or more. At that time, the patient may undergo an additional treatment of PRP injections.
Candidates for PRP Hair Growth Injections in Charlotte
A: Patients with mild to moderate hair loss are great candidates for PRP injections. Additionally, patients that still have smaller and thin hairs that can be seen during evaluation are great candidates for PRP injections. Patients with more severe hair loss are less likely to be a good candidate for PRP but may be ideal for other hair maintenance and restoration options, such as a hair transplant.
Frequently Asked Questions
Q. How many treatments will a patient require?
A: Patients will typically require three treatment sessions approximately four weeks apart.
Q. Are PRP injections painful?
A: We take many precautions at Carolina Facial Plastics in Charlotte to prevent pain and discomfort during injections into the scalp. We use topical numbing medicines and also use medicines to numb the area that will be injected with PRP. Patients will experience mild discomfort, but it is well tolerated.
Q. What is the expected downtime for PRP injections?
A: PRP injections are not surgery and, therefore, a patient should expect minimal to no downtime. Patients may experience some soreness in the area that may require Tylenol for relief.
Additionally, it is always possible for patients to get minor swelling or bruising with an injection. This is uncommon but may occur.
Q. Can PRP injections be combined with other treatment modalities to maintain and restore the hair?
A: PRP injections are one treatment option to help patients restore and maintain their hair. We commonly combine PRP injections with other medical treatments including but not limited to Rogaine and Propecia. There are other topical treatments and low-level light therapies that we may combine with PRP for optimal results.
Q. Is PRP used during hair transplants at Carolina Facial Plastics in Charlotte?
A: During a hair transplant procedure at Carolina Facial Plastics, individual hair follicles are transplanted from one area of the scalp to another area of the scalp. After harvesting or removing the hair follicles, they are soaked in an iced PRP solution before implantation. After completion of the transplant, PRP is injected into the areas of the transplanted hair to improve graft survival and healing, and to stimulate the transplanted hair to grow faster.
In summary, the addition of PRP during a hair transplant procedure improves the results.
Choose Carolina Facial Plastics in Charlotte for PRP Injections
Carolina Facial Plastics is directed by double board-certified facial plastic surgeon Dr. Jonathan Kulbersh. The practice is solely focused on the aesthetic treatment of the face and hair. Our staff, Dr. Kulbersh, Heather Bryant PA-C, and Courtney Whitley, FNP-C  are dedicated to ensuring the patients have excellent results in hair growth while having a wonderful experience.
To see if you're a candidate for PRP injections at Carolina Facial Plastics by calling (704) 323-5090 or filling out the online consultation form to schedule a consultation.
Next, read Propecia for Hair Loss and Hair Maintenance.