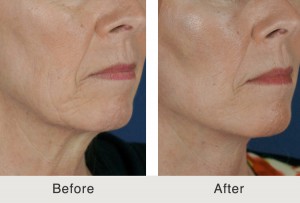 A defined, long neckline is both beautiful and elegant in men and women.  As we age, the neckline loses its angulation and definition.  For this reason, patients have requested procedures to improve the neckline since the early days of plastic surgery.  Since it is such a common request, the options for improvement of the neckline have exploded.  Many of these options are directed to patients to be an "easy fix", safe, and have little downtime.  One procedure that has advocated these advantages is the "thread lift".
What is a Thread Lift?
Generally speaking, a thread lift is using a permanent suture to attach to tissue and then to pull in a direction to lift or tighten.  It attaches to tissue by either using a barb or by using many passes of the suture around the area.
In my practice, I have never used or advocated the use of these sutures to lift the face or neckline.  All procedures have risks, and I believe that the surgeon performing the procedure must also have a plan to adequately handle any complication while limiting harm to the patient.
In the worst-case scenario, the permanent or bard suture would have to be removed because of an infection or a poor aesthetic result.  Removing these sutures can be extremely difficult and can place the patient at undue risk for further complications including nerve damage and poor aesthetic results.  This is one of my reasons for not using these sutures.  While there are some of these products still on the market, there are some that have been recalled by the FDA and have been made illegal to use for this reason.
In short, patients should do their research on surgical procedures.   Generally speaking, as the old saying goes, "If it is too good to be true…then there is likely something not right."
Contact Carolina Facial Plastics for More Information Today!
I believe in giving my patients who seek rejuvenation of the face and neck natural results while minimizing risk.  I think this article highlights that because a procedure is quick, does not mean it is safe and, conversely, a longer procedure is not necessarily a more risky procedure.
If you have questions about a facelift or neck lift in Charlotte, please call my office at (704) 842-3644.