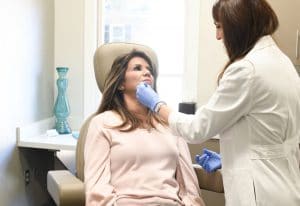 Skin laxity is a common byproduct of aging, leading to hollowing in the midface, loss of definition along the cheekbones, and the formation of jowls along the jawline. In the past, surgery was the only effective solution for restoring youthful firmness. However, new products on the market have created a nonsurgical option for patients in the early signs of aging who would like to stop skin laxity in its tracks without resorting to surgery right away. 
What is a PDO Thread Lift?
A thread lift is a nonsurgical way to lift and tighten skin to create a more youthful appearance. The procedure uses threads, placed into the tissue under the skin, to produce the lifting effect. The threads are anchored with barbs or cones, which hold the threads in place to create a long-lasting effect. 
The permanent suture used during a thread lift attaches to tissue and then gently pulls on the tissue to lift and tighten the skin. In the past, these treatments produced a poor aesthetic result at best and led to potentially serious complications like infection at worst. There were many cases where the sutures would need to be removed, which was not a simple process and placed the patient at additional risk of side effects like nerve damage. Some previous sutures have even been recalled by the FDA.
The good news is that thread lifts are back, featuring a safer, more effective option in lifting and firming the face without anesthesia or incisions. Improvements to the product and the process have led me to begin offering these treatments at Carolina Facial Plastics. 
Remarkable Rejuvenation Results
My board-certified nurse practitioner Courtney Whitley joins me in offering this procedure to patients who want to turn back the clock but are not ready for a surgical procedure. We have all undergone specialized training and have successfully performed many thread lift treatments at our comfortable, all-inclusive aesthetic destination in Charlotte. To learn more about how PDO threads can achieve facial rejuvenation, visit ncbi.nlm.nih.gov. 
How have Thread Lifts Improved? 
Thread lifts have evolved considerably since their introduction, offering a safer, more durable treatment with superior aesthetic results. We offer the barbed MINT threads at our Charlotte plastic surgery clinic, which have the highest quality and best lifting capabilities of all the threads available today. Barbed sutures also maintain position better than other threads, ensuring you can enjoy the results of your lift for 6-12 months. 
What are the Benefits of the New, Improved Thread Lift? 
The new thread lifts provide a quick, relatively painless treatment and fast results. The entire treatment takes about one hour to complete and most patients return to regular activities right away.
Specific benefits of a MINT thread lift include:
Instant, long-lasting results 

No incisions means no post-treatment scarring

Little to no downtime, making it easy to schedule your procedure 

Few risks associated with the procedure

Lifting for any area of the face, from the eyebrows to the neck

Skin tightening, wrinkle-smoothing, and jowl reduction in a single treatment
The threads used for this treatment are made of polydioxanone (PDO), a material that has been used in some types of surgery for many years. Once the threads are in place, they will slowly be absorbed by the body. This process triggers the body to produce more collagen, which can enhance your results naturally. 
Are there Other Options besides a Thread Lift? 
A thread lift can be performed alone or in combination with other treatments at our plastic surgery clinic. For example, we might perform the thread lift with RF microneedling or laser resurfacing so we can rejuvenate the skin as we tighten it. We can also add injectable treatments like Botox to smooth away remaining wrinkles that might linger after the thread lift is completed. In many cases, we can perform multiple treatments in a single session.
While a thread lift can be an effective way to address mild to moderate signs of aging, they are not a replacement for a surgical procedure when aging symptoms become more severe. At your consultation, we will assess you while discussing your concerns and goals in detail. If we don't think a thread lift will offer the best results, we will provide alternative options for you. A facelift or neck lift may be needed to address significant skin laxity. A brow lift can be used to raise a severely drooping brow and blepharoplasty (eyelid surgery) is the preferred method for treating aging around the eyes. 
Restore Your Youth At Our Plastic Surgery Clinic In Charlotte
A thread lift is one way to reverse signs of aging to produce a refreshed, more youthful appearance. At Carolina Facial Plastics, I offer a wide range of both surgical and nonsurgical treatments that allow me to customize your procedure to produce the best possible results for you. Find out more about your options by scheduling your consultation today at our Charlotte, North Carolina office.