As a facial plastic surgeon in Charlotte, I wanted to discuss some surprising facts about facelift surgery.  Let's not waste any time and get started.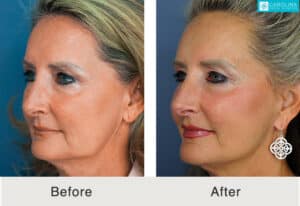 1. During a facelift, the part of the face that is lifted is the muscular layer
Patients commonly believe during a facelift, the skin is lifted.  If the lift was based solely on lifting the sagging skin, the lift would not last.  Skin is pliable and will stretch overtime.  For this reason, skin under tension will relax overtime to compensate for the tension.  For this reason, for all of my facelifts, I lift the muscle layer or SMAS layer.  This layer will not relax overtime allowing for long-term successful results.  After lifting the muscular layer, there will be excess skin that is removed.
2.  You can't lift a volume-depleted face
As we age, we lose volume in the face.  The volume we lose is both fat and bone.  If a face has lost significant volume, then lifting the face without adding the volume may not give the best result.  For this reason, I recommend facial fat grafting to restore lost volume during the time of surgery. Fat grafting is going to add volume to the depressed areas of the face.  As we age, the volume loss in the face contributes to an aging and older looking face.
3.  Incisions for a facelift are different for men and women
Incisions for facelifts are typically made near or around the ear.  These incisions are tailored for a patient's hairstyle or facial hair.  For females, the incisions are typically hidden just inside of the ear canal.  Since men have beards, there incisions are not hidden inside of the ear because this would bring the beard inside of the ear.  Two weeks after surgery, I have all of my patients use a scar cream, Biocorneum to assist with healing and prevent scarringfrom around the incision.
4. The younger the patient, the easier recovery
Younger patients typically undergo an easier recovery during a facelift procedure.  A face with less signs of aging will require a less aggressive procedure to provide the same result. The older the patient will typically mean the more work is required.
5.   Some of the Hollywood facelifts are not ideal results
Often times, my patients talk about Hollywood actors and actresses who have had bad work.  I would have to agree that I think some of the Hollywood stars have had too much and overdone work. My goal for my patients is to provide them with natural and conservative results. My patients will often say that their friends compliment them on how great they look, but they can't figure out what is different- this is my goal.  If Bruce Jenner's result was considered "good", then I would never recommend a facelift.
6.  There is no standard facelift
All faces are different.  For this reason, all facelift surgeries should be tailored to the individual's anatomy and goals.  As a facelift expert in Charlotte, there are infinite small changes that I do to individualize facelifts for each of my patients.  During a patients initial consult, I will spend about one hour with the patient tailoring the procedure to their desire.
7.  Facelifts are not painful
It is rare that I have a patient that complains of pain after surgery.  Patients might undergo pain for a few days following surgery, but will have pain medications that will help with the pain.  The most common sensation patients describe after surgery is a tight sensation in the neck.   Frankly, I believe this tight sensation is a positive sign that we got a good lift during the surgery.  The tight sensation will improve over time.
8.  Facelifts are only for those individuals that are wealthy
This is not true.  Patients of all backgrounds and resources can undergo facelifts.  There are many options available to help patients with the costs of surgery.  Care credit is one of the best options for patient financing (www.carecredit.com). Care credit offers a variety of interest and no interest payment plans.