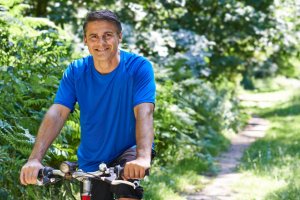 Compounded Finasteride "FinPlus" contains pharmacy-compounded Finasteride (1.25mg) PLUS a sophisticated blend of standardized, hair-healthy organic herbs and nutrients in a daily pill to stimulate hair growth.
What are the benefits of using Compounded Finasteride "FinPlus"?
Finasteride is the active ingredient in Propecia—the only oral FDA-approved prescription treatment for hair loss in men. Daily Finasteride has been shown to be beneficial to 90% of men experiencing male pattern hair loss.
"FinPlus" or Propecia?
Propecia is the brand name of Finasteride so they are essentially the same drug.  Propecia (Finasteride) blocks the hormone (DHT-dihydrotestosterone) that causes male pattern hair loss.  Propecia (Finasteride) works well in 90% of men with male pattern hair loss.  So why should you choose FinPlus? Along with containing 25% more of the pharmaceutical ingredient (Finasteride), we believe the compounded effect of a unique combination of organic, sustainably-sourced vitamins, designed to support healthy hair growth, healthy circulation, and decreased inflammation in the body will give patients a better result.  The vitamins added in FinPlus are:
Biotin – a water-soluble nutrient that supports healthy skin, hair, and nail function.
Saw Palmetto (Serenoa repens) – reported to have effects on DHT (dihydrotestosterone, a primary trigger for hereditary hair loss in men) and its activity in the body.
Astragalus – derived from pure Astragalus membranaceous root, activates telomerase which helps protect and/or restore telomere length, a key regulator of cellular aging, and stem cell function in the body. Telomere length and telomerase activity was the subject of Nobel Prize-winning research in the area of Medicine and Physiology.
When should I start Compounded Finasteride "FinPlus"?
As soon as patients notice hair loss, they have lost approximately 50% of their hair.  Once hair loss begins, it will not stop.  As long as the patient has no medical contraindications, we believe patients should start FinPlus when they start to notice hair loss. Important to note that women of childbearing age or men with a significant other that is a woman of childbearing age need to avoid Finasteride unless there is no risk of pregnancy.
What kind of results can I expect with Compounded Finasteride "FinPlus"?
FinPlus usually works within the first 90 days to measurably slow, stop, and reverse hair loss. The results will continue to improve the longer patients continue the treatment. Results will vary based on the amount and location of the current hair loss.
How do I take Compounded Finasteride "FinPlus"?
FinPlus is a simple pill that is taken once a day.
Should I expect to have side effects from "FinPlus"?
While the risk of side effects is always present, the vast majority of all Finasteride users do not report any side effects. 2% of men may experience unwanted effects that would resolve after stopping the medications.  Always notify your doctor if you think you are experiencing side effects from any medication. You can take comfort in knowing there are many ways to avoid side effects yet still maintain a strong hair growth regimen.
Can FinPlus be used with other hair growth treatments?
We believe patients using more than a single treatment modality to improve their quality of hair will have better results.  We commonly use FinPlus treatments in combination with topical medication (e.g., Formula 82M), Platelet Rich Plasma or Platelet Rich Fibrin Matrix in-office treatments, nutritional supplements such as Viviscal Pro and Viviscal Shampoo and Conditioner.
How can I receive a prescription for Compounded Finasteride "FinPlus"?
Compounded Finasteride "FinPlus" can only be prescribed to patients of Carolina Facial Plastics who have been evaluated by our team. To learn more about Finasteride, visit medlineplus.gov
Contact Us Today to Learn More About FinPlus for Hair Restoration
At Carolina Facial Plastics in Charlotte, we are dedicated solely to the treatment of the face and hair. During a consultation, you will have a full examination of your hair and get a full medical history to see if you're a good candidate to start finasteride/FinPlus to maintain the hair. To schedule a consultation, please contact us by filling out the online form.
Read more about Neograft™ next.