What are the expected benefits from exosome therapy?
For hair restoration:
It provides a natural and non-surgical treatment for hair rejuvenation. 
It prevents hair loss.
It treats inflammation in the scalp.
No blood draw is needed for treatment.
It produces long-lasting results.
It requires minimal to no downtime/recovery. 
It has a reduced risk of side effects and complications.


For skin rejuvenation:
It addresses signs of aging/loss of collagen and elasticity.
It treats acne scars, enlarged pores, and poor texture.
It is suitable for sensitive or reactive skin. 
It stimulates new collagen and elastin.
It helps improve pigmentation caused by sun damage.
It enhances the results of other cosmetic procedures.
It speeds up recovery time.
It significantly reduces post-treatment redness after lasers and RF microneedling.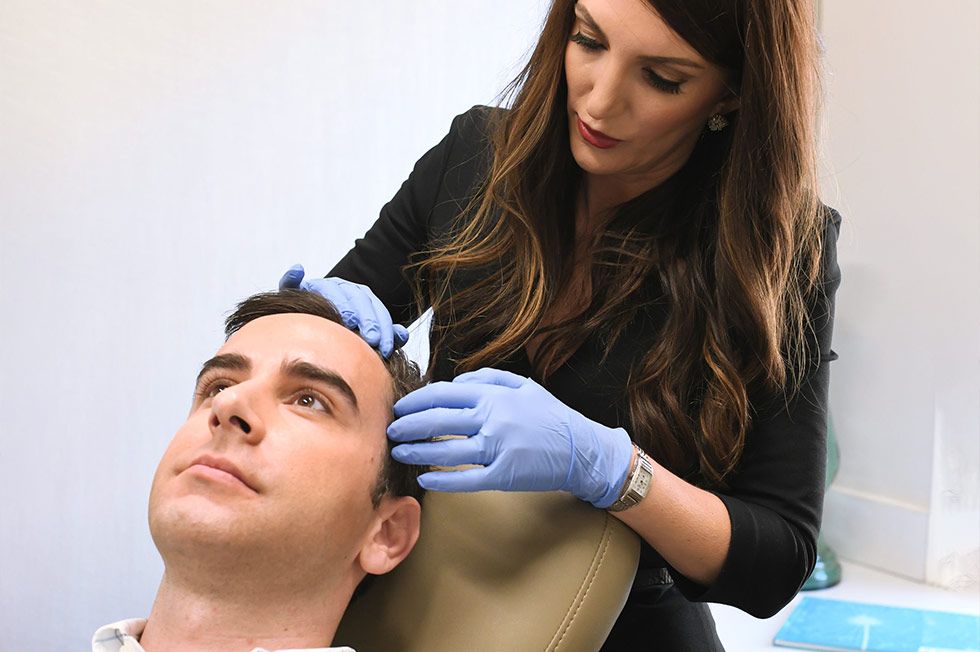 How do exosome treatments
work? 
Exosomes are derived from stem cells, which have been shown to have incredible rejuvenating properties for both skin and hair.
Exosomes promote vital cell-to-cell communication that can decline as we age. Since hair loss is often the result of aging hair follicles, exosomes can stimulate new hair follicle growth, helping treat and prevent hair loss.
When applied directly as a serum or used in a facial, exosomes can penetrate deep into the skin to provide a powerful boost to your body's natural healing processes, including tissue regeneration. This leads to smoother, firmer, and more youthful-looking skin, with fewer wrinkles, fine lines, and age spots. Additionally, when used following a laser or RF microneedling treatment, exosomes can dramatically increase the speed of skin recovery, leading to significantly reduced downtime.
What should I expect during my exosome therapy at Carolina Facial Plastics?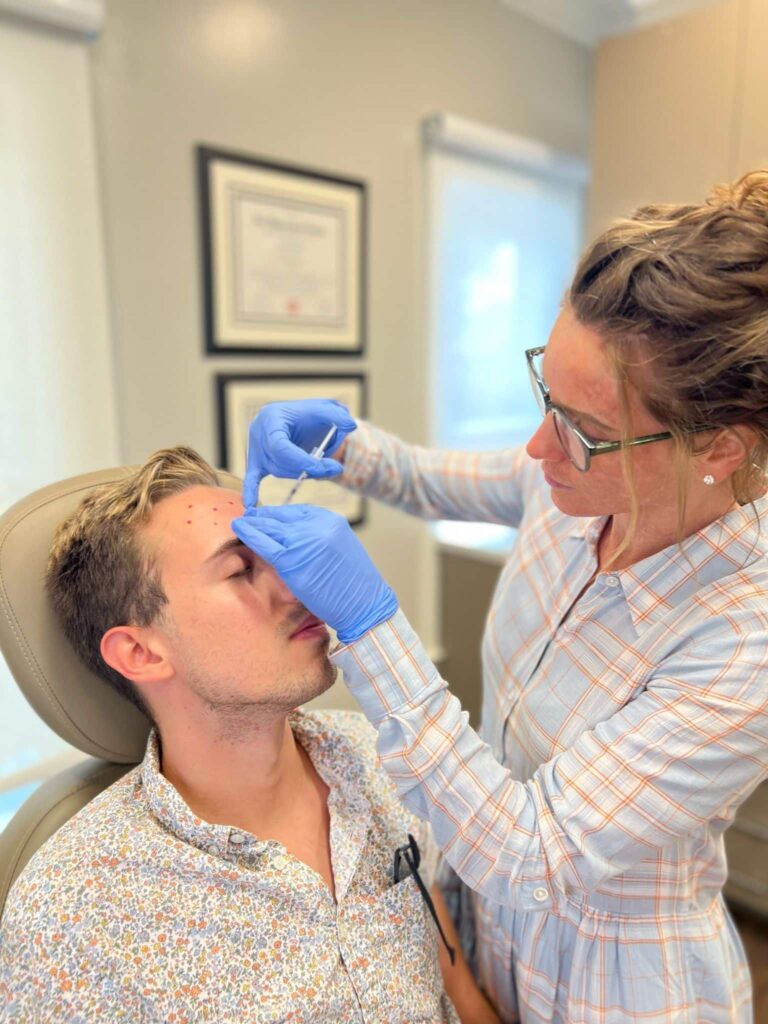 Heather Bryant, MPAS, PA-C, Amanda Piligian, PA-C, and Courtney Whitley, FNP-C, are expert injectors and perform all of our exosome therapy treatments. 
Exosome therapy for hair restoration takes about 30 minutes or less to perform. Your scalp will be numbed with a topical anesthetic. Heather, Amanda, or Courtney will infuse the exosomes into your scalp, focusing on areas with significant hair loss. There is minimal discomfort during an exosome hair regrowth session.
For skin rejuvenation, exosome therapy is about a 5-minute addition to your cosmetic procedure (e.g., laser treatment or microneedling). Exosome serum is applied topically to your skin before or after your procedure. Applying the serum after your laser or microneedling treatment reduces your healing time, and additionally, the deep channels produced by RF microneedling allow better penetration of exosomes into the deeper skin layers. This enhances cell communication which leads to better skin quality.
What should I expect after my exosome therapy? 
Since exosome hair treatment is a non-surgical procedure, there is minimal recovery required. You may wash your hair 24 hours post-treatment.
There may be some mild tenderness and swelling at the injection sites, but these are temporary and should resolve quickly. 
You can expect exosome therapy for hair loss to start taking effect in two to three months. Full results are typically seen six months after treatment. It is recommended to have a single treatment every six months for optimal results.
Exosome therapy for skin rejuvenation does not require downtime, apart from any recovery process associated with the cosmetic treatment that it is paired with (e.g., laser treatment, lip lift, or microneedling treatments). Most patients notice an immediate improvement after exosome therapy and glowing skin a few days after the treatment. Results continue with repeated treatments and develop within a few weeks to months. Three to five sessions are recommended for best results, which can last for up to one year, depending on how well you care for your skin.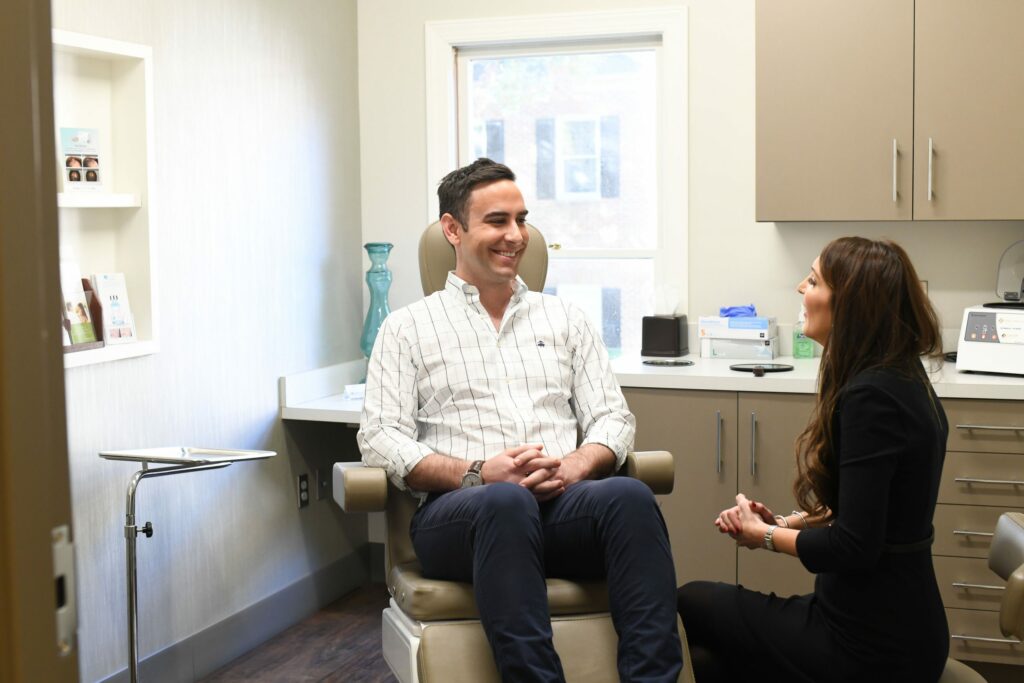 3 reasons to choose Carolina Facial Plastics for my exosome therapy
1. We have the training and experience to provide beautiful and natural-looking results.
All our providers are considered experts in their fields and bring a wealth of understanding of both anatomy and aesthetics to every treatment they perform.
2. We customize all treatments.
Treatments are tailored according to the patient's unique needs and goals.
3. We go above and beyond with patient care.
We provide our patients with the attention and care they deserve. During your private consultation, we carry out a comprehensive evaluation of your medical history and current hair/skin condition while listening to your concerns and goals. We do this to ensure you get the treatment you need to look and feel your best.