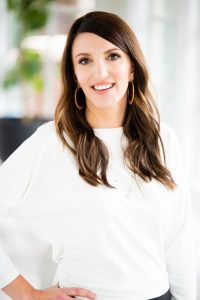 As a board-certified nurse practitioner, Courtney Whitley has 13 years of combined nursing and medical aesthetic experience. Since becoming a nurse practitioner, Courtney has devoted her practice entirely to the aesthetic field. She has extensive training and experience in cosmetic injectables and lasers and is a certified injector through Allergan and Galderma.
As an indispensable part of the aesthetic trifecta at Carolina Facial Plastics, Courtney works alongside double board-certified facial plastic surgeon, Dr. Jonathan Kulbersh, and medical aesthetician Terri Edson to bring a level of expertise that is unsurpassed in Charlotte.
Additionally, Courtney has been extensively trained by Dr. Kulbersh in a variety of aesthetic procedures. She has learned the most advanced techniques, including the needleless injection with blunt-tipped microcannulas. She has a keen eye and understands the art of facial injectables to create a natural, beautiful result for all her patients.
Courtney also runs our hair restoration program which she has developed a passion for.  Hair loss is a very sensitive topic and she loves helping patients who are going through this difficult time.
She is a native North Carolinian and was born and raised in Winston-Salem. She attended undergrad and graduate school at the University of North Carolina at Wilmington where she received her B.S.N. in 2007 and her M.S.N. in 2013. She has called Charlotte home since 2007.
Remarkable Results, Exceptional Care
Courtney is an experienced and enthusiastic nurse practitioner that has a passion for the aesthetic industry. She wants her patients to look and feel like the very best version of themselves. In order to assure her patients are receiving the very best care, she stays abreast of new technology, training, and research by regularly attending conferences and training throughout the country.
Courtney is a member of the American Association of Nurse Practitioners and the North Carolina Nurses Association.  When not at work, Courtney enjoys spending time with her husband, two daughters and their dog, exercising, reading, and all things outdoors.