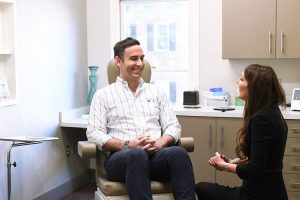 It is inevitable that during the aging process, everyone will develop some degree of hair loss. The timing and rate of the hair loss will be variable for each patient. Patients that experience early onset or rapid hair loss may experience a loss of confidence or self-esteem that can negatively impact their quality of life.
Remarkable Results, Exceptional Care 
At Carolina Facial Plastics, we are dedicated to providing patients with the highest level of care and multiple options to help maintain and restore their hair.
What Causes Hair Loss?
There are many causes of hair loss, and their treatments will differ depending on the cause. The most common cause of hair loss in men and women is androgenic alopecia, sometimes used interchangeably with male pattern baldness.
While causes can vary, most hair loss is secondary to genetic and hormone changes in the body. Other less likely causes of hair loss include:
Thyroid Disease
Medications
Child Birth
Iron Deficiency
High Fever
Anesthesia
Stress
Dermatological Conditions
Hair loss is not caused by wearing a hat, frequent shampooing, clogged hair follicles, or poor circulation.
Is it Androgenic Alopecia or Male Pattern Baldness?
Male pattern baldness is the most common form of hair loss. Androgenic alopecia can occur in both men and women. This type of hair loss is well understood and characterized by its consistent pattern of hair loss. This hair loss is caused by the hormone dihydrotestosterone. When certain hair follicles are exposed to dihydrotestosterone it will cause the hairs to progressively thin and disappear over time. The hair follicles that are sensitive to dihydrotestosterone are in 3 areas of the male scalp:
The frontal hairline or widow's peak area
The crown or vertex – otherwise known as the bald spot on the top of the head
The hair between the frontal hairline and the crown of the head
The remaining hair on the male head is not affected by dihydrotestosterone. For this reason, the hair on the back and the sides of the head will remain as a patient becomes bald.
Androgenic alopecia hair loss pattern is different in women. The hairs that are typically lost in women start with the hairs on the top of the head, slowly spreading out to the remainder of the hair. The one area of hair that is not lost in this type of hair loss is the frontal hairline region. Therefore, women with androgenic alopecia typically experience progressive thinning of the hair except for the frontal hairline. Women with androgenic alopecia will not develop a receding hairline or a widow's peak.
Treatment Options for Androgenic Alopecia Hair Loss in Charlotte
A: The treatment options for hair loss at Carolina Facial Plastics will focus both on maintaining and restoring the hair.
Our treatments for hair loss include:
Rogaine/Minoxidil (topical medication)
Propecia or Finasteride/FinPlus (a medical pill)
Low-level light therapy (a device)
Supplements (vitamin pill)
PRFM (Platelet-Rich Fibrin Matrix)
Patients should understand that not all topical medications, pills, injections, and low-level light therapy for the treatment of hair loss are the same. At our center, we use a unique Rogaine and Propecia medication. We have these medications combined with other medications to enhance their efficacy, which will result in a better result than using generic medications.
Frequently Asked Questions
Q. Will hair loss continue or will it stop?
A: Unfortunately, once hair loss begins, it will progress over time. The rate of progression can be anticipated by hair loss rate and by the hair loss history of the patient's family.
Q. Is hair loss genetically inherited from the mother or father's side of the family?
A: Hair loss can be genetically inherited from both mothers and fathers. If patients have hair loss in both their mother's and father's side of the family, they would be more likely to have more rapid and severe hair loss than a patient that only has hair loss in one parent. These are important details for hair loss experts to be aware of when planning a patient's long-term strategy to maintain or restore the hair.
Q. How many hairs does the average person have on the head?
A: The average amount of hair on the head will depend on the color of the hair. The number of strands of hair on the head on average by color is:
Blonde – 140,000
Brown – 110,000
Black – 108,000
Red – 90,000
Normal hair density is defined as 300 to 400 hairs/cm squared. A 25% loss of hair density is the definition of hair loss.
Q. How much hair has someone lost when they begin to see thinning or loss of hair?
A: When patients can see or appreciate hair loss, it means that the patient has lost approximately 50% of their hair.
Q. How much hair does the average person lose in a day?
A: The average hair loss on a daily basis will be between 100 and 200 strands of hair.
Q. How fast does hair grow?
A: Hair rate growth will differ based on the patient's ethnicity. Asians typically have the fastest-growing hair, while African-Americans will have the slowest-growing hair. Other ethnicities will fall between these two cohorts. On average, hair will grow approximately 1cm a month.
Q. How does a patient choose or know what the best treatment options will be in their situation?
A: This question will be clearly answered during a consultation at Carolina Facial Plastics in Charlotte. There are a few important points that patients should understand before deciding which treatment is going to be best for them.
A vital piece of information that must be obtained is the status of the hair follicle. If the patient still has the hair follicle present, then he/she will be a great candidate to use medical treatments to stimulate the growth of new and thicker hair.
All medical treatments offered at Carolina Facial Plastics are effective in stimulating the growth of new and thicker hairs. There is both an art and science that we use to direct patients on the best medical treatment options for their individual situations.
Q. Why are medical treatments for hair loss essential for improving hair growth for our patients?
A:  It is inevitable that once hair loss begins, it will not stop. The only way patients will hold on to their remaining hair and prevent the progression of hair loss is to use medical treatments. The treatment recommendations may change over time based on a patient's response to treatment and the patient's lifestyle. For this reason, we will regularly see all of our patients undergoing our hair program to monitor their progress.
Why choose Carolina Facial Plastics in Charlotte for your hair maintenance and restoration treatments?
Carolina Facial Plastics in Charlotte was founded and created by Beverly Hills-trained double board-certified facial plastic surgeon Dr. Jonathan Kulbersh. Carolina Facial Plastics is the premier facial plastic surgery practice that only focuses on aesthetic treatments of the face and hair region. Dr. Kulbersh has learned from some of the best surgeons and centers in the country. Our team has extensively worked to design a center that will create both great results for hair growth and an exceptional experience for our patients. Contact us today!