Revision Rhinoplasty in Charlotte, NC Overview
Length: Varies from 1.5 to 3 hours
In/Outpatient: Outpatient
Side Effects: Patients may experience swelling, bruising around the eyes and nose, and slight bleeding and stuffiness when breathing through the nose.
Risks: Anytime a patient has surgery, there is a risk of bleeding, infection, scarring, or side effects from anesthesia.
Recovery: Most patients return to work or school one week after a revision rhinoplasty. Some patients choose to take two weeks off. Patients are encouraged to start walking and doing light exercise two weeks after surgery. Full exercise can start 4-6 weeks after surgery.
Duration of Results: Permanent
Revision Rhinoplasty Before and After Photos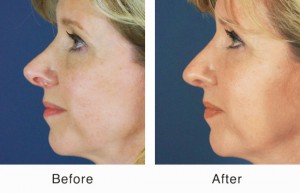 Revision Rhinoplasty Testimonial
"Dr. Kulbersh is a kind soul and a highly skilled surgeon! Three prior rhinoplasties (different surgeons) had left me looking botched ..and crushingly self-conscious about it. Along with a neck lift, Dr. Kulbersh artfully performed a few non-invasive revisions to my nose which made a major improvement! I'm very happy with the results!"
-veganfood321, RealSelf
Video
Frequently asked questions