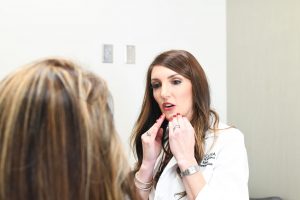 Aging is a natural part of life, but the signs of aging in your face and neck are not something you have to live with. The sagging that often appears along the jawline, chin, and neck as you age may not only make you appear older than you feel, but it can also cause you to appear overweight and tired. 
At Carolina Facial Plastics in Charlotte, NC, my team and I are 100% focused on cosmetic treatments for the face. We work to refresh your facial features so you can look and feel your best. We offer surgical and non-surgical options for tightening and lifting the skin along your jawline. We will customize a treatment plan for your specific needs and goals, whether you're ready to commit to surgery or want to try less invasive procedures first. 
What Sculpting Your Jawline Can Achieve
Every person's facial features and proportions are different, and what looks best on one person may not look right for another. We consider the uniqueness of each face that enters our office and offer options that fit the individual. Many women come seeking a jawline that's shaped like a heart or "V," where the head elegantly tapers off into the jawline. This shape gives most women a look that balances out their other facial features. Sharp, defined jawlines resonate with health, fitness, and youth, so a beautifully-contoured jawline at any age can help express a more vibrant and youthful you.
Ways You Can Sculpt Your Jawline
At our Charlotte, North Carolina office, we use the most modern techniques and offer a comprehensive menu of surgical and nonsurgical aesthetic treatments. As a double board-certified facial plastic surgeon, I and my team of cosmetic experts, which includes board-certified physician assistant Heather Bryant and board-certified nurse practitioner Courtney Whitley, can help you reach your facial cosmetic goals with the following jaw-contouring procedures:
Dermal Fillers
Dermal fillers may reshape your jawline by restoring volume, minimizing lines and wrinkles, and augmenting facial features. If you're seeing early howling or have weak bone structure along the jawline then dermal fillers might be what you need to achieve your goals. With expert injectors Heather Bryant, PA-C and Courtney Whitley, FNP-C, we offer products like Restylane® and Juvéderm® to lift, sculpt, and define your facial contours in less than an hour.
Our approach to facial dermal fillers includes analyzing your facial proportions and then using fillers to balance the interaction of light on your face. In this way, my team can subtly contour your jawline to create an elegant and defined jawline. 
Reasons to choose dermal fillers:
Safe and effective

Temporary approach to jawline augmentation for those unsure about making a more permanent change

Can offer a range of definition, from dramatic to subtle

No required downtime

Immediate, natural-looking results

Lasts between 6-18 months, depending on product and facial area
To learn more about dermal fillers, visit ncbi.nlm.nih.gov
Neuromodulators
Your face and jaw might need some subtle slimming to reveal a sculpted line. If that's the case, neuromodulators like Botox® and Dysport® might be your best option. We can inject these neuromodulators directly into your masseter muscle, which is the "chewing" muscle around your jawline. When this muscle relaxes, it can slim your jawline to achieve a more V-like contour.
Reasons to choose Botox or Dysport:
Quick procedure (around 15 minutes in most cases)

No required downtime

Visible results within a few days or a week, with full results evident within about two weeks

Natural-looking outcome

Results that last between 2-6 months
Profound RF
If fillers don't last as long as you'd like, Profound RF might be a better treatment option for you. Profound RF can last several years. This device features single-use microneedling cartridges, which create micro-injuries to stimulate a wound-healing response. Your body responds by producing collagen, growing smoother, tighter, firmer, and more youthful-looking skin.
Reasons to choose Profound RF:
Significantly improves mild to moderate skin laxity in neck and jaw

Comprehensively lifts and tightens skin

Reduces the appearance of wrinkles on the face and neck

Requires minimal downtime

Improvements can continue up to 6 months after treatment as collagen continues to rejuvenate the skin, and results can last up to 5 years

Gives about 1/3 the lifting power of a

surgical facelift
Cutera Titan
If the previous options are too short-term or if needles make you nervous, the Cutera Titan device, which uses light energy, could be just right for you. I offer the Cutera Titan to those not quite ready for a surgical procedure but who want to address skin laxity and sagging. This device heats the dermis below your skin's surface to stimulate new collagen production. 
Many skin tightening devices are painful, but the Cutera Titan is comfortable enough for most patients without the need for topical anesthesia. If you would like medication or numbing cream, we will be happy to provide it.
Reasons to choose Cutera Titan:
Ideal for those who want to see significant rejuvenation but want a quick procedure

Effectively treats all skin types

No needles are used

Minimal discomfort and downtime

Some immediate results, with full results visible after 3-6 months
Facial Liposuction
When stubborn fat is interfering with your profile, facial liposuction could be your best choice for long-lasting results. Facial liposuction may not only remove excess fat under the chin but also sculpt your jawline to the shape you desire. I employ the most advanced liposculpture techniques to provide you with the best results possible. The thin cannula I use allows me to artistically sculpt any area of the face and results in less downtime and scarring. 
Reasons to choose facial liposuction:
You may appear as if you've dropped a few pounds

Most people only need one treatment for optimal results

Most patients are permitted to resume normal activities in 14 days

Patients experience minimal side effects (swelling or bruising)

Results are usually visible within 6 weeks, with full results visible within 6-12 months

Results will last years or even a lifetime since the fat cells are removed
Mini Facelift
If you are ready for a surgical solution to sculpting your jawline, but you're not as ready for a long period of recovery, a mini facelift may be the sculpting technique that's right for you. A mini facelift can lift and tighten sagging skin on the midface to reveal a smoother and more youthful you. I typically offer local anesthesia, so this procedure is outpatient, but you may request general anesthesia if you prefer.
By focusing on the lower half of the face, the procedure can also help correct sagging skin around the neck and jawline. Mini facelifts can angulate your jawline, remove jowls, tighten skin, and trim redundant skin. Postoperative bruising and swelling are minimal because the muscle layer is tightened, not dissected. While a mini facelift may accomplish many of the goals of a traditional full facelift, when the drooping of the neck and jowl skin is severe, a full facelift may be more beneficial.
Reasons to choose a mini facelift:
Ideal for those able to accommodate only a short recovery time, between 5 to 7 days

Beneficial for those in their 40s and 60s who are experiencing mild skin inelasticity along the neck and jaw

An effective follow-up solution for patients who previously had full facelifts but desire additional rejuvenation

Provides long-term results of 8-10 years
Face Lift
A facelift is the most effective and long-term jawline contouring procedure available. If you're ready for a complete transformation of your severely sagging skin, you might be ready for a facelift. A facelift involves a camouflaged incision along your hairline and behind your ears, followed by the tightening of tissues and your facial muscles. Patients often combine this procedure with a neck lift to create further definition in the jawline and neck. At Carolina Facial Plastics, patients will experience our Fairview Surgical Suites and Fairview Recovery Retreat, both private, highly-sanitary, and comfortable centers for you to receive quality surgical and recovery care. 
Reasons to choose a facelift:
Provides dramatic results

Results last up to 10 years or more

Ideal for those in their 40s or older who have serious signs of aging in the face and neck
Schedule Your Jawline Sculpting Consultation Today
Do you want to achieve the sculpted jawline you've been desiring? To learn more, contact my Charlotte, NC office or call (704) 842-3644 to request a consultation.