Types of Non-Surgical Facelifts We Offer:
Dermal fillers – injectables that restore volume to achieve smooth skin. They fill in static wrinkles, plump up hollow areas, and contour the skin. 
Botox® – injectables that block nerve signals that control selected facial muscles. When these muscles relax, lines and wrinkles soften, and the skin achieves a smoother-looking appearance. 
Virtue RF – combines microneedling with radiofrequency (RF) energy for skin renewal. The body's natural healing response and new collagen formation give the skin a youthful and rejuvenated appearance.
CoolPeel – provides the benefits of traditional CO2 resurfacing without damaging the skin. The gentle treatment targets the superficial layer of skin tissue to remove damaged skin and reveal the younger, healthier-looking layer beneath.
Ultimate Duo – combines CoolPeel laser with Virtue RF microneedling to produce comprehensive improvements in fewer treatment sessions.
Sylfirm X – merges traditional microneedling with the power of repeated, ultra-short pulses of radiofrequency energy for remarkable collagen and elastin stimulation.
Why Choose Carolina Facial Plastics for Your Non-Surgical Facelift in Charlotte, NC?
We are solely focused on the treatments of the face and neck, and our dedication and experience allow us to give our patients the best results while minimizing downtime.

All our providers have extensive training and experience with the aesthetics of the face and neck and are considered experts in their fields.

We understand each patient's unique needs and create personal treatment plans for them.

Heather Bryant, MPAS, PA-C

, and

Amanda Piligian, PA-C

, offer patients more than 25 years of combined aesthetics experience for unmatched results.

We take pride in maintaining state-of-the-art facilities equipped with the latest technology and advanced techniques. Our commitment to staying at the forefront of the industry ensures that you receive the most innovative and effective non-surgical facelift treatments available in Charlotte, NC. Your comfort, safety, and satisfaction are our top priorities, and our modern facilities reflect our dedication to providing the highest level of care.
Non-Surgical Facelift at Carolina Facial Plastics
At Carolina Facial Plastics, we are committed to helping those who desire a non-surgical approach to skin rejuvenation achieve the best results possible. Choosing us for your non-surgical facelift will allow you to: 
Undergo your facial treatments in the privacy, safety, and comfort of our fully accredited

Fairview Surgical Suites

if you choose to move forward with a surgical facelift in the future.

Receive comprehensive skin rejuvenation treatments that are customized to your precise needs and goals.

Achieve beautiful and natural-looking results with minimal downtime and risk.
Your Non-Surgical Facelift Experience
Your Consultation
Courtney Whitley, FNC-P, Heather Bryant, MPAS, PA-C, and Amanda Piligian, PA-C, all perform our skin rejuvenation treatments.
During your consultation, they will inquire about your medical and treatment history. Together, you will discuss concerns, goals, and expectations, helping them customize the best procedure plan for you.
They will explain how a device or injectable treatment works, discuss benefits and possible risks, and provide recommendations on how to prepare for a treatment.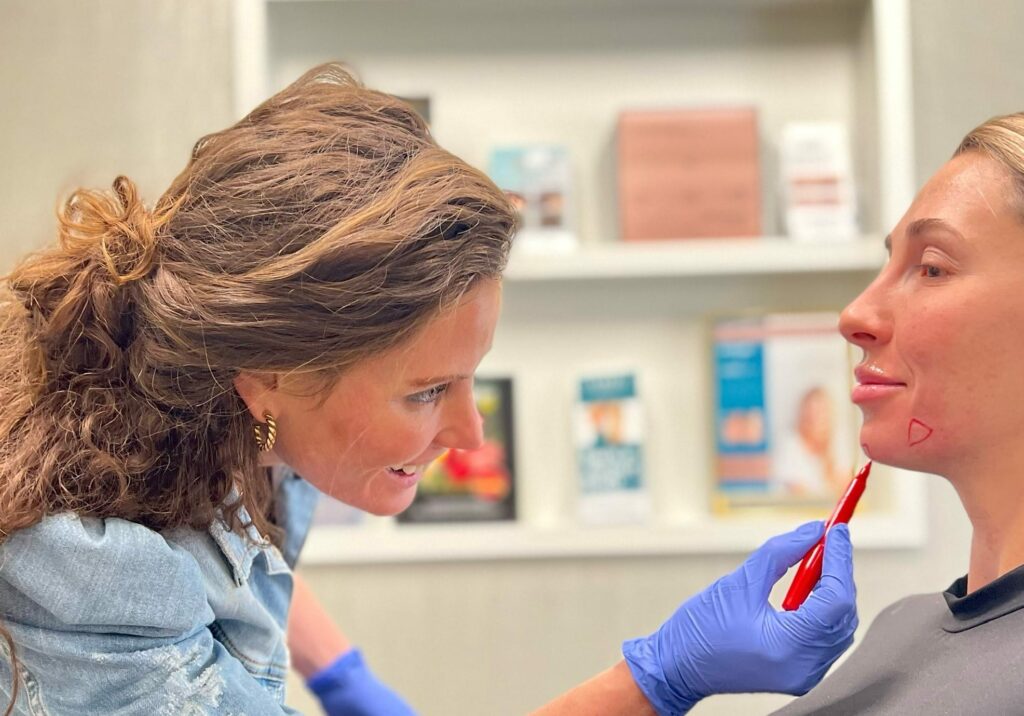 Your Procedure
Step 1: Virtue RF Treatment
The non-surgical facelift begins with the Ultimate Duo combination procedure, starting with the Virtue RF treatment. We will apply a numbing cream 30-45 minutes before treatment. You may feel slight pressure from the handpiece, especially on bony areas of the face.
Step 2: Post-Treatment Mask
You may have some redness after the procedure, but the post-treatment mask, infused with antioxidants, vitamins, moisturizers, and anti-inflammatory properties, should soothe the skin and reduce side effects. A full-face treatment will take approximately 20 minutes to perform, depending on the treatment area's size and the overall skin condition.
Step 3: CoolPeel Treatment
For the CoolPeel treatment, a handheld device delivers short pulses of energy to the treatment area, creating a controlled injury with less heat buildup in the skin. The CoolPeel takes about 15-20 minutes to perform on the face.
Step 4: Botox and Dermal Filler Injections
Next, we will administer Botox and dermal filler injections, which typically take just a few minutes to complete. We use the "needleless" technique with blunt-tipped microcannulas to inject small amounts of Botox and filler into each of the targeted areas around your nose, mouth, cheeks, and jawline. Once your treatment is completed, you may resume your regular activities.