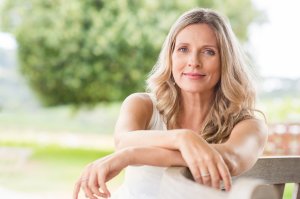 What is a mini facelift?
A mini facelift is a minimally invasive surgical procedure that's less aggressive than a traditional facelift (rhytidectomy) or a neck lift with platysmaplasty. A mini facelift might be your best choice if you have early signs of skin sagging, such as slight jowls and just a touch of looseness in your neck and jawline.
Mini facelifts are known by a variety of names, which vary by doctor and marketing strategy. You may also hear mini facelifts referred to as:
Awake Mini Lift

Micro lift

Lifestyle lift

Feather lift

S lift
Dr. Kulbersh prefers to call mini facelifts "Mini Lifts".
Each doctor also has his or her own preferred techniques and steps for performing a mini lift. However, what a practitioner calls a Mini Lift isn't as important as finding the absolute best facial plastic surgeon to perform your procedure and make the lasting improvements you want. At Carolina Facial Plastics, not only are we committed to providing you outstanding results from your Mini Lift, but we are the only boutique facility in Charlotte to have our own recovery center and operating room, making the whole process simple and worry-free.
Are You a Candidate for a Mini Facelift?
What happens when I get a mini lift at Carolina Facial Plastics?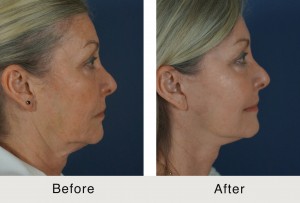 When you consult with Dr. Kulbersh, he listens to your goals and carefully examines your skin quality, level of facial volume loss, muscle tone, and bone structure. If he recommends a mini lift, he'll tailor the exact steps of the operation to meet your individual needs as well as improve the balance and proportion of your face. The end result will honor your unique beauty while restoring a youthful vitality.
Dr. Kulbersh always chooses the least invasive way of obtaining the most dramatic improvement. His goals in a mini lift are to:
Angulate your jawline

Remove jowls

Tighten skin

Trim redundant skin  
Are mini lifts the same thing as skin-only lifts?
Skin-only lifts provide minimal improvement and don't last for the long term.  Dr. Kulbersh never performs a skin-only lift, and doesn't recommend thread lifts, either, for the same reasons.
What sets a mini lift at Carolina Facial Plastics apart from other practitioners?
During a mini lift at Carolina Facial Plastics, Dr. Kulbersh lifts and tightens your underlying facial muscles in two directions for the most natural rejuvenation. He uses the repositioned muscle as the anchor for your lift. The muscle supports your skin so that you look refreshed, energized, and youthful, but never "done."   
Dr. Kulbersh's mini lifts last for five to eight years on average. However, some enjoy longer-lasting results, particularly when patients continue to improve their skin with regular chemical peels, laser treatments, and medical-grade skincare.
How can I tell if a mini lift is right for me?
When you consult with Dr. Kulbersh, he helps you choose the best procedure that matches your goals and your stage of aging. Women and men from their 40s to their 70s could all be candidates for mini lifts, depending on how lax or tight their skin is.
Because mini lifts are meant to remedy the signs of early aging, they're not the right choice for you if you have:
Turkey neck

Large platysmal bands

Heavy jowls

A large double chin

Fatty neck
These more advanced signs of aging are better treated with a full facelift and neck lift, including platysmaplasty to tighten the neck muscles.
Do I need general anesthesia for a mini lift?
You don't need general anesthesia for a mini lift, but you can be asleep if you choose to be. Most women and men opt for a light anesthesia that allows them to stay awake — but relaxed and pain-free — during their mini lift.
If you choose to remain awake, Dr. Kulbersh gives you oral medication before your mini lift to relax you. He also injects numbing medications into the treatment area so you don't feel a thing. You can have your mini lift at Carolina Facial Plastics or at the nearby state-of-the-art Fairview Surgical Suites.
How long does it take to recover from a mini lift?
One advantage to a mini lift is that the recovery time is much shorter than that for a full facelift. You need to wear a light wrap on your face for about a week.
You'll feel almost normal after your mini lift, but be sure to remember that your face still needs to heal!  Take a week off from work and other taxing activities.
You're also welcome to spend part of your recovery at the Fairview Recovery Suites in Charlotte, where Dr. Kulbersh is the medical director. Fairview Recovery Retreat provides you with comprehensive post-surgery care in a luxurious 5-star hotel setting.
After one week, Dr. Kulbersh removes your sutures. You're now free to go out in public and even put on a little makeup. You can hide your incisions by wearing your hair down. After two weeks, you're completely healed and ready to go back to your normal life.
Visit medlineplus.gov to learn more about mini lift and other cosmetic procedures.
To schedule a consultation call
(704) 842-3644
or fill out the online contact form on this website.
Dr. Kulbersh is the medical director of Fairview Surgical Suites and Fairview Recovery Retreat in Charlotte, which are designed to provide patients with exclusive, state-of-the-art surgical treatment followed by comprehensive post-surgery care in a luxurious 5-star hotel setting.
Schedule your mini-lift procedure and recovery at Fairview Surgical Suites and Fairview Recovery Retreat today.
Next, read about Neck Lift.