Mini Facelift in Charlotte Overview
Treats: Early signs of aging like jowl formation and mild to moderate skin laxity
Length: Varies from 1.5 to 3 hours
Anesthesia: Awake or general
In/Outpatient: Outpatient
Side Effects: Patients may experience swelling, bruising, and possible numbness around the incision site.
Risks: Whenever a patient has any kind of surgery, there is a risk of bleeding, infection, scarring, or side effects from anesthesia.
Recovery: While traditional facelift patients may need 2 weeks or more to recover from a facelift, mini facelifts only require 3-5 days. In fact, mini-lifts are often called "weekend facelifts" because patients can undergo the procedure on Friday and get back to normal activities on Monday.
Duration of Results: 5-8 years
Mini Facelift Before and After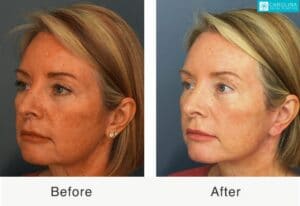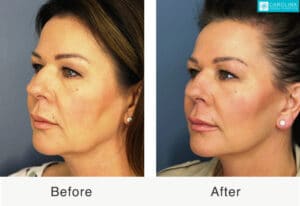 Testimonial
"I did a lot of research like everyone else and consulted with a few highly rated doctors in the Charlotte area before deciding to go with Dr Kulbersh. He is kind, compassionate, respectful and a good listener. Everyone in his office is super friendly, supportive and professional. But it's only after the procedure that I know I've made the right decision! Dr Kulbersh is amazing! He is truly talented and gifted in his field and yet so unassuming! He sincerely is the best, in my opinion."
-Mish17, RealSelf
Video
Frequently asked questions