Mini Facelift Overview
Length: Varies from 1.5 to 3 hours
Anesthesia: Awake (general)
In/Outpatient: Outpatient
Side Effects: Patients may experience swelling, bruising, and possible numbness around the incision site.
Risks: There are possible complications that are associated with undergoing any type of surgery. Anytime a patient has surgery, there is a risk of bleeding, infection, scarring, or side effects from anesthesia.
Recovery: While traditional facelift patients may need 4-5 weeks to recover from a facelift, mini facelifts only require 3-5 days. In fact, mini-lifts are often called "weekend facelifts" because patients can undergo the procedure on Friday and get back to work and other normal activities on Monday.
A mini facelift is a minimally invasive surgical procedure that's less aggressive than a traditional facelift (rhytidectomy) or a neck lift with platysmaplasty. A mini facelift might be your best choice if you have early signs of skin sagging, such as slight jowls and just a touch of looseness in your neck and jawline.
Mini facelifts are known by a variety of names, which vary by doctor and marketing strategy. You may also hear mini facelifts referred to as:
Awake Mini Lift
Micro lift
Lifestyle lift
Feather lift
S lift
Dr. Kulbersh prefers to call mini facelifts "Mini Lifts".
Each doctor also has his or her own preferred techniques and steps for performing a mini lift. However, what a practitioner calls a Mini Lift isn't as important as finding the absolute best facial plastic surgeon to perform your procedure and make the lasting improvements you want. At Carolina Facial Plastics, not only are we committed to providing you outstanding results from your Mini Lift, but we are the only boutique facility in Charlotte to have our own recovery center and operating room, making the whole process simple and worry-free.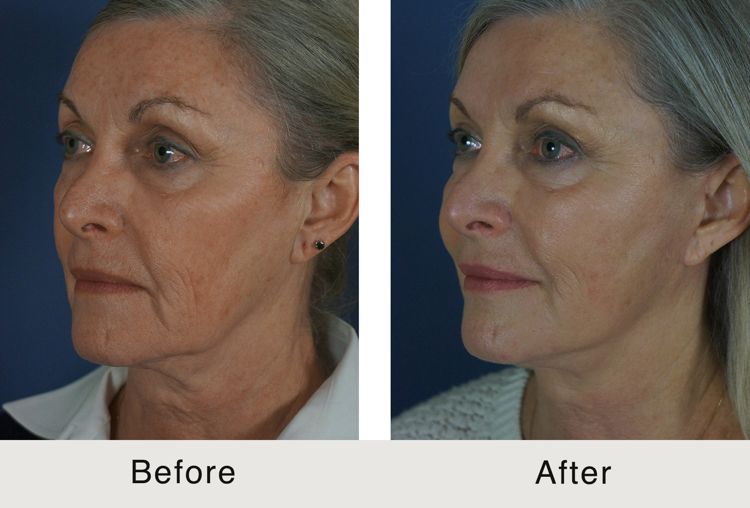 When you consult with Dr. Kulbersh, he listens to your goals and carefully examines your skin quality, level of facial volume loss, muscle tone, and bone structure. If he recommends a mini lift, he'll tailor the exact steps of the operation to meet your individual needs as well as improve the balance and proportion of your face. The end result will honor your unique beauty while restoring a youthful vitality.
Dr. Kulbersh always chooses the least invasive way of obtaining the most dramatic improvement. His goals in a mini lift are to:
Angulate your jawline
Remove jowls
Tighten skin
Trim redundant skin
Frequently asked questions
Skin-only lifts provide minimal improvement and don't last for the long term. Dr. Kulbersh never performs a skin-only lift, and doesn't recommend thread lifts, either, for the same reasons.
During a mini lift at Carolina Facial Plastics, Dr. Kulbersh lifts and tightens your underlying facial muscles in two directions for the most natural rejuvenation. He uses the repositioned muscle as the anchor for your lift. The muscle supports your skin so that you look refreshed, energized, and youthful, but never "done."
Dr. Kulbersh's mini lifts last for five to eight years on average. However, some enjoy longer-lasting results, particularly when patients continue to improve their skin with regular chemical peels, laser treatments, and medical-grade skincare.