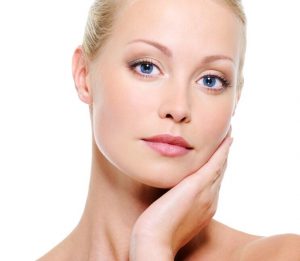 Round, chipmunk cheeks are cute or even angelic in children, but not quite as flattering in adults. Charlotte facial plastic surgeon Dr. Jonathan Kulbersh and his staff at Carolina Facial Plastics know that facial balance and proportion are an important part of one's appearance, and excess cheek fat can cause the face to lose the definition, especially in the cheekbones.
For cheekbones that are undefined or hidden under round cheeks, a buccal fat excision surgery or buccal lipectomy might just be the right cosmetic solution for the problem.
Excess Cheek Fat
There are small pads of cheek fat just under the cheekbones that are crucial to the support of the lower half of the cheeks. These buccal fat pads are essential to the face shape, but too much fat buildup leads to a chubby-cheeked look that, for many people, is not desirable.
Cheek fat can become excessive in people who are overweight. For others, the cause is genetics, especially if no amount of exercise or diet reduces their chubby cheeks. Some people are otherwise fit and toned, yet still, have that chipmunk look.
Excess cheek fat obscures the definition of the cheekbones or causes the cheeks to look too plump.
Why Undergo a Buccal Lipectomy?
First of all, the procedure is simple and usually doesn't take more than an hour, so it can be done on an outpatient basis. A small incision is made on the inside of the mouth in order to remove the intended amount of fat. It only takes a single stitch to close the incision.
If the lack of cheekbone definition is due to a large cheek fat pad, only part of the pad can be removed to improve the facial contour of the cheek.
Much like the appendix, it is safe to live without the cheek fat pads.
The Advantages of Cheek Fat Excision vs. Other Facial Fat Removal Procedures
Patients often ask about the difference between buccal fat excision and other cheek reduction procedures.
One major difference is the lack of visible scarring and complications. Patients could choose to undergo a facial liposuction, but it is fraught with complications and issues.  I do not offer liposuction in the cheeks at Carolina Facial Plastics in Charlotte.
Another crucial advantage is that buccal fat excision delivers permanent results that facial fillers cannot.  Buccal fat is different from other types of fat in the body, it will not grow with weight gain.  For example, Botox can actually be used for facial sculpting due to its ability to relax the masseter muscle in the jaw, which softens the face and makes it appear more feminine. However, the results last no more than a year, which means regular trips back to your facial plastic surgeon to maintain the effects.
As a result, because its results are permanent, cheek fat removal is easier on the budget.
What to Expect During Healing and Recovery
Recovery takes as long as 7 days while 1-2 weeks of mild swelling is to be expected, as well. In the first 2-3 days, a semi-liquid/soft food diet will be necessary. It is recommended that patients gargle special antibiotic mouthwash several times a day to keep the mouth clean and protected from infection.
Accordingly, the tissues in the mouth generally heal quicker and patients can start eating more solid foods after 7 days. Within another week, most patients should start to see the swelling recede and the prominence of the cheekbones will start showing.
Patients can return to work after 1-2 days.  Exercise is resumed after 7 days.
Is Facial Fat Excision for You?

Facial fat excision is ideal for patients who want to have a thinner looking face with more defined contours. The cheeks will be more hollow-looking, allowing gorgeous cheekbones to be more prominent. Many patients experience a boost in self-confidence and satisfaction with their enhanced, more youthful-looking facial shape.
However, unwanted cheek fat does not make a patient an automatic candidate for cheek fat removal. It is crucial to talk to an experienced facial plastic surgeon because every patient is not a candidate for the procedure.
Learn more about buccal lipectomy at Wikipedia.org.
For More about Cheek Fat Pad Removal, Contact Carolina Facial Plastics
To learn more about defining a cherubic cheek with board-certified facial plastic surgeon Dr. Kulbersh consider scheduling a consultation by contacting us online or calling 704.842.3644.  At Carolina Facial Plastics in Charlotte, Dr. Kulbersh will take the time to discuss everything there is to know about buccal fat excision in order for his patients to make an informed decision.
Next, read 3 Signs of Aging Fought with Volbella