Dr. Jonathan Kulbersh prides himself on creating aesthetic improvements and rejuvenation that harmonize with your natural beauty. His goal is to surpass your expectations with his advanced technique combined with refined skill to produce impressive and natural-looking results.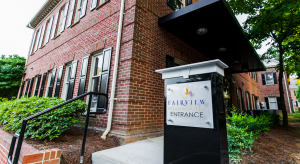 He's also committed to ensuring your safety and comfort during your surgery and recovery. That's why Dr. Kulbersh has created Fairview Surgical Suites and Fairview Recovery Retreat, both nestled in the heart of Charlotte, NC. This all-inclusive, luxurious aesthetic destination provides a comfortably intimate place for patients to meet all their surgical goals in a single location. 
Fairview Surgical Suites – A Surgical Suite Just For Facial Plastic Surgery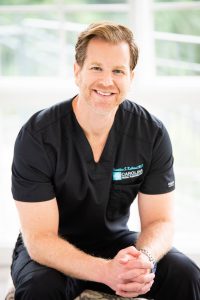 At Fairview Surgical Suites, the single operating theater is dedicated exclusively to elective facial cosmetic surgery procedures. This center was designed to maximize the experience and results for patients undergoing facial aesthetic surgery.  This means that when it's time for your surgery, you are the only patient having a procedure at that time.
By limiting the types of procedures and the number of patients treated, Fairview Surgical Suites offers patients a safer and more sanitary space than hospitals or other medical facilities. The Fairview Surgical Suites medical professionals and staff are able to focus solely on your needs both before and after your procedure. Fairview is certified by the American Association for Accreditation of Ambulatory Surgery Facilities (AAAASF), ensuring the center meets the highest level of care and care for our patients.  This dual commitment to safety and an optimum outcome is why our motto is "Care You Can Trust."
Anesthesia for procedures is provided by Providence Anesthesia, the leading anesthesia group in Charlotte.  At Fairview Surgical Suites, you will receive 1-on-1 care with a board-certified MD anesthesiologist.  This is very rare in the current state of healthcare, but we are proud to make it available at Fairview Surgical Suites.
Fairview Recovery Retreat – Where Comfort Meets Recovery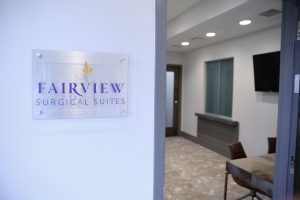 To reduce your risk of complications and to ensure the stress-free recovery you deserve, Dr. Kulbersh also opened the discreet and private Fairview Recovery Retreat. The first 24 hours after your operation requires one-on-one focused care and absolute calm and quiet, which makes Fairview Recovery Retreat the perfect way to ensure an optimal outcome. You'll have an on-call nurse, medical staff, and medical supplies at your disposal to ensure you are both safe and comfortable throughout your stay.  
At Fairview Recovery Retreat, you'll rest in comfort in a serene and calming suite featuring a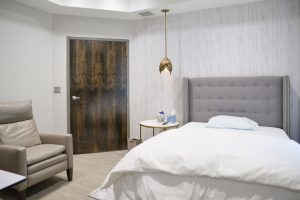 dedicated, private entrance, private bath, ambient lighting, and memory-foam bed. Your room is furnished with the elegance and simplicity of a 5-star hotel, including spa-quality amenities.
All of your meals are provided by Charlotte's top restaurants. Gourmet snacks and beverages are included in your room. You can also arrange for a family member to join you in your suite.
For your convenience, you are welcome to stay at the Fairview Recovery Retreat the night before your procedure, too. When it's time for your procedure, a helpful staff member will walk you to the Fairview Surgical Suites that are on the same floor.
Remarkable Results, Exceptional Care
Cosmetic facial plastic surgery is the ultimate gift of self-love and self-care because it ensures that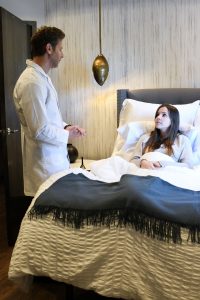 your unique natural beauty shines through for all to see. Finding an expert facial plastic surgeon with highly developed surgical and aesthetic skills is the first step toward achieving a beautiful outcome, and finding a safe, private, and luxurious surgical and recovery center is the next. Your experience at our center will only be surpassed by the results you receive.
Jonathan Kulbersh, MD, founder of Carolina Facial Plastics, in Charlotte, North Carolina, is a double-board certified facial plastic surgeon who trained with world-renowned plastic surgeons in Beverly Hills, California. The expert guidance of such luminaries as Dr. Babak Azizzadeh and Dr. Paul Nassif ("Botched," "Dr. 90210," and "The Real Housewives of Beverly Hills") allowed Dr. Kulbersh to become a highly-skilled and sought-after facial plastic surgeon himself. With 15+ years, performing 2000+ aesthetic surgeries, you can rest assured you are in excellent hands with Dr. Kulbersh.
To begin your journey toward your ultimate self, book your facial cosmetic surgery procedure with Dr. Kulbersh at Fairview Surgical Suites and your recovery at Fairview Recovery Retreat by phoning us or using our online booking form.