It's all about your facial volume. As you age your face naturally loses volume. This loss of volume is one of the biggest contributors to your aged appearance. Fillers can restore your lost volume and will make your face look more youthful.
Remarkable Results, Exceptional Care 
Our expert injectors Heather Bryant MPAS, PA-C, Amanda Piligian, PA-C, and Courtney Whitley, FNP-C, have great insight into the art of facial rejuvenation with fillers. They provide patients with subtle yet powerful anti-aging results.
What Areas Can Dermal Fillers Treat?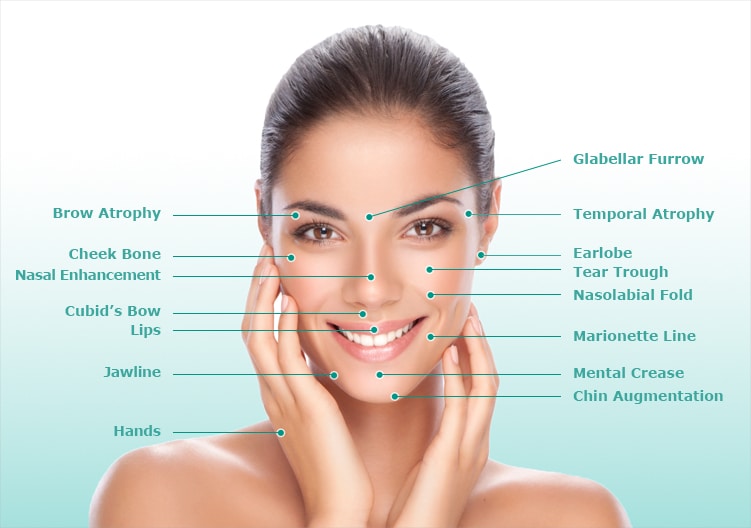 Fine lines, wrinkles, and creases appear on your face as the underlying collagen and elastin fibers begin to break down and wear out. Dermal fillers can be used to treat a variety of age-related problems, including:
Smile lines (nasolabial folds)
Marionette lines
Corners of the mouth (smoker's lines)
Thin lips
Vertical lines above the lip
Cheek definition
Earlobe plumping
Nose shaping
Under-eye circles, tear troughs
Temples
Facial symmetry
Wrinkles
Upper Eyelid Volume
Facial creases
Shallow contours
Recessed scars
Injectable Treatment Under the Eyes in Charlotte, NC
What is the Needle-Less Injection Technique?
We believe having multiple needle punctures to the face can increase the risk of bruising, increase anxiety, and be uncomfortable.
Our injectors use a variety of techniques including numbing creams and nerve blocks and place-numbing medicine in the filler itself to decrease discomfort.
We perfected the needleless injection technique to create a more comfortable experience and decreases bruising or swelling, allowing the patient to show off their new look faster than traditional needle injections. Instead of using a needle to inject the filler, a blunt tip cannula is used.
Advantages of Using a Blunt-Tipped Microcannula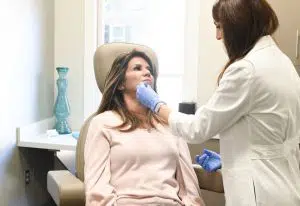 With traditional needle injections, many needle sticks are required.  With the blunt tip, there are just a few sticks with a tiny needle.  This is necessary to create a hole for the cannula.
The cannula is long enough to reach many areas of the face from the one tiny hole, therefore limiting the number of needle sticks. When injecting with a needle, the needle cuts through the tissues and blood vessels.
The advantage of the blunt tip is that it pushes the tissues to the side instead of cutting through them, and therefore is less traumatic, with less pain and less swelling.
If the cannula comes near a blood vessel it has a better chance of pushing it to the side instead of cutting it open, which could cause a bruise.
Watch the Needleless Injection Technique
What Are the Different Types of Dermal Fillers?
There are several different fillers available. At your appointment, your injector will determine which filler is best for you based on your problem areas and overall anti-aging goals. Carolina Facial Plastics offers the following filler treatments:
Learn About the Fillers We Use
Juvéderm and Restylane
Juvéderm and Restylane are hyaluronic acid gel fillers approved by the FDA to effectively soften superficial or deep folds and wrinkles on your face. Sculptra is a popular collagen-boosting filler, but we prefer Juvéderm and Restylane because of their versatility.
Young skin appears smooth and healthy because it contains a large amount of hyaluronic acid. However, as we age, the amount of hyaluronic acid the body produces decreases, and the skin starts to wrinkle and sag. With the help of Juvéderm or Restylane, your skin will look years younger.
Filler treatments are quick and simple, and the fillers are injected into your problem area to immediately recreate volume. The treatment fills out and smooths away your unwanted wrinkles.
These fillers generally last for about 6-12 months, but actual results vary from patient to patient. Once the results start wearing off, you can repeat the injections to maintain your youthful appearance.
You can expect minimal downtime after a filler treatment. You might experience side effects such as swelling, numbness or redness for a few hours following the procedure, but you will be able to go back to your daily activities as soon as you feel comfortable with how you look.
A lip augmentation can be achieved with Juvéderm or Restylane injections. Patients usually request lip enhancements to either plump up lips or to reduce the appearance of aging on the lips.
FAQs
When will I see the results of fillers?
For fillers like Juvéderm or Restylane, you will see the results of your treatment immediately.
How long do fillers last?
Juvéderm or Restylane typically last for about 6-12 months.
Can fillers and Botox be used together?
Combining fillers with Botox or Dysport is a very common treatment. Using them together can yield great results. Botox prevents new wrinkles from forming while fillers smooth out the wrinkles you already have. Furthermore, studies have shown that combining Botox with fillers will lead to longer-lasting results. During your consultation, your injector will let you know if this combination is a good option for you.
How much do fillers cost? Cost of Restylane? Cost of Juvéderm? 
The cost of fillers varies from person to person, and from filler to filler. Since there are several different fillers that can be used to treat your unique aging concerns, it is difficult to estimate the cost of fillers for your treatment without assessing your needs in person. To find out how much your filler treatment will cost, schedule a consultation with us today.
What is a liquid facelift?
A liquid facelift is a great alternative to a surgical facelift. It is a non-invasive procedure that combines several different fillers and Botox or Dysport to give your face a youthful lift. We can rejuvenate your face by using fillers to add volume and Botox or Dysport to erase crow's feet and wrinkles. Each liquid facelift is tailored to meet the specific needs of the patient.
Downtime After Facial Filler Injections
Contact us today to learn more about injectable fillers and non-surgical facial rejuvenation treatments in Charlotte, NC.