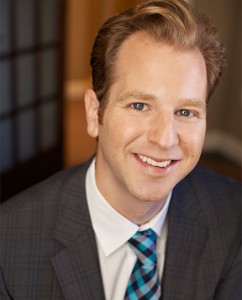 Four weeks ago I had my first child, a boy, Julian Mack Kulbersh.  As all first time parents can understand, a child has a profoundly positive effect on one's life.  I typically think about my life's fulfillment and happiness in three separate areas:
Family
Professional
Personal
I believe that happiness is the creation of self-fulfillment, love, and pride in each of these categories.  All three areas are intimately interconnected in a variety of fashions. I believe doing's ones best in each of the three areas mentioned above create long lasting happiness.  For me, it entails being a great father, husband, son, brother, and facial plastic surgeon while being true to myself.
I would first like to start with my professional life.  I believe I work in the best profession.  I have the opportunity to positively affect the lives of my patients.  I have the pleasure of meeting and learning from many dynamic and interesting people.  I find my job exceedingly rewarding, and I am proud of the practice that I have built with the help of the staff at Carolina Facial Plastics.
The personal bucket is the area of one's life where I believe one continues to develop their self-identity.  A stranger could look me up on the internet and know that I am a facial plastic surgeon, husband, and father.  While these are central to my identity, I believe I must continue to develop my identity beyond these categories.  This may include further development in religious, athletic, artistic, or other past times.  While all of these ventures may not be on the top of the priority list, they still remain important to the development of my happiness.
The most important aspect of my life is my family.  Family members are the only people in this world who will be there for you unconditionally. With a new child, I have develop and additional drive in life.  I want to create a life and an environment where I can successfully raise my children.  I hope I will provide them the opportunity and confidence to fulfill their goals.
The new addition to my family, my son, has changed the way I am in all areas of my life including professionally.  As a facial plastic surgeon, I can better understand the deep concern parents have for their children when they are under my care.  I believe that I am warm, understanding and patient to all of my patients and their families.  Having my own child, I feel that somehow I am better able to relate to the feelings of the parents of my patients.
As a new parent, I have wishes for my child.  I hope that he is kind, empathic, charitable, and ethical.  I know the best way to teach these qualities to Julian are to be an example for him.  I hope that he will see these qualities in the way I work with both my patients and staff at Carolina Facial Plastics.
While this blog has nothing to do with the technical or philosophical aspects of facial plastic surgery, it may be one of the more important topics that I discuss, caring about people and patients.  I care greatly about my family and about patients.  I would bend over backwards to help my child and I do the same for each of my patients.  I hope patients can see and feel these qualities in me, and I believe it greatly improves both the experience and the outcomes at Carolina Facial Plastics.
To become a great facial plastic surgeon, you have to care about both your patients and your profession.  I can say with confidence that we take great care of our patients because that is the culture at Carolina Facial Plastics.