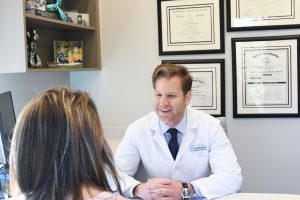 CO2 lasers have been the go-to treatments for reversing wrinkles, age spots, and other signs of aging. They have become synonymous with skin transformation for women and men looking to improve their tone and texture, offering them clearer, healthier, and glowing skin. However, reaping the benefits of CO2 lasers also comes with a price. These procedures typically require days to weeks of downtime, along with possible side effects such as scarring and hyperpigmentation. But did you know that you may get results as dramatic as those produced by ablative lasers without the downtime, side effects, and risks?
Carolina Facial Plastics offers the CoolPeel laser skin resurfacing treatment, a procedure that could provide great skin rejuvenation to start your New Year right. With a series of sessions, this procedure provides a new approach to safely and comfortably deliver the benefits of CO2 resurfacing lasers without the associated downtime and need to go in hiding for weeks. In our luxurious medical center offices located in Charlotte, NC, we always work in partnership with our patients to achieve realistic and natural results in a safe manner, while providing the ultimate in comprehensive treatments for facial enhancements.
Start New with Laser Skin Resurfacing 
The New Year is a great time to commit to taking better care of your skin. Keep in mind that no matter how meticulous you are with your skincare routine, the outer dermal layers will still suffer from the natural wear-and-tear of aging and other environmental factors. That's why you have lines, wrinkles, discoloration, and age spots. This is where lasers come in. Specifically, laser skin resurfacing treatments can help to restore a more youthful, radiant complexion by removing the most damaged layers of your skin, revealing new, healthier-looking skin beneath as new cell growth occurs. In effect, signs of aging and stress are reversed, helping you look refreshed, younger, and rejuvenated. Many patients opt for a laser skin resurfacing treatment because of its ability to dramatically enhance the tone and texture of the skin while addressing the signs of aging, all without surgery.
One of the widely used lasers for skin resurfacing is an ablative laser, which removes the thin outer layer of the skin (epidermis) and heats the underlying skin (dermis) to stimulate the production of new collagen. As the epidermis heals, the skin is renewed to look tighter, clearer, and smoother. CO2 lasers are an example of ablative treatments.
Get the Best Without the Burn 
Nobody wants a red, peeling face for weeks, especially at the start of a New Year. With CoolPeel, you don't have to worry about looking sunburnt when you aren't even on vacation. While a traditional CO2 laser treatment results in heat damage to surrounding tissues, the CoolPeel—as its name suggests—does not deliver thermal damage. Instead, it uses the SmartXide Tetra CO2 laser (the latest, most advanced CO2 laser from DEKA), to deliver a fractional ablative treatment in extremely short, rapid, high-peak-power pulses that keep you comfortable while still delivering excellent skin resurfacing results. Because there is no thermal damage, downtime is highly controlled and minimized, making the CoolPeel a predictable skin renewal treatment. Only the Tetra CO2 has this unique pulse control. Learn more about the CO2 laser by visiting ncbi.nlm.nih.gov. 
Don't Waste Any Time 
You can easily squeeze a CoolPeel procedure into your busy schedule. Because of the laser's ability to use rapid pulses which prevent thermal damage, treatment time is shortened. In our Charlotte, NC office, it only takes 15-30 minutes to perform a CoolPeel procedure, and a series of 3-4 treatments will offer impressive results without any downtime. Traditional CO2 lasers will typically take 1-2 hours to complete.
No Need to Hide 
I understand that the beginning of the New Year is an exciting time and you'd like to be out or at least celebrating with your loved ones at home. One of the best features of a CoolPeel treatment is its minimal downtime. Because the skin's reaction to the treatment is not as intense as other ablative lasers and no grid markings are left behind, you should only expect to be a little red for a day or two. No need to decline invitations or stay in bed! More importantly, no side effects should prevent you from resuming your normal daily activities.
Don't Risk It
Since a CoolPeel treatment has laser settings that are more conservative and controlled, the lingering heat that would damage the surrounding skin is prevented, effectively avoiding certain risks. Some of the known risks associated with other ablative lasers include swelling and itching, scarring, acne, infection, hyperpigmentation, hypopigmentation, textural change in skin, and ectropion (turning of the eyelid).
Have you had a chemical peel in the past? It's quite similar to CoolPeel because it also works by removing a layer of damaged skin. Superficial or light peels remove only the top layer, which is mostly dead skin. But as the peel increases in strength, deeper layers of skin are removed. The skin may be red for up to 2 weeks after a chemical peel, and deeper peels may take up to 7-10 days to finish peeling. This gives the CoolPeel a huge advantage because its precision and unique delivery of energy make it safer with fewer side effects and minimal downtime.
Choose a Combo 
The CoolPeel is a versatile treatment you can easily incorporate into your set of beauty resolutions for the New Year. In fact, most aesthetic treatments can be combined with CoolPeel to produce optimal rejuvenation results. We often combine the CoolPeel with:
Profound RF Microneedling

– the combination of

microneedling and radiofrequency (RF) energy can produce more tightening results on the lower face and neck skin

Facelift

– CoolPeel can be completed at the same time as a facelift or a mini-lift to further improve the appearance of the skin

Botox

&

Dermal Fillers

– Botox can diminish fine lines and wrinkles while dermal fillers can restore lost volume, achieving a more balanced face along with rejuvenated skin from the CoolPeel treatment
Trust Our Medical Center with Your New Year's Look
Our Carolina Facial Plastics team is comprised of board-certified physician assistant Heather Bryant, MPAS, PA-C, board-certified nurse practitioner Courtney Whitley, FNP-C, medical aesthetician Teri Edson, myself (a double board-certified plastic surgeon), and an entire back and front office team providing a level of expertise not found anywhere else in Charlotte. We want all our patients to look rejuvenated and feel their absolute best. So, whether you are looking for a nonsurgical method of rejuvenation or putting the finishing touch on a surgical procedure, we can customize each treatment to produce natural and beautiful results. And since we focus 100% on cosmetic treatments for the face, we have the experience to fully enhance your own unique attractiveness. Having this single focus allows us to produce superior results.
If you wish to combine your CoolPeel treatment with a surgical procedure, you can look forward to a stress-free procedure and recovery at the Fairview Surgical Suites and Fairview Recovery Retreat where you will receive one-on-one care in a calm, quiet, and luxurious environment. This is very rare in the current state of healthcare, but we are proud to make it available at our medical center in Charlotte, NC.
Achieve New Skin in the New Year With a CoolPeel Treatment
If you'd like to begin the New Year with healthier, more beautiful skin, give the CoolPeel treatment a try. The skin experts at Carolina Facial Plastics are known for providing unparalleled and natural-looking results exclusively for the face and neck. We can help you achieve the results you desire. To learn more or to schedule a consultation, contact our Charlotte, NC office.