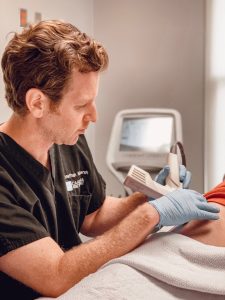 Skin resurfacing can provide great results, but during recovery, your skin may be peeling or feeling sensitive and you must avoid the sun. For this reason, many people wait until just the right time to schedule a skin resurfacing treatment and that time is now. Winter is steadily approaching, which means less sun exposure and more time spent indoors, so you won't need to choose between beauty and fun.
At Carolina Facial Plastics in Charlotte, North Carolina, our team understands that our patients are busy and want treatments that fit into their schedules. As a double board-certified facial plastic surgeon who focuses solely on treatments for the face and neck, myself, nurse practitioner Courtney Whitley, and physician assistant Heather Bryant make sure to offer robust and less-invasive procedures that can help my patients meet their aesthetic goals, because we believe everyone deserves to look and feel like the best version of themselves. 
What is Skin Resurfacing?
Skin resurfacing can be performed by a laser. The goal is to replace damaged skin with fresh, new skin. Laser facial resurfacing accomplishes this by removing the outer layer of skin to reveal undamaged skin underneath. Recovery involves the peeling of the outer layer of skin and the healing of the newly exposed skin layer. Microneedling works to resurface the skin in a different way. This treatment involves a device with tiny needles that create micro-injuries to the targeted skin. This stimulates collagen production and causes the skin to react by healing itself, rejuvenating your skin from the inside out.
Why is Winter the Best Time for Skin Resurfacing?
After a laser skin resurfacing treatment, you must keep your treated skin out of the sun for 7-10 days and must protect your skin from the sun for a few months.  This can be difficult for those who work or who enjoy lots of outdoor activities, which is why winter creates the best opportunity for skin resurfacing. Winter brings more indoor activities and less sunshine during the day, so you won't feel like you're missing out on outdoor fun. Additionally, with all the holidays during these months, you'll have more time off work and other regular activities, so you won't have to use much vacation time or cancel plans for your recovery. When holiday parties do begin, you can arrive to each with a fresh, youthful face to impress friends, co-workers, and family.
What Can I Treat with Resurfacing?
According to pubmed.gov, skin resurfacing can treat many concerns of the face and neck, depending on whether a laser or microneedling device is used. The concerns that both types of devices typically treat are:
Fine lines

Wrinkles

Uneven pigmentation

Acne scars

Sun damage

Mild skin laxity

Uneven texture
Laser Resurfacing Options
At Carolina Facial Plastics, our Charlotte, NC, office has several laser devices for skin resurfacing so we can select the best option for your needs and goals. CO2 lasers have long been the gold standard for improving skin texture, pigment, and wrinkles in the face. The downside has been a long recovery time and increased risks, but no more with the Cool Peel Skin Laser. This revolutionary device can address:
Fine lines and wrinkles of the face, neck, mouth, and under eyes

Brown spots and pigmentation

Enlarged pores

Loose skin
The Cool Peel Laser has a higher energy level that allows for faster treatment, treats the skin in a random pattern, and requires spaced out treatments, which all contribute to its much shorter downtime and minimal side effects of redness and mild swelling for 2-4 days. This treatment can be customized to safely treat any stage of aging. Results can be long-lasting once your full treatment plan has been completed. Our team will create a custom plan and schedule for you, according to your needs and goals.
If the Cool Peel Laser doesn't sound right for you, you have other options for laser skin resurfacing at our Charlotte, NC office. 
Cutera Titan

: uses light energy to stimulate tissue contraction that can tighten skin in the lower face, jawline, under the chin, and abdomen, with results lasting 1-2 years

Limelight IPL Photofacial

: uses wavelengths to permanently remove brown spots and the appearance of blood vessels, and can be used all over the face and body
Our experienced team can help you determine which treatment is best for you during your consultation.
Microneedling for Youthful Skin
Microneedling is another great option for skin improvement during these winter months. At our Charlotte, NC office, we offer two options for microneedling, the Rejuvapen and Profound RF. Both of these treatments stimulate collagen growth by creating micro-injuries in your skin. Your skin's natural reaction will allow for firmer, more youthful skin to appear over time. You may start to see results after a couple weeks, but full results may not be seen until 6-12 months. You'll continue to see improvement through the holidays and into the spring.
With Rejuvapen, we can rejuvenate and tighten your skin, reduce fine lines and wrinkles, improve skin texture and tone, and minimize pore size and the appearance of scarring caused by acne, injury, or surgery. Your recovery will be just 12-24 hours, and results can last 6-12 months. Our team can help create a customized treatment plan for you so you can maintain your results.
ProfoundRF can achieve more dramatic results that may last 3-5 years. In addition to what Rejuvapen can treat, ProfoundRF can also increase your skin's volume, making it firmer, thicker, and more supple. This device also prevents further sagging and wrinkling of the face and neck. Recovery is 7-10 days, so take advantage of this slow season to get your treatment.
Plan Your Treatment Around the Holidays
When choosing your skin resurfacing treatment, be sure to check your schedule and book your appointment around holiday plans. You will want to allow for extra recovery time before a big event in case your skin needs more time to heal. 
Schedule Your Resurfacing Treatment in Charlotte, NC
At our top skin care clinic, we provide remarkable results and exceptional care. Contact us to learn more about skin resurfacing or to schedule a consultation at our office in Charlotte, NC.