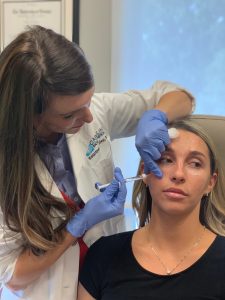 It's all about the cheeks. The cheek area is one of the largest areas of the face and can be a source of concern for many patients. Strong or full cheekbones are attractive, as they give a soft, healthy, and awake appearance.
People may be born with weak cheekbones or lose volume in the area when they age. This contributes to a gaunt look and can also detract from the look of your eyes. If you have flat cheekbones, a cheek augmentation can be performed to add definition to your face and create balance with the rest of the face.
Remarkable Results, Exceptional Care 
At Carolina Facial Plastics in Charlotte, our highly skilled staff consisting of our board-certified nurse practitioner, Courtney Whitley, our physician assistant Heather Bryant, and our expert plastic surgeon Dr. Kulbersh, can help you achieve your desired look.
What are the different cheek filler options?
Not all patients will require surgery to create full and defined cheeks. If you are looking for a softer enhancement of volume in the cheek and under-eye area, filler injections such as Restylane Lyft or Juvederm Voluma, are great options. In addition to balancing your face, injectable fillers for the face will lift your cheeks to create a youthful appearance.
Juvéderm Voluma for Cheek Augmentation
What are surgery options for Cheek Augmentation?
Cheek implants are used to increase the projection of the cheekbones. Dr. Kulbersh uses them in patients that have defiant bone in the cheeks. The implants allow for the creation of increased balance and facial proportion. This has a great effect on improving the appearance of your eyes and defines the face.
Dr. Kulbersh prefers to use silicone implants for the cheek area; they are safe and long-lasting.
How is Your Own Body's Fat Used to Augment the Cheek?
Autologous fat transfer is commonly used to build-up the cheeks. Fat is taken from the belly or thighs and then meticulously injected into the cheek area. This is a great option that Dr. Kulbersh commonly recommends during a facelift, neck lift, or eyelift. The addition of volume to the cheeks can turn a good result into a great result.
Whether you decide to go with cheek implants, fat transfer, or fillers for cheeks after the procedure, volume will be restored to your cheeks and you will have a more youthful appearance.
Advanced Cheek Augmentation and Luxury Post-Operative Recovery in Charlotte
For the most advanced cheek augmentation treatment and recovery experience, Dr. Kulbersh opened Fairview Surgical Suites and Fairview Recovery Retreat. These state-of-the-art facilities are dedicated to providing patients with high-quality surgical treatment followed by private post-operative healing in a luxurious 5-star hotel setting.
Schedule your surgical cheek augmentation and post-operative recovery at Fairview Surgical Suites and Fairview Recovery Retreat today.
Visit medlineplus.gov for information on your next cheek augmentation procedure.
Cheek Implants Frequently Asked Questions
Q: Who is a good candidate for a cheek augmentation?
A: Patients who lose volume in their cheeks with age can benefit from a cheek augmentation. Additionally, patients who have always had weak or flat cheeks can have a chin augmentation to improve their facial appearance.
Patients undergoing cheek augmentation should be in good health.
Q: How is a cheek augmentation performed?
A: The patient will be under anesthetic while Dr. Kulbersh performs a cheek implant surgery. Generally, Dr. Kulbersh will make a small incision inside of your mouth to the proper size and shape of the implant. The implant will be properly positioned within the pocket and stabilized to prevent it from moving out of place. Supportive tissue forms around the implant over the next few weeks. Once healed, it feels like your normal underlying bone structure.
Q: What is cheek augmentation recovery like?
A: Some patients report that their cheeks feel tight the night of surgery, but pain is rarely an issue. You will be provided with pain medication to manage any pain you do have. Your sutures will be removed 1-2 weeks following surgery. Bruising and swelling typically lasts for up to 2 weeks.
Q: I exercise all of the time and my cheeks are hollow. What are the best options to fill my gaunt cheeks?
A: This is a very common concern of patients that are avid exercises. Many times, they are in great shape and do not have enough fat for a fat transfer procedure. If they have significant bone loss, although this is rare, then a cheek implant is a good option. Most commonly, Dr. Kulbersh will use facial fillers, Perlane or Restylane, or a collagen stimulator, Sculptra or Radiasse, to build up the cheeks. Although it is not proven, the cheek fillers appear to not last as long in people that are active exercisers.
Q: When will I see the final results of my cheek implant surgery?
A: The initial results will be visible almost immediately. However, you will not see the full results for a few months because it takes a while for the swelling to fully dissipate.
Q: Can a cheek augmentation be performed with other cosmetic procedures?
A: Yes. Cheek implants can be performed in conjunction with other procedures. For instance, combining cheek implants with a facelift can help you achieve a more youthful appearance.
Q: Can cheek implants be used to restore volume to the face after weight loss?
A: Yes. Weight loss can cause loss of facial soft tissue and lead to a gaunt look. Many patients seek out a cheek augmentation after a significant amount of weight loss in order to restore volume to the face.
If you are interested in a Charlotte cheek implant surgery, contact Dr. Kulbersh to schedule a consultation today.
Next, learn about Buccal Fat Excision.