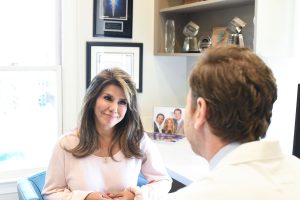 At Carolina Facial Plastics in Charlotte, one of the most popular and effective treatments our team performs is the non-surgical eyelift, a minimally invasive procedure for patients dealing with the early signs of aging around the lower eye area. The loss of volume underneath the eyes and cheek is commonly the main cause of early aging in the lower eyelid area.
Remarkable Results, Exceptional Care 
Undergoing a non-surgical eyelift in Charlotte has the ability to recreate a beautiful round cheek, camouflage/smooth lower eye bags, and fill in the tear trough. Our expert injectors, Dr. Kulbersh, Heather Bryant PA-C, and Courtney Whitley, FNP-C have great insight into the art of facial rejuvenation with fillers.
The loss of volume underneath the eye creates a few issues:
The plump rounded cheek is lost underneath the eye creating a flat surface
Formation of the Tear Trough
Loss of the beautiful cheek creates a hallow underneath the eye contributing to the lower eye bags
The shape of the eye becomes wider and less almond shaped
The laugh lines or smile lines get deeper as the cheek deflates. This causes the skin in the laugh lines to fold over
Under Eye Treatment at Carolina Facial Plastics

What Is A Non-Surgical Eye Lift?
A non-surgical eye lift, also called a liquid eyelift, is a procedure that we perform in our office in Charlotte to help rejuvenate the under eye area by replacing lost volume with the use of facial fillers like Juvéderm, Restylane, Perlane, and Sculptra. ncbi.nlm.nih.gov has information on dermal fillers for rejuvenation near the eye. As we age, we lose fat in our cheeks which contributes to lower eyelid hallows, tear trough deformity, flat cheeks, and deepening laugh lines. Eyes that do not have hallows underneath them reflect light and make the eye appear bright, awake, and vibrant. When the tear trough and eye bags appear, shadows show underneath the eyes causing a tired and aged appearance. Injecting the under eye and cheek area with facial fillers softens the tear trough, hallows and shadows. This allows for light to be reflected underneath the eyes. This allows for a healthy and natural appearance back to the eye area. It will also change the shape of the eye to a more almonds shape, lifts a deepened laugh line, and create stronger cheeks.
Learn About How Dr. Kulbersh Performs a Liquid Eyelift
At my office, I perform non-surgical eyelifts with fillers using a cannula in place of the traditional needle. Cannula's are less traumatic to the tissues and decrease swelling, pain, and discomfort. Cannula also significantly decrease the chance of a bruise after the injection. Patients who make excellent candidates for non-surgical eyelifts include those who are just beginning to notice darker under eye areas, lost cheek volume, tear trough depressions or minor under eye drooping.
Dr. Kulbersh Discusses A Non-Surgical Eyelift
For additional videos about procedures offered by Dr. Kulbersh at Carolina Facial Plastics, check out his YouTube channel.
Signs of Eye Aging
Because the skin around our eyes is among the most delicate of anywhere on our bodies, it's very common for this to be the first place for signs of aging to occur. Determining whether or not a person is a good candidate to undergo a liquid eyelift in Charlotte means figuring out if you're experiencing any of the tell-tale signs of eye aging listed below, including but not limited to:
Deep eye bags
Weak cheekbones
Droopy lower eyelids
Dark under eye hallows
Formation of tear trough
Overall facial volume loss
Because a liquid eyelift is minimally invasive and does not require surgery, it's ideal for all patients who are experiencing early signs of aging. Patients who are experiencing more severe eyelid sagging and drooping will likely benefit more from a surgical eyelift, known as blepharoplasty.
What's The Difference Between A Liquid Eyelift & Blepharoplasty?
A liquid eyelift is an quick in-office procedure in my Charlotte office using facial fillers. A blepharoplasty is a surgical procedure geared for individuals wishing to improve sagging or droopy upper and lower eyelids or soften eyebags. The incisions are hidden incision on the eyelid where I can remove or reposition excess fat. This minimally invasive procedure requires more downtime when compared to a non-surgical eyelift, but it is permanent. A non-surgical eyelift will last 9-15 months. At that time, the patient may require additional injections. People who undergo blepharoplasty may often elect to receive facial filler injections as well, as this can be an appropriate complementary procedure to replace lost volume in the cheek where fat cannot be repositioned.
Why Choose Carolina Facial Plastics?
As a Beverly Hils fellowship trained facial plastic surgeon, Dr. Kulbersh believes that he has a distinct knowledge of both facial aesthetics and the function of the face. As a surgeon, he believes he has an advantage in performing the injections when compared to other types of injectors. "I believe facial injections with a blunt tipped microcannula is the best method to inject fillers. I believe it is safer, less downtime, and less bruising than injections with a needle. My boutique practice prides itself on our ability to leave patients with an extremely high level of satisfaction while always using the latest and most advanced minimally invasive techniques available."
Schedule Your Consultation Today
If you've been wondering about undergoing a non-surgical eyelift or fillers in the tear trough, the best thing that you can do is contact our practice to better understand the procedure and determine your goals. To learn more about how we can help you achieve your cosmetic goals through a non-surgical eyelift, we encourage you to contact Carolina Facial Plastics today to schedule your initial consultation by calling (704) 842-3644 or filling out the online contact form on this site.
For additional information, please contact Carolina Facial Plastics today.
Next, read about Non-Surgical Brow Lift.