The Limelight Intense Pulsed Light (IPL) photofacial is wonderful at treating skin pigmentation and vascular issues such as brown spots, broken capillaries, spider veins, and skin redness. The IPL used at Carolina Facial Plastics in Charlotte, NC has three wavelengths to choose from, and it can be customized to treat individual pigmentation issues with the greatest versatility and for the best results. Virtually any part of your face, neck, chest, or body that has uneven skin tone, diffuse redness, rosacea, or sun damage can be safely treated with Limelight IPL.
Benefits of Limelight IPL Photofacial
Fades sun spots, freckles, broken capillaries, and skin redness
Can be used over the whole body; including face, neck, chest, arms, hands, legs and back
Can be combined with other laser procedures, such as Laser Genesis
Treatments typically last 15-30 minutes
No anesthesia required
Little to no discomfort or downtime
Improvement is seen after the first treatment
IPL Photofacial FAQ
What is the LimeLight IPL Photofacial?
The LimeLight photofacial is a new, non-invasive approach to skin revitalization using Cutera's LimeLight. The procedure offers the advantage of improving skin tone and surface imperfections associated with aging and sun damage.
What areas can be treated with IPL Photofacial? 
The LimeLight photofacial is ideal for any part of your face, neck, and décolleté with skin redness, telangiectasia (tiny veins), or brown spots. Light (low contrast) brown spots, which were previously difficult to resolve, respond very well to treatment. 
What does the treatment do? 
By selecting different settings on the device, your practitioner can customize your LimeLight photofacial to your skin type and selectively treat the brown and/or red pigmented areas on your skin. It's the heating of the pigmented brown or red cells that causes the therapeutic effect.
What do treatments feel like? 
Intense pulsed light is delivered in a very quick pulse that can feel warm or a pinching sensation. Some patients describe it as a sensation that resembles an elastic band flicking your skin. We may use a cooling or lubricating gel to optimize the treatment as well as protect the skin. However, anesthetic cream or pain medicine is rarely required. In general, you may find the experience very tolerable with little pain.
How long will the treatments take? 
Treatment time depends on the area of the body being treated. However, most treatments should take less than one hour.  Facial treatments can be as quick at 15 minutes.
How many treatments will I need? 
Depending on the severity of your skin damage, patients may require 1-6 treatments spaced about 1 month apart.   Those with more extensive sun damage will need 3-6 treatments, while those using the treatment for prevention may only need 1 treatment. Once desired results are obtained, we recommend a yearly Limelight IPL treatment to maintain the results.
What happens after the treatment? 
Immediately following treatment, brown spots will start to darken and your skin may appear slightly red. The treated area may be mildly swollen. This typically lasts a few hours and possibly a day or longer. Make-up can be applied to cover the redness. Within one to three weeks, the darkened spots will flake off and fade. Diffuse redness or telangiectasia will decrease and your mottled complexion will improve. 
What is the downtime?
Limelight IPL treatment downtime is minimal to non-existent. This laser does not damage the outer layer of skin but rather penetrates into the dermis to improve skin from the inside out. Following a Limelight IPL treatment, you can resume your daily activities immediately. 
However, for best healing, it is recommended that you avoid activity that involves excessive sweating for several days and to avoid direct sun for a minimum of two weeks.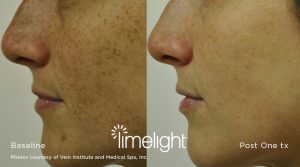 Will the spots and redness reappear over time? 
New brown spots, telangiectasia, and diffuse redness may appear with new sun damage; however, they too can be treated. Remember to always apply broad-spectrum sunscreen when outdoors to minimize sun damage and the appearance of new spots and diffuse redness. Rosacea is chronic and cannot be "cured" with any laser or light source, however, its appearance can be improved. To learn more about IPL Photofacial, visit ncbi.nlm.nih.gov
Schedule an IPL Photofacial in Charlotte, NC
If you are interested in a Limelight IPL Photofacial, call Carolina Facial Plastics to learn more the aesthetic procedures that Dr. Kulbersh and Teri performs and to schedule your consultation to see if any are right for you. Dr. Kulbersh is a double board-certified facial plastic surgeon who trained in Beverly Hills with some of the best, most renowned facial plastic surgeons in the world, and now he's bringing his expertise to the North Carolina community.  Our office is located in the Southpark region of Charlotte.  Learn more about lasers as well as all of the other services offered at Carolina Facial Plastics call (704) 842-3644 or fill out the online contact form.