Microbotox Overview
In/Outpatient: Outpatient
Side Effects: Temporary minor redness, swelling, and slight bruising
Duration of Results: 3-4 months
Remarkable Care, Exceptional Results
At Carolina Facial Plastics, my team of aesthetic specialists and I focus 100% on cosmetic treatments for the face and neck, using both surgical and nonsurgical aesthetic techniques designed to fully enhance each patient's own attractiveness. We use injectables at our offices in Charlotte, NC as non-invasive options for the subtle rejuvenation of the face. Our board-certified nurse practitioner Courtney Whitley and our physician assistants Heather Bryant and Amanda Piligian are glad to offer you a quick, safe, and effective way to refresh your look without any downtime.
Also known as intradermal Botox, Microbotox targets the sweat and oil glands in the skin, including the erector pili muscles, which are responsible for pushing sebum, oil of the skin, upward to the surface of the skin. By weakening the muscles and glands that cause the skin to become oily and increase pore size, skin becomes noticeably tighter, smoother, and more refined with a natural, powdered look. This treatment can also be used on the lower face and neck. To learn more about Microbotox, visit ncbi.nlm.nih.gov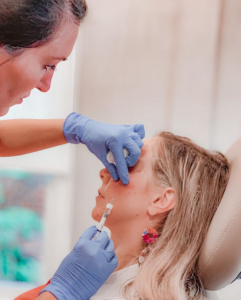 Unlike Botox injections that target the muscles involved in facial expressions, Microbotox injections are performed on a superficial level (just below the skin's surface), avoiding the "freezing" effect that can happen with other Botox treatments. Microbotox also uses a microneedle and a small amount of diluted Botox. By using tiny amounts of Botox, we can create subtle yet noticeable results. You'll leave our office with a more youthful and rejuvenated appearance.
Targeting excess oil production is a relatively unmet need when it comes to cosmetic treatments. I believe this is one aspect that sets Microbotox apart from other injectable treatments.
Microbotox makes for an amazing anti-aging treatment that produces beautiful and natural-looking results. Its benefits include:
Treating fine lines and wrinkles
Tightening skin
Reducing pore size
Treating Rosacea
Wrinkle prevention
Normalizing oil production
Reducing acne
Improving skin tone and texture
Reducing sweating
Scar appearance improvement
Immediate facial smoothness
Frequently asked questions