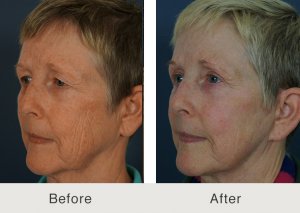 It's all about your skin. Has your skin lost its glow? If you look in the mirror and see dull, dry skin, a chemical peel at Charlotte might be the perfect treatment for you!
What is a Chemical Peel?
Chemical skin peels are a great solution to improve and smooth the texture of your skin. All peels work by removing a layer of damaged skin. Superficial or light peels remove only the top layer, which is mostly dead skin. As the peel increases in strength, deeper layers of skin are removed. After the skin is removed, the body produces new healthy skin cells, leaving your face looking healthy and rejuvenated. At Carolina Facial Plastics, our medical aesthetician, Terri, has performed over 10,000 chemical peels
What do Chemical Peels Treat?
A peel can be applied to the face, neck, chest and hands, and can improve the following:
Fine lines and wrinkles
Discoloration of skin – brown spots, sun spots and uneven pigmentation
Dull or rough skin
Superficial acne
Pimples and blackheads
What are the Different Types of Chemical Peels?
Carolina Facial Plastics offers a variety of chemical peel formulas and strengths:
Superficial/Mild Peels
Alphahydroxy Acid – Contain glycolic acid and are the most mild peel formulas. These types of peels are great for a patient who only needs a light peel to improve their skin tone.
Beta Hydroxy Acid – Uses salicylic acid to exfoliate the superficial layer of your skin. Removing the top layer of damaged and dead skin cells will refine the texture and color of your skin.
Medium Peels
Jessners Peel – Formulated with resorcinol, lactic acid, and salicylic acid to penetrate and exfoliate the skin cells. It is excellent for all skin types.
Retenoic Acid Peel – Derived from retinoids and provides a deeper peel.
Deep Peels
Tricholoacetic Acid – Stronger formula allows for treatment of more advanced signs of aging. Requires more downtime but provides dramatic, long-lasting results.
Depending on your needs, Dr. Kulbersh will determine which strength peel will benefit your skin the most. The more damaged the skin, the stronger the peel that will be required. In general, stronger peels require a longer recovery.
When are Deeper Peels Used?
Trichloroacetic acid (TCA) peels are deep peels for more damaged skin. This strong peel can be used to treat more advanced pigmentation changes such as brown spots and age spots. In patients that have many fine lines and wrinkles, a TCA peel can offer dramatic improvements. With this deeper facial chemical peel a patient will experience significant peeling for about three days to a week. TCA peels are commonly used during a surgical procedure to improve the appearance of damaged skin. Once the skin has healed, it will be smoother, radiant and glowing.
What to Know About Vi Peel
A Vi Peel is one of our favorite facial chemical peels offered at Carolina Facial Plastics in Charlotte and is designed to:
Improve dark spots and hyperpigmenation issues, such as melasma
Improve skin tone by improving clarity of skin and reduce pore size
Stimulate skin turnover to produce firmer and clearer skin
Help control acne breakouts
Mild to moderate rosacea
Who is a Candidate for a Vi Peel?
Vi peels are unique because they are safe to preformed on all skin types, including Caucasian, African Americans, Asians, and Indians. A Vi peel is a great option for patients seeking to improve the tone, texture, and quality of their skin.
Does a Vi Peel Hurt or Burn?
Vi peels are overwhelmingly comfortable. Patients typically experience a tingling sensation that last for a few seconds. A Vi peel is a wonderful treatment for patients that are not able tolerate minimal pain.
What is the Recovery Process After a Vi Peel?
Immediately after a Vi peel, the facial skin will be pink. On days 2-4 after a peel, the facial skin will peel and new clear skin will be present at day 5 after the peel. After a peel, patients will be given a post-treatment package of facial cleaners and moisturizers to ensure quick and safe recovery.
How Many Vi Peels are Needed to See a Result?
Patients will see the improvement of their skin after a single Vi peel. Depending on the quality of skin, patients may need to undergo a series of Vi peels to obtain the best result. On average, patients may require 2-4 peels. The peels would be performed every 4-6 weeks.
What Areas Can the Vi Peel Applied?
Vi Peels can be used on the chest, arms, back, legs, elbows, knees, hands and feet.
Are Vi Peels "One Size Fits All?"
Vi peels are customized depending on the patient's skin condition and goals. There are a variety of additives that are used with the Vi peel to customize it for each patient. For example, the ingredients for a Vi peel for hyperpigmentation will be different than a Vi peel for acne prone skin. ncbi.nlm.nih.gov talks more about the right peel for you.
Does a Vi Peel Make the Skin Thinner?
A Vi peel does not make the skin thinner.  During a Vi feel, cells called fibroblasts are stimulated. This fibroblast makes new collagen and elastin and actually thickens the skin.
Remarkable Results, Exceptional Care 
To learn more about a Vi peel, please call (704) 842-3644 or fill out an online contact form to schedule a consultation. During a consultation, our skin care experts will review your skin quality and goals and create a customize and comprehensive skin care plan.
Chemical Peel Frequently Asked Questions
Q: How are chemical peels performed?
A: All peels can be performed in the office. To prepare the skin, Dr. Kulbersh may place you on a skin care program for a few weeks before your peel. At the beginning of the peel, skin will be cleansed with an agent to remove excess oil and some dead skin. Then the peel solution will be applied to the treatment area. The strength, time, and type of peel vary for each patient. Some peels will be washed off, while others will be kept on.
Q: Do chemical peels hurt?
A: Mild peels may sting briefly while deeper peels may require medication to make the procedure as comfortable as possible.
Q: What is the typical recovery for a peel?
A: Superficial peels will create slight redness for about 24 hours while deeper peels may take up to 7-10 days to finish peeling. The skin may be red for up to 2 weeks after a chemical peel.
Q: How many peels will a patient need?
A: This depends on the quality of the skin and the goals of the patient. Healthier skin may only require one superficial peel. Skin with more damage may need 3-4 lighter treatments over the course of several months or may be treated with a single deep chemical peel.
Q: How long will the chemical peel results last?
A: Generally, stronger peels will have longer lasting results. The longevity of the results are most dependent on how well the patient takes care of their skin after their peel. The skin will continue to naturally age. Good skin care with a sunscreen, collagen stimulator, and other medical grade products will help the skin stay beautiful. A patient should expect the results to last for several months with a mild peel and several years with a deep chemical peel.
Q: When can I wear make-up after a chemical peel?
A: After a light chemical peel, make-up can be worn the next day. For deep chemical peels, the skin should be treated similarly to a wound. Make-up should not be applied until the skin has adequately healed. This is typically about 10 days after the deep peel.
Q: Why can't I wear make-up sooner?
A: Make up contains metals and contaminants. Heavy metal may deposit in the skin causing a discoloration of the skin. The contaminants may cause an infection or scarring if used before the skin has had adequate time to heal.
Q: What should I wash my face with after a superficial chemical peel?
A: For a superficial peel, you want to use a bland face wash without exfoliation or acid in it. Cetaphil and Dove are excellent choices. Dr. Kulbersh also recommends using a moisturizer at this time.
Q: Should I take medications before a chemical peel?
A: If a patient has a history of cold sores or the herpes virus around the mouth, they must take medications to prevent the re-occurrence of the virus. A chemical peel may cause an outbreak that can be prevented by these medications.
Q: How much does a chemical peel cost?
A: The cost of a chemical peel depends on the strength of treatment that you need. To find out how much your chemical peel will cost, schedule a consultation with our office.
Schedule a Chemical Peel Appointment in Charlotte, NC
Our team of medical aestheticians are highly experienced in performing treatments such as chemical peels. To schedule an appointment, fill out our contact form or call us at (704) 842-3644. We look forward to seeing you at Carolina Facial Plastics!
Next, learn about Micro Needling.