Cost | Recovery | Complications | Nose Job Guide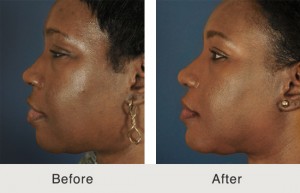 It's all about your nose. All patients seeking rhinoplasty are interested in creating a nose that is in proportion to their face. Ethnic rhinoplasty is the most commonly requested cosmetic procedure by patients of African American descent. While there is tremendous variability in every parameter of an African American nose, in general patients inquire about a nose job because they feel their nose is too wide, "too big," or does not fit their face.
Remarkable Results, Exceptional Care
Dr. Kulbersh has spent a great deal of time specifically focusing on the unique qualities and the cultural desires of his African American patients. Historically, ethnic rhinoplasty surgeons did the same surgical procedures on all types of nose jobs. This resulted in unacceptable results for African American patients. You can trust you are in good hands with Dr. Kulbersh, as he is a nasal specialist who understands the distinctive aspects of the African American nose.
Dr. Kulbersh completed a competitive fellowship in facial plastic surgery in Beverly Hills, where he performed ethnic rhinoplasties on patients from around the world. He recently authored a chapter in a prominent rhinoplasty medical journal, Rhinoplasty Archive, detailing the steps in an African American nose job. Dr. Kulbersh is now an ethnic rhinoplasty specialist in Charlotte, NC.
What are the Goals of African American Rhinoplasty?
The goal of every African American nose job at Carolina Facial Plastics is completely unique to each patient. Every patient and every nose will have different goals that will be defined during an in-depth consultation with Dr. Kulbersh. However, all of our African American nose jobs share a common goal, creating a nose that best fits the face.
In general, African American patients want to achieve the following goals with their rhinoplasty surgery:
Make the nostrils more narrow
Increase the size of the nose when looking at the profile (view from the side)
Improve definition of the tip
Fix the drooping tip
Create a natural nose to fit the face
What is an Ethnic Rhinoplasty?

The Unique Qualities of an African American Nose
It would be naive to say any quality is present in all African American noses. There are certain characteristics that tend to be more common in African American noses that should be identified by an ethnic rhinoplasty specialist. Dr. Kulbersh examines the noses of all of his African American patients for the following unique qualities:
Thickness of the nasal skin. African American skin can be thicker, inelastic, and sebaceous. Thick skin can prevent definition of the nose.
Length of the nasal bone. African Americans may have shorter nasal bones. Short nasal bones do not support the nose well. Additional supporting grafts must be placed into the nose to prevent collapse many years after the surgery.
Definition of the nasal tip. African American nasal tip is commonly poorly defined and droops. The tip will require special maneuvers to achieve definition, although this may be limited due to thick skin.
Size of the nose. The African American nose may be small when looking at the profile because it may not stick out far from the face. In this case, the nose actually may have to be made BIGGER so that it appears SMALLER. This point is often hard for the patient to understand, but Dr. Kulbersh will explain this concept in further detail during a consultation.
Size of the nostrils. If the nostrils are wide and flared, then the nostrils may need to be narrowed with an alar base reduction procedure.
Support of the nose. The cartilage in the nose may be weak. Since the nose has to last a lifetime, the nasal structure must be strengthened so that the nose does not change over time.
The Unique Steps of an African American Nose Job
The African American nose surgery focuses more on reconstruction techniques compared to non-ethnic rhinoplasties. A bony and cartilaginous framework supports the nose. The cartilages in African Americans are weaker and require support, including:
Cartilage from the nose and other areas of the body added to support the nose and tip
Nose built up from the profile view with the addition of more cartilage
The nostrils are typically narrowed with incisions made in the creases of the nose. They are placed in this location to hide the delicate incision lines. During surgery, Dr. Kulbersh uses special sutures and grafts to define the nasal tip.
Cartilage Collection Locations to Support and Build up the Nose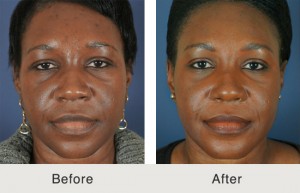 Cartilage is harvested from other areas of the body and then used to support and rebuild the nose. Cartilage can be harvested from the following 3 locations:
The nasal septum – The cartilage that separates the right and left nasal passageway.
The ear – The incision is hidden behind the ear. There is very little perceived change in the ear.
Rib – On noses that require a considerable amount of cartilage, a small piece of a rib can be harvested. This is only used if necessary.
Often patients ask for an implant, such as silicone or Gore-Tex, to help build and strengthen the nose. While this will make the surgery easier for the surgeon, Dr. Kulbersh rarely places unnatural permanent products into the nose during an African American rhinoplasty in Charlotte due to the higher risk of complications.
Recovery From an African American Rhinoplasty
Recovery from rhinoplasty generally lasts 1-2 weeks. You will be able to return to work or your daily activities within 7-10 days after the surgery.
Here are some general guidelines for recovering from an ethnic rhinoplasty procedure:
All patients can stay in a recovery suite with a private nurse or have a private nurse in their home for the first few nights if desired. This is not necessary, but may be a wonderful option.
Incisions are cleaned during the first week.
Cast and tape remain on nose for one week.
The nose will need to be irrigated after one week.
Start using special creams to help with healing starting at week two.
Return to walking after one week and more vigorous exercise at three weeks.
For the best surgical experience possible, we encourage our patients to schedule their surgeries at Fairview Surgical Suites, Dr. Kulbersh's private surgical facility located in Charlotte. Afterward, we invite you to book a room at Dr. Kulbersh's new recovery center, Fairview Recovery Retreat. In both centers, you can rest assured knowing that you're in the best hands possible.
Learn more about African rhinoplasty surgery at ncbi.nlm.nih.gov
African American Rhinoplasty Frequently Asked Questions
Q: What should I expect during my rhinoplasty consultation?
A: During your consultation with Dr. Kulbersh, you will spend a significant amount of time discussing your goals for your rhinoplasty nose job. Dr. Kulbersh will ask you questions about your lifestyle and health history to make sure you are a good candidate for nose surgery. Additionally, he will evaluate your health status, examine your face and discuss surgery options. Finally, he will answer all of your questions and address your concerns about the surgery and your likely outcomes.
Q: How long will it take for swelling to recede after rhinoplasty?
A: This is typically one of the first questions Dr. Kulbersh receives from his patients. Everyone heals differently, but a good rule of thumb is that 60-70% of the swelling will be gone after three weeks and the remaining will continue to resolve over the first year. Typically, swelling may be worse in the open approach or in patients that have the nasal bones broken during the procedure.
Q: How long does it take to see the final results of a nose job?
A: The nose heals slowly, but after a month, one should be able to get a good appreciation of the final result. The final result is best appreciated about one year after surgery.
Q: How much recovery time is needed after an ethnic rhinoplasty surgery?
A: Nose job recovery generally lasts between 1-2 weeks. The patient will have to wear a splint on the nose, which will be removed after the first week. Most patients are able to return to work or their daily activities, within moderation, 7-10 days after surgery.
Q: Will my nose look too Caucasian after surgery?
A: No. Dr. Kulbersh knows the importance of preserving your ethnic identity and reshapes your nose to perfectly compliment your face. He has a thorough understanding of the African American facial structure, nose types and aesthetics, and can provide you with natural-looking results.
Q: What are some of the new techniques Dr. Kulbersh learned in Beverly Hills?
A: While Dr. Kulbersh cannot reveal all of his secrets on the Internet, in Beverly Hills the high profile patients cannot afford to have a long downtime after a rhinoplasty procedure. Dr. Kulbersh has learned many small "tricks of the trade" that he believes decrease bruising and swelling after a nose rhinoplasty procedure.
Q: How much does rhinoplasty cost?
A: The price of rhinoplasty is unique to each patient. The cost of a nose job varies based on the specific nose issues the patient needs to be corrected. During your consultation with Dr. Kulbersh you will thoroughly discuss the cost.
At Carolina Facial Plastics we take a unique approach to rhinoplasty in our African American patients. Dr. Kulbersh strives to understand your desires and goals. With his knowledge and understanding of the African American nose, he can refine your nose to enhance your natural beauty. Your nose is special and we believe you should only trust your nose with a nasal specialist.
Call (704) 842-3644 to schedule your ethnic rhinoplasty with Dr. Kulbersh today in Charlotte, NC.