At Carolina Facial Plastics in Charlotte, my ultimate goal as a facial plastic surgeon is to bring my patients the most cutting edge and advanced treatments possible to help them improve their quality of life.. Bruxism, better known as teeth grinding, affects millions of Americans , many who don't seek treatment. There are several treatments of teeth grinding, but I want to discuss a convenient, safe and effective method to treat bruxism—Botox injections.
What Is Bruxism?
Bruxism is nighttime teeth grinding or clenching that can cause damage to the teeth, headaches, pain, and jaw disorders. The clinching is due to muscles that close the jaw forcefully contract at night. This can causes the teeth to grind against each other at high pressures. Traditional treatment of Bruxism is a night dental guard that is worn at night. This prevents the teeth from touching. If the teeth are not touching, they cannot grind against one another. While this may be effective for some patients, it does not correct the underlying problem, forcefully contracting muscles.
How Does Botox For Grinding Teeth Work?
Botox for Bruxism is a relatively new treatment that I provide for my patients in Charlotte that corrects the underlying problem, forcefully contracting muscles. Botox is injected into 2 of the main muscles that cause the grinding, the masseter and temporalis muscle. Botox weakens the muscle and prevents teeth grinding at night. Botox does not change affect eating, chewing or talking. In most patients, they will experience a resolution of most if not all of their symptoms from teeth grinding a week or two after the injection. This injection is effective for 4-6 months. A simple and 5 minute procedure can prevent unwanted teeth clenching allowing a better quality of sleep, prevents further damage to their teeth, stops headaches and pain, and improved the quality of life.
Watch Dr. Kulbersh Perform a Botox for Bruxism Treatment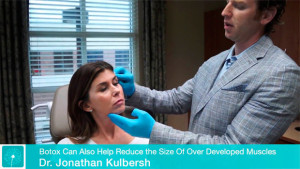 Bruxism FAQ
It's very common for my patients to have several questions regarding their pending treatments. Listed below are some of the most frequently asked questions that I hear in relation to Botox for teeth grinding, including but not limited to:
Q: How does Botox help lessen grinding teeth at night?
A: Because teeth grinding occurs as a result of a clenched jaw muscle, Botox helps to lessen the muscles ability to clench tightly, therefore resulting in a decrease in the amount of grinding that is able to occur.
Q: How do I know if I'm a good candidate?
A: You're most likely a great candidate to undergo the treatment if you grind your teeth at night. Pregnant women cannot have Botox injections.
Q: What is the cost of Botox for teeth grinding?
A: Though the cost is very dependent upon the individual as the seriousness of your teeth grinding will play a part in determining how many injections you'll need, I work with my patients to provide a very cost-effective treatment plan.
Q: Who should perform Botox injections?
A: It's ideal to have an experienced Botox injector perform your treatment. Because I am a board certified head and neck surgeon with a specialty in facial plastics, I can bring a unique knowledge of both function and aesthetics to my patients difficult to find elsewhere.
Q: Where is Botox injected?
A: To help prevent Bruxism, I inject Botox into the masseter muscles located in the jaw and the temporalis muscle in the scalp. This helps reduce the amount of grinding that you'll be able to do while sleeping.
Watch Robin's Follow Up Video to See How Botox for Bruxism Helped Her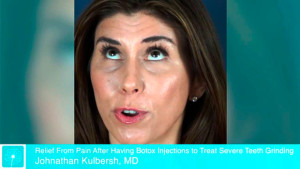 Contact Carolina Facial Plastics Today
Determining if you're a good candidate to undergo Botox injections to overcome Bruxism begins when you contact me to schedule your first appointment. If you'd like to learn more about how you can overcome your nightly habit of teeth grinding in just one quick office visit, I encourage you to contact my practice today by calling (704) 842-3644. As a board certified head and neck surgeon in Charlotte with a special knowledge of injectable treatments, I understand the importance of bringing my clients their desired results.
For additional information regarding Botox for grinding your teeth and to find out if you're a good candidate to undergo the non-invasive procedure, contact Carolina Facial Plastics today.
Next, read about the History of Botox.