As an expert facial plastic surgeon in Charlotte, NC, I work to help patients improve facial balance on a daily basis. I believe there are 3 essential beautiful features on the face, the eyes, skin, and smile.
The great smile is priceless, and as a facial plastic surgeon, I love to enhance the smile if I can. One area where I have had great success in improving the smile is softening a gummy smile. A gummy smile is one that shows more of the gums than a patient would like. Botox or Dysport are great options to make a gummy smile less gummy.
How Does Botox Work?
In some smiles the upper lip can raise too high and unveil a lot of gummy space. In these patients, I inject a very small amount of Botox or Dysport to weaken the muscles responsible for raising the lip. This results in a gentler and softer upward pull when a person smiles, but still allows all of the teeth to be seen but decreases the amount of gums that show. The results are natural and create a warm smile.
The non-surgical treatment is performed at my office in Charlotte, and take just a few minutes. It takes 3-7 days to see the final results.
Watch Dr. Kulbersh Discuss Using Botox To Treat A Gummy Smile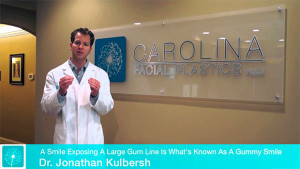 Is The Procedure Permanent?
Because Botox and Dysport work to temporarily weaken muscle movement, the results will not last forever. However, many patients report seeing an improvement in the appearance of their gummy smile for up to six months. Because the procedure is extremely easy to administer and undergo, upkeep is very easy and requires only a few quick office visits to Carolina Facial Plastic each year to maintain excellent results.
Speak With An Expert Facial Plastic Surgeon in Charlotte
A gummy smile may be something that's bothered you for quite some time, but thanks to Botox and my advanced injection techniques, I can help reduce the appearance of your gums.
To determine whether or not Botox can be used to help overcome your gummy smile, it's best to contact Carolina Facial Plastics today to schedule your initial consultation. During our first meeting in Charlotte, I'll be able to assess your needs and develop a unique plan of injections to help combat excessive gums.
For additional information about using Botox to reduce the appearance of a gummy smile, please contact my office today.