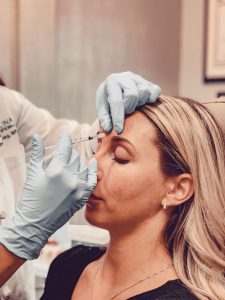 Dysport is a neuromodulator similar to Botox and Xeomin that helps smooth wrinkles through relaxing certain muscles. If you are starting to notice dynamic wrinkles in your forehead, between your eyebrows, or at the corners of your eyes, Dysport may be able to help reduce these wrinkles and restore a more youthful appearance. It also works well as a preventative measure for younger men and women in Charlotte, North Carolina worried about developing premature wrinkles!
Dr. Kulbersh in Charlotte, North Carolina offers Botox, Dysport, and Xeomin as non-invasive options for subtle rejuvenation of the face. Dysport can also be used to help reduce excessive sweating, treat teeth grinding, and can help to slim a square jaw caused by overactive masseter muscles. Dr. Kulbersh and his staff, board-certified nurse practitioner, Courtney Whitley, and physician assistant Heather Bryant, are skilled injectors who can help you to rejuvenate your appearance without giving you a "frozen" appearance.
What is Dysport?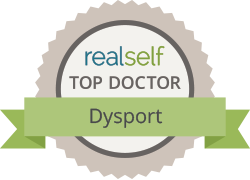 Dysport is a neuromodulator, which means that it works by blocking nerve signals that cause muscles to contract, thus relaxing them and allowing the skin to smooth out. Muscle contraction leads to wrinkles, which is why we tend to develop more wrinkles in areas of our face that we move a lot, such as the forehead. Dysport is FDA approved and has been found comparable to Botox in terms of effectiveness.
Dysport can last for anywhere from 3 to 6 months, depending on the individual patient as well as factors such as where it was injected and the injector's technique. It is important to only have Dysport injections done by a skilled injector as most patients want to trust their face to an expert. Dr. Kulbersh tailors his treatments to each individual to ensure natural-looking results that his patients are satisfied with.
What Can Dysport Treat?
Dysport can help smooth wrinkles in the forehead, otherwise known as expression lines, and can also help reduce crow's feet around the eyes. Frown lines, also known as 11s, can also be treated with Dysport. Frown lines are those deep lines that develop in between the eyebrows. These are the main areas treated with Dysport, but there are also a variety of other uses, including subtly raising the brows for a mini brow lift effect that, while not as dramatic as a surgical brow lift, can help to open up and brighten the eye area. Dysport can also be injected into the masseter muscles in the jaw for a slimming effect to soften and feminize a square jaw.
Dysport can also be used effectively to treat hyperhidrosis, otherwise known as excessive sweating. This condition affects many people in Charlotte, North Carolina and can cause embarrassment, anxiety, and self-consciousness. In certain cases, hyperhidrosis can be socially and even functionally debilitating. Dysport can be a good option to help stop excessive sweating by blocking the nerve signals that tell the sweat glands to produce sweat.
To learn more about wrinkle treatments with Dysport, visit clinicaltrials.gov.
Downtime After Facial Injections
What is the Difference Between Dysport and Botox?
Dysport and Botox have the same active ingredient. Dysport is a more pure form of the active ingredient and therefore will have some minor differences. The advantage of Dysport over Botox in Charlotte, North Carolina is that it will have a faster onset of activity and it may last longer than Botox.
Schedule a Dysport Consultation
If you are interested in smoothing your dynamic wrinkles in a safe, effective, non-invasive way, Dysport could be a good option. To learn more about Dysport and other neuromodulators, call Carolina Facial Plastics in Charlotte, North Carolina at (704) 842-3644 or contact us online today.
Next, learn about Voluma.