Cost | Recovery | Complications | Nose Job Guide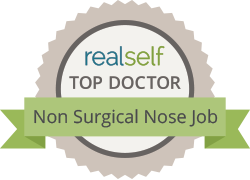 Love Your Nose with Non-Surgical Rhinoplasty
If you're unhappy with the shape or symmetry of your nose but aren't ready for a surgical procedure, a non-surgical rhinoplasty may be a great option for you. At Carolina Facial Plastics in Charlotte, Dr. Kulbersh and his nurse injectors, board-certified nurse practitioner Courtney Whitley and physician assistant Heather Bryant are experts in nose-shaping procedures like non-surgical nose jobs which use dermal fillers to enhance the appearance of your nose without the recovery of an invasive surgical procedure.
Dr. Kulbersh is dedicated to creating more balanced and harmonious features using the innovative techniques that can exceed his patient's expectations. He specializes in rhinoplasty procedures and offers non-surgical rhinoplasty because it can provide beautiful results for patients who do not want extensive downtime or interruption to their busy lives. Not only that, but many patients try non-surgical rhinoplasty to try on the look of their new nose before committing to a permanent rhinoplasty procedure. Known for his extensive training and meticulous skill, Dr. Kulbersh is sought after for the beautiful results he creates with non-surgical rhinoplasty and is known for the personalized approach he takes with each client.
What is a Nonsurgical Rhinoplasty?
At Carolina Facial Plastics, Dr. Jonathan Kulbersh brings his skill as a facial plastic surgeon and rhinoplasty expert to improve the shape and look of your nose without any kind of surgery, recovery, or downtime using facial fillers. Dr. Kulbersh corrects bumps, asymmetries, and deficiencies with simple injections of hyaluronic-acid (HA)-based dermal fillers, such as Restylane(R) and Juvederm(R). Directly after your procedure, your nose looks straighter and more in balance with the rest of your features.
How does non-surgical rhinoplasty make me look more attractive?
If your nose is crooked or bumpy, it may detract from your more expressive features, such as your eyes and lips. Dr. Kulbersh's aim with non-surgical rhinoplasty is to deflect attention from your nose by correcting its shape and enhancing your overall facial harmony.
What kinds of issues can I correct with non-surgical rhinoplasty?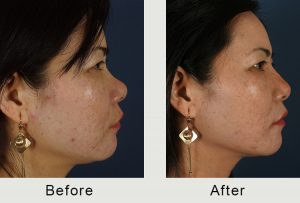 Non-surgical rhinoplasty is a great solution to correct a previous rhinoplasty that didn't give you the look you wanted. The HA fillers lend your nose a beautiful, new shape — and you don't have to undergo revision surgery.
You can also use a non-surgical rhinoplasty to build up a low bridge or undefined tip, which are common in Asian and African noses. A non-surgical rhinoplasty replaces the need for a cartilage graft.
A non-surgical may be your best solution if your nose is:
Bumpy

Crooked

Dented

Droopy

Upturned

Flat or scooped at bridge

Shapeless at tip

Wide at tip

Pinched at tip
Removing bumps and asymmetries with non-surgical nose job sometimes creates the illusion of a shorter nose, too.
How do I know if nonsurgical rhinoplasty will work for me?
During your consultation in Charlotte, Dr. Kulbersh and his staff devote all the time you need to express your concerns about your nose. He examines your nasal tissue, including cartilage and bone, and also considers how well your current nose shape harmonizes with your face. Dr. Kulbersh or the nurse injectors will let you know if non-surgical rhinoplasty is your best solution, or if you'd benefit more from surgery. ncbi.nlm.nih.gov explains more about how non surgical rhinoplasty might be right for you.
How long does it take to get non-surgical rhinoplasty?
Dr. Kulbersh or his nurse injectors should be able to perform your nonsurgical rhinoplasty within an hour. Your results are instantaneous. There can sometimes be minimal swelling with any type of injection, but this should resolve in a few days.
What if I don't like my non-surgical rhinoplasty?
One of the most amazing things about a non-surgical rhinoplasty is that it's completely reversible. That means you can "try on" a new nose and, if you don't like it, you just wait for the HA fillers to dissolve over time. Or, if you don't want to wait, Dr. Kulbersh can even dissolve the HA for you in just a few minutes.
Can I get non-surgical rhinoplasty before committing to surgery?
Many of Dr. Kulbersh's patients who aren't quite sure they're ready for surgery use a non-surgical nose job as a way of easing into their new look. Once they're used to their "new nose" and are ready to commit to a more balanced and harmonious appearance permanently, Dr. Kulbersh schedules a surgical correction.
Is a nonsurgical rhinoplasty painful
?
Dr. Kulbersh uses a potent numbing medication to keep your non-surgical rhinoplasty virtually pain free. If you feel any discomfort, you can control it with over-the-counter pain medication. You may feel a little bruised or swollen for a couple of days.
How long does a non-surgical rhinoplasty last?
When used in the nose, HA fillers tend to last a little longer than in more mobile areas of your face. You'll need a touch-up every year depending on your correction. Dr. Kulbersh and his staff help you schedule touch-ups to maintain your new look.
Why should I choose a facial plastic surgery practice to create my non-surgical rhinoplasty?
As a Beverly-Hills trained facial plastic surgeon who is double-board certified, Dr. Kulbersh and staff brings a wealth of understanding of both anatomy and aesthetics to every non-surgical rhinoplasty he performs. He's corrected thousands of noses with his expert surgical techniques and transfers this knowledge to non-surgical procedures, too. Your non-surgical rhinoplasty will look beautiful, natural, and in perfect harmony with the rest of your face.
Transform Your Nose with Non-Surgical Rhinoplasty
Start living your dream by scheduling a non-surgical rhinoplasty consultation today. Call Carolina Facial Plastics in Charlotte at (704) 842-3644 or contact us with the online request form.