Liquid Facelift Overview
Treats: Early signs of aging, including lines, wrinkles, hollowing, and mild skin laxity
Length: 30 minutes - 2 hours
Anesthesia: Topical numbing is available
In/Outpatient: Outpatient
Side Effects: Mild swelling and bruising possible for a day or two
Risks: Minimal when procedure is performed by an experienced, qualified injector
Recovery: Most patients return to their regular schedule immediately following the procedure
Duration of Results: 6-12 months
Remarkable Care, Exceptional Results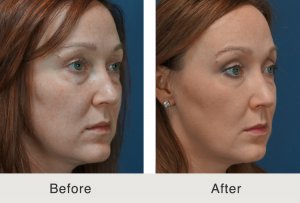 Testimonial
"Non-surgical rhinoplasty: It's crazy how a fifteen minute, painless procedure can be such a confidence-booster!! I always love my results!! Courtney is incredibly meticulous and does a fantastic job!!"
– Nice254397, RealSelf
Video
Frequently asked questions
How long the results of a liquid facelift last vary from patient to patient. This really depends on which types of facial fillers are used during your customized procedure at Carolina Facial Plastics. If hyaluronic-acid based fillers like Restylane or Juvéderm are used, results from your liquid facelift can last well over six months.
There are virtually no major side effects experienced after undergoing a liquid facelift. It is possible to see slight bruising, redness, itching, or swelling that will diminish over the course of the next several days.
A good candidate for a liquid facelift is a healthy man or woman who would like to improve the appearance of facial wrinkles, fine lines, and volume loss.