Hello, Jeuveau™!
I'd ask, " 'Where has Jeuveau been all my life?' But it's actually showing up at just the right time."
What is Jeuveau?
Jeuveau is a brand new, injectable neuromodulator that you can use to prevent or erase moderate to severe frown lines. Jeuveau was just approved by the FDA and will be at Charlotte's Carolina Facial Plastics starting in Spring 2019. Call Dr. Kulbersh now so you can be one of the first to try the nouveau Jeuveau.
What does Jeuveau do?
Jeuveau works by blocking neural signals to the dynamic muscles that press your skin into folds and creases. Just a touch of Jeuveau can knock out even the most severe frown lines and forehead wrinkles.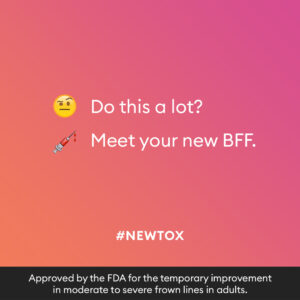 You can use Jeauveau to rejuvenate your forehead and smooth out wrinkles and creases that make you look tired and angry. Or ask Dr. Kulbersh about pre-juvenation, which prevents wrinkles from forming in the first place.
A new kind of neuromodulator
From Day One, Jeuveau was envisioned solely as a high-quality aesthetic product to improve the appearance of fine lines and wrinkles. Jeuveau isn't your mother's Botox; it's a brand Newtox for a brand new generation.
What is Jeaveau made from?
Jeuveau is made of a purified neurotoxin — similar to that used in Botox®, Dsyport®, and Xeomin®. But Jeuveau developed a proprietary formula based on a purified form of 900 kDa botulinum toxin type A. Not only that, but Jeuveau is manufactured in a state-of-the-art facility using Hi-Pure™ technology to ensure your safety.
How long does it take to get this wrinkle removal treatment?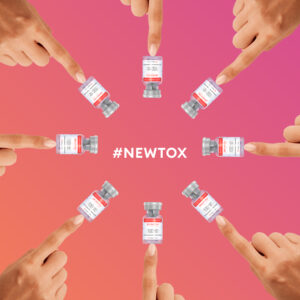 Jeuveau is a "lunchtime" treatment that Dr. Kulbersh performs in 10-15 minutes. You can easily schedule Jeuveau at the same time you get your other regular aesthetic treatments at our Charlotte, NC injectables office.
When will Jeuveau smooth out my wrinkles?
Jeuveau has a rapid onset of action. Within 2-3 days, your forehead muscles won't be able to frown strongly enough to wrinkle your skin and you'll see the full results within 10-14 days. Without the pressure from dynamic muscles, your skin becomes silky smooth and wrinkle-free again.
How long does Jeuveau last?
Jeuveau can last between 3-4 months, similar to Botox. After your first appointment, Dr. Kulbersh's staff can schedule you for a touch-up in three to four months to keep your skin fresh and silky.
Is Jeuveau safe?
Jeuveau underwent clinical trials with more than 2,100 patients and received FDA-approval for the safe treatment of frown lines. No serious drug-related adverse events were reported during the trials.
Dr. Kulbersh always encourages you to call him if you experience unsettling side effects after any treatment. But, as with other injectables, you shouldn't expect anything more than some tenderness or swelling for a few days to hours after your Jeuveau treatment.
Experience Jeuveau for Yourself
To experience the Jeuveau difference for yourself, visit our Charlotte, NC office, call us to set up an appointment, or book one online.