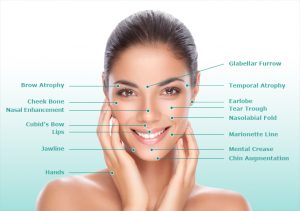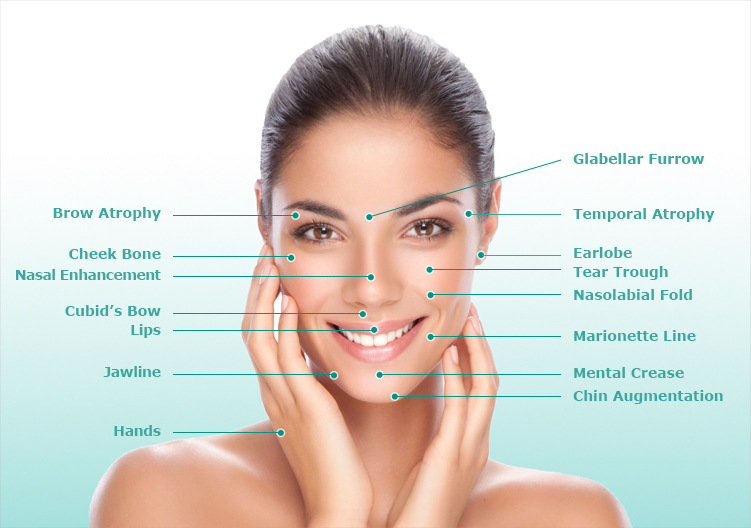 As we get older, we lose volume in the face over time. The volume lost in the face is a combination of fat and bone. Perlane is a dermal filler that can be injected into the face to restore lost volume. Perlane is composed of hyaluronic acid, which is a naturally occurring substance in the human body. In order to enhance one's appearance and brighten one's face, the injection of Perlane into various areas of the face can enhance one's overall facial features.
How Can Perlane Injections Improve the Aging Face?
The loss of volume in one's face causes the face to deflate over time, similarly to a balloon that constantly loses a small amount of air. As the balloon deflates, it begins to form creases and shadows. Similarly to a balloon, the face undergoes a similar process. Perlane injections into the face can add volume to where the face has "deflated." At my practice in Charlotte, Perlane can improve facial proportions allowing patients to look refreshed and appear younger.
What is Perlane Made Of?
Perlane is a clear gel. It is composed of hyaluronic acid, a naturally occurring substance in one's body. Perlane, Juvéderm and Restylane are all made of hyaluronic acid.
Where Can Perlane be Injected?
As a facial plastic surgeon in Charlotte, I can inject Perlane safely into many areas of the face. There are areas of the face that require more skill inject secondary to the thinness of the skin and surrounding important facial structures (eye or blood vessels). Dr. Kulbersh takes all necessary precautions when injecting into these areas to ensure utmost safety and natural results.
What are the Common Areas Perlane Can Be Injected into the Face?
Some of the most common areas of the face where I commonly inject Perlane are:
Jawline (commonly referred to as a Liquid Necklift)
Smile lines
Cheeks
What if I Don't Like the Result? Can the Injection be Reversed?
Perlane is a great product because it can be easily reversed. There is an enzyme, hyaluronidase, which instantaneously dissolves Perlane. For my patients in Charlotte, Perlane can be easily removed by a simple injection of hyaluronidase. I typically will wait a minimum of two weeks after an initial injection to remove Perlane.
How Long Does Perlane Last?
Unfortunately, this differs based on the individual and location of the injection. After Perlane is injected, it is slowly absorbed into the face. Most patients like to have the area re-injected after 60% of the Perlane has been absorbed. Depending on the area of the face, this will be every 6-12 months on average. Areas of the face that move more frequently (the mouth) will dissolve the Perlane faster than non-mobile areas (temples). The best way to find out how long your Perlane treatment will last is to schedule a consultation with Carolina Facial Plastics.
Do I Need the Same Amount Each Treatment?
Since most people feel they need injections when 60% of the Perlane is dissolved, patients will not need the same amount each treatment. If 40% of the Perlane remains in the face during a repeat treatment, the patient will need less Perlane to obtain the same result.
How Much Does Perlane Cost in Charlotte?
At Carolina Facial Plastics, Perlane is priced out per syringe. Each syringe contains 1ml of product. Dr. Kulbersh does all of the injections in his office in Charlotte. When a doctor does injections the cost may be slightly more than an injector with less education, such as a nurse injector. When multiple syringes are used, the sequential syringes cost less than the initial syringe.
How Many Syringes Do Most Patients Require?
The amount of syringes injected can depend on the amount of volume loss in the face and the patient's goals. It can range from 1 syringe to over 20 syringes.
What is Unique Regarding the Technique to Inject Perlane in Charlotte at Carolina Facial Plastics?
The majority of injectors use needles to inject fillers. Using a needle on the face can be painful, traumatic, and create a bruise. At Carolina Facial Plastics, I use a blunt tipped microcannula to inject facial fillers. Since the microcannula is blunt at the end, it causes less trauma, resulting in a more comfortable experience and less risk of a bruise for patients.
Can I Be Allergic to Perlane?
Perlane is composed of a naturally occurring substance in the body, and it has an extremely low incidence of a patient becoming allergic to the product. In my experience, I have never seen a patient that was allergic to Perlane at my Charlotte practice.
How Often Does Dr. Kulbersh Inject Fillers at Carolina Facial Plastics?
Dr. Kulbersh is a leader in injectable fillers in Charlotte. He is currently one of the highest volume injectors of fillers in North and South Carolina.
Can a Patient Have a Consultation and Injections on the Same Day?
Of course! In order to make the experience convenient for patients, we commonly have a consultation and perform the injection on the same day. When scheduling your appointment, please let the receptionist know that you are interested in having the injection the same day. The receptionist can schedule time to allow Dr. Kulbersh to perform the injections.
Why Should I Choose Carolina Facial Plastics To Have My Perlane Injections in North Carolina?
When considering a medical professional to trust to inject a substance into your face, I would recommend choosing an expert. Dr. Kulbersh is a Beverly Hills fellowship trained facial plastic surgeon, and he has worked with the best Perlane injectors in Beverly Hills. Dr. Kulbersh is a facial plastic surgeon who performs facial fillers on a daily basis. Dr. Kulbersh uses the most recent and advanced techniques such as the microcannula to limit downtime, improve safety, and create amazing results.
How Can I Get My Perlane Injected By Dr. Kulbersh?
Please call my office at (704) 842-3644, or fill out the online consultation form to schedule a consultation. During this time, we'll be able to develop a completely customized treatment plan unique to your specific needs.
Next, read about Sculptra.