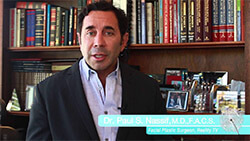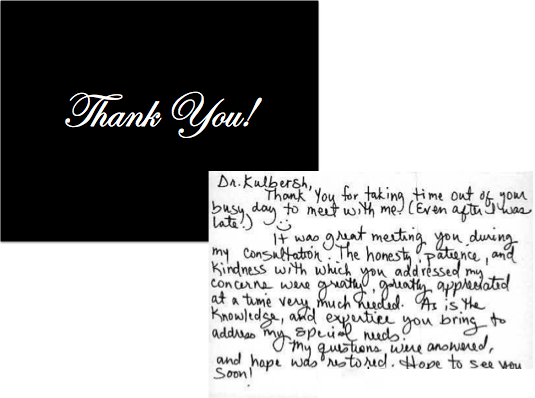 Dr. Jonathan Kulbersh is the best.  I've had several visits in the past 18 months, all very positive, ranging from simplistic facials to complex aesthetic surgery.  His bedside manner is as good as his work.  You won't be disappointed; he loves what he does and it shows.
Patient JL
---
One of the best in Charlotte.  I went to Dr. Kulbersh after seeing some other doctors in town for botox.  No one had as good bedside manner as him.  He took the time to listen to what I really wanted and the results are wonderful.  I have recommended him to many friends.  Great doctor!
Patient AA
---
After my spinal cord injury in 2007, I had a trachael tube inserted during transportation to the hospital. I was thankful to have survived the car wreck, but the trach left a noticeable scar on my neck. Dr. Kulbersh removed the scar; it was a surprisingly quick, and painless procedure. In doing so, Dr. Kulbersh helped me feel better about my appearance.
An able listener, Dr. Kulbersh eased my nerves about the risks, and the results were fantastic. Overall, a great doctor with an amazing family.
Patient DB
---
I was actually a receptionist in a dermatologist and facial plastic surgeon office for over 10 years, and I had never had Botox.  I was cautious because I always wanted to look natural, and I was scared of pain.  I had known patients of Dr. Kulbersh, and I liked their natural appearance.  I made my appointment with him, and now I am fan of Dr. Kulbersh and Botox!  He spent his time to go over my question and concerns, and he was gentle during the injections.  I was concerned about the wrinkles on my forehead and between my eyes.  After my treatment, I have a naturally smoother look, and I am happy that I finally made my appointment!
Patient SA
---
I had some issues from a previous facial procedure by another plastic surgeon.  I wanted to get a second opinion from a facial plastic surgeon, so I made an appointment with Dr. Kulbersh.   After my consultation, it was clear that he had newer skills and advanced techniques that would be a great option for my situation.  From my previous experience with a plastic surgeon, I was a little discouraged and pessimistic about what could be done to help me.  After undertaking Dr. Kulbersh's recommendations and guidance, I could not be more pleased to be where I have come today.  I have had an excellent result that I am not sure would be possible without him.  I am so thankful for the care, compassion, and treatment that I have received from Dr Kulbersh. I feel some doctors are surgeons and other doctors are good surgeons and care about their patients.  My other doctor only wanted to do surgery and not care for me, the patient.  Dr. Kulbersh cared about me as the patient and was a fantastic surgeon.  In my mind, this was one of the greatest differences between Dr. Kulbersh and my previous doctor.
Patient MC
---
I would like to thank you for spending so much time with me before my surgery.  It made me feel very comfortable and generated a significant amount of trust.  Thank you
Patient TH
---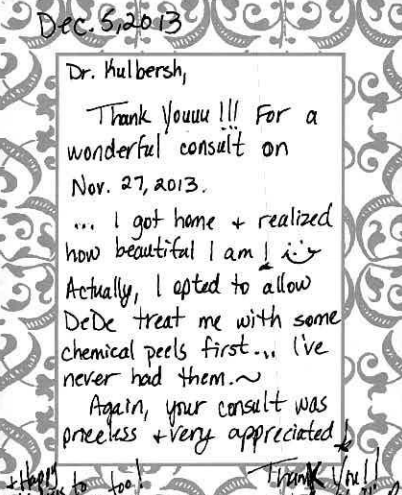 ---