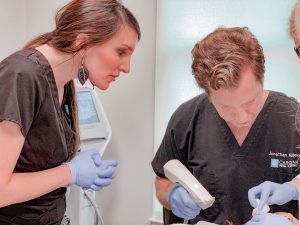 When you're not ready or in need of a surgical facelift but ready to tighten, smooth and contour wrinkled sagging skin, Carolina Facial Plastics recommends the revolutionary Profound nonsurgical facelift. Profound by Candela combines the healing powers of microneedling with the stimulation of radiofrequency (RF) energy to completely transform your appearance with just one week of recovery. FDA-cleared Profound triggers your own body's healing and rejuvenating abilities so that your skin produces almost six times the normal amount of elastin and twice the collagen in just a single treatment. 
The result is skin that's clearer, firmer, and tighter. You'll look like a better version of yourself without having weeks of recovery.  You will have spent about an hour in the comfort of the Carolina Facial Plastics office, rejuvenating your skin with one of the most innovative and advanced new treatments available, and about 7-10 days of downtime.
How does Profound RF work?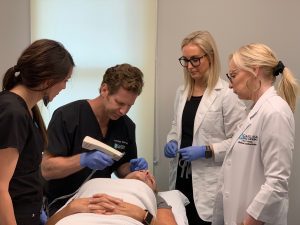 Profound features single-use microneedling cartridges. The hair-thin needles pierce your skin thousands of times, stimulating a wound-healing response. The RF energy travels through the needles to boost the healing response. As your skin repairs itself over the next weeks to months, it grows smoother, tighter, firmer, and more youthful-looking.
Our providers selects the right needle size and depth, and the correct amount of energy, based on the areas treated. Depending on your goals, we can rejuvenates your face and neck and even parts of your body in one treatment. 
"We're thrilled to be bringing Profound to Charlotte and to offer this cutting-edge therapy to our patients who want a significant rejuvenation, but aren't quite ready for a surgical facelift, " says Dr. Jonathan Kulbersh, founder of Carolina Facial Plastics and a renowned, award-winning facial plastic surgeon. "At Carolina Facial Plastics, we strive to stay on the leading edge of finding and vetting the latest in aesthetic technology and surgical techniques so you can look as young as you feel."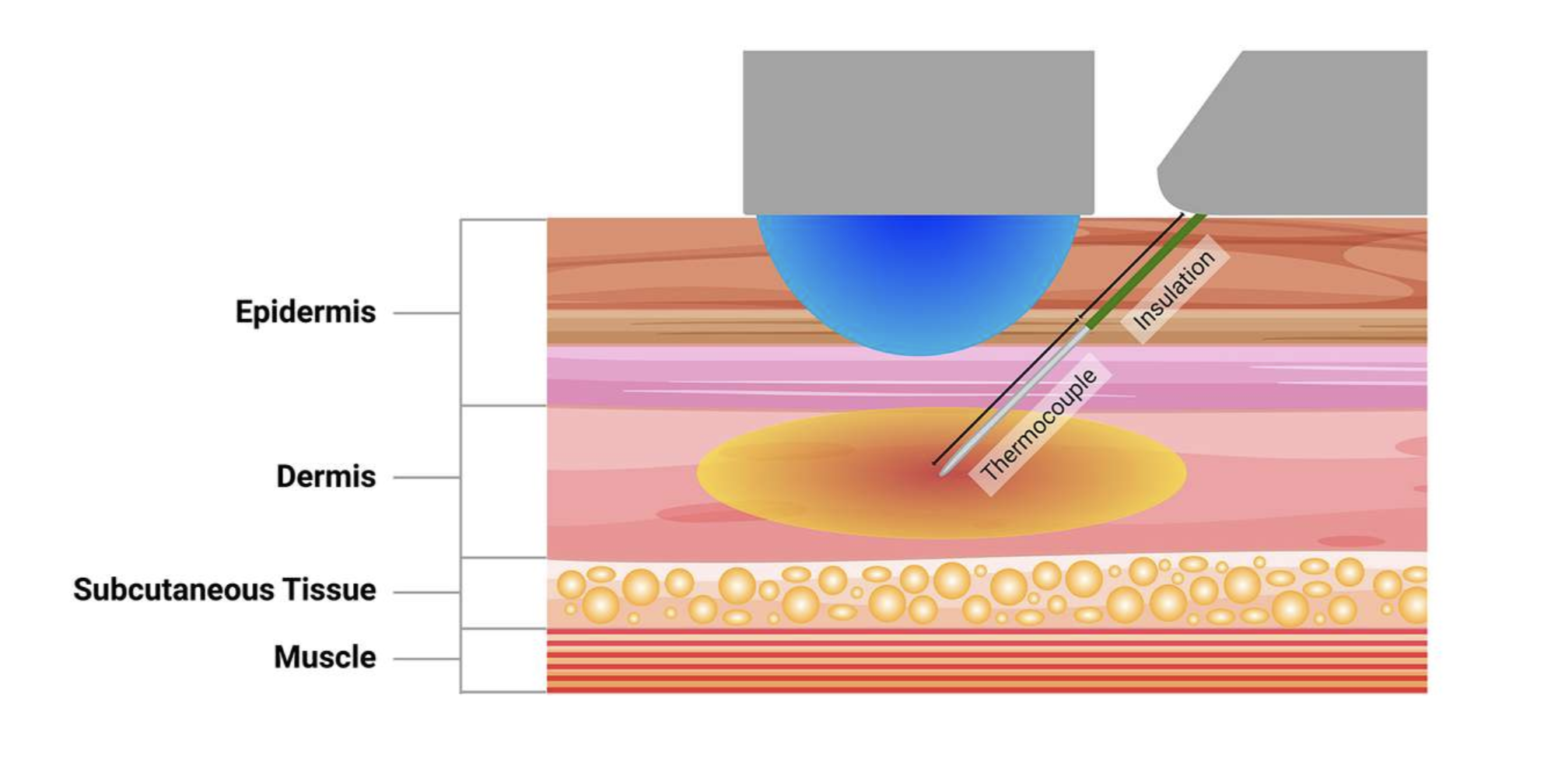 How Profound RF Compares to Other Treatments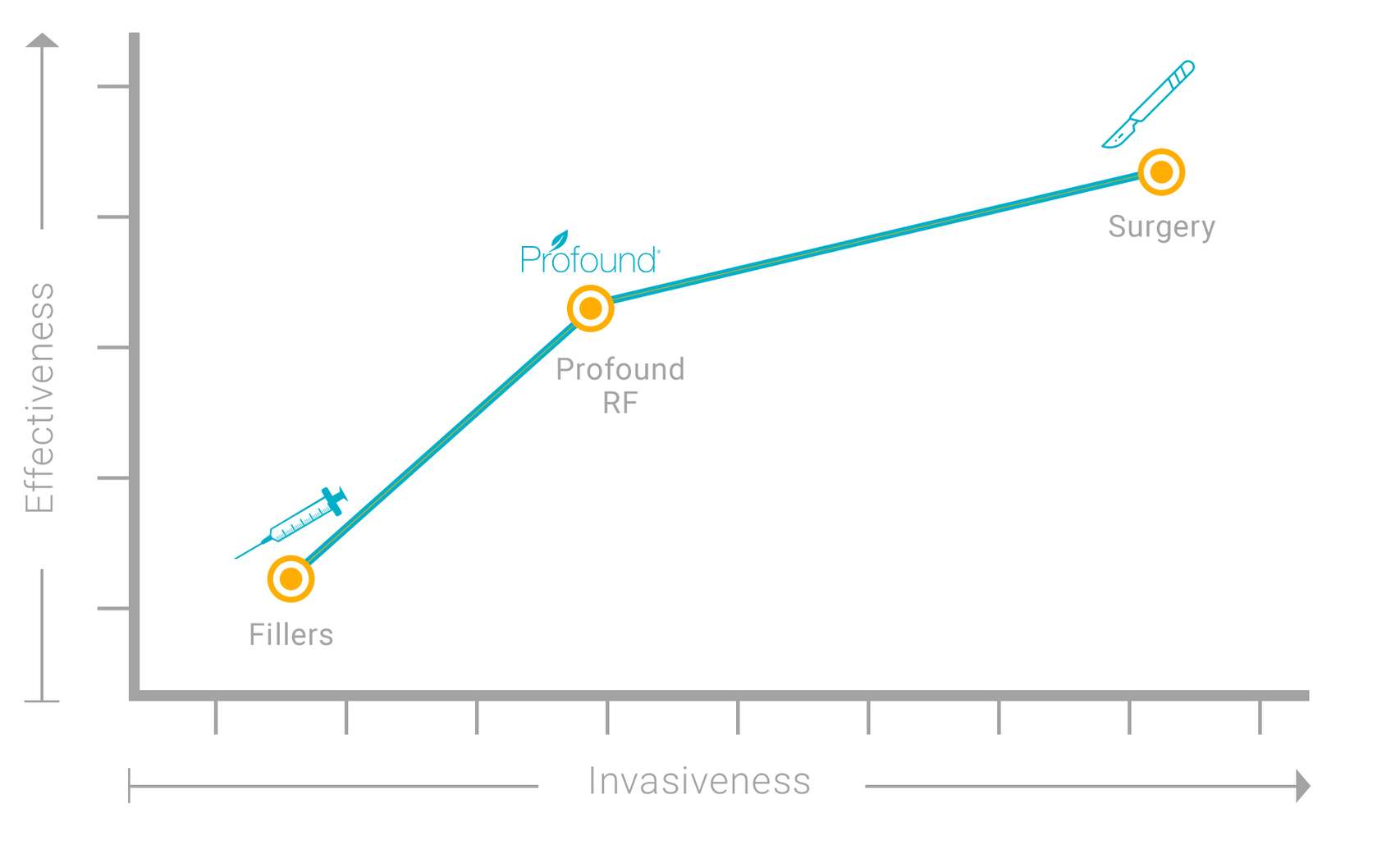 Profound RF is a non-surgical procedure which utilizes microneedling to stimulate the skin and reduce wrinkles. It is significantly less invasive when compared to a facelift, but it is more effective than a simple dermal filler injection treatment in reducing wrinkles in the skin.
Who is the ideal candidate for Profound treatment?
 At Carolina Facial Plastics, we believe the following patients are ideal candidates for Profound:
Patients with early sagging of the face and neck skin (Patients in their 30s and 40s).  This will tighten loose skin and prevent further

 sagging of the skin.  

Patients with sagging skin who are candidates for a facelift but are not willing to undergo surgery.  
Patients with fine lines and wrinkles of the face and neck.  It is an excellent treatment for patients with horizontal and crepey necklines or wrinkles in the cheek area from repetitive smiling.
Patients that have had a facelift in the past that want additional tightening but are not interested in having additional surgery.
Patients with excess fat of the neck region.  We can use Profound to permanently remove fat of this region.
Cellulite reduction. This technology can also be used on the body to greatly improve or rid the body of cellulite.  It can also tighten skin anywhere on the body.  
What should I expect from a Profound treatment?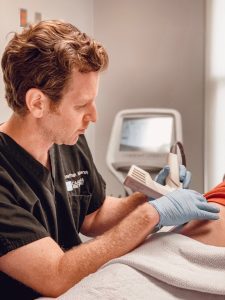 Prepare to wow yourself and those around you: Your Profound treatment invigorates your skin, bringing back its youthful capability of producing key elements, such as elastin, collagen and hyaluronic acid (HA). Elastin is the protein that makes your skin flexible so that it retains its shape and smoothness when you make expressions or pull on your skin. Collagen is a long-strand protein that creates an interwoven matrix that creates a scaffold for your skin, so it can grow thick and strong. When your skin's full of HA, it holds in moisture, so your skin looks plump, firm, and glowing again.
When you come to Carolina Facial Plastics, your skin will be cleansed and then numbed with topical medications.  After topical numbing, an additional injection of numbing medicine will take place to ensure you stay comfortable during your Profound treatment. Most patients experience little discomfort during your healing period that may need over-the-counter painkillers or cold compresses.
Why Choose Profound RF?
Reduced Facial Wrinkles
Increased collagen production can lead to fewer wrinkles and smoother skin.
Increased Skin Elasticity
Clinically proven to increase elastin and help skin return to its original position.
Long Lasting Results
Patients see long-lasting results after only one treatment session.
Frequently Asked Questions
How long before I see my results?
Your skin heals within a week. During that time, it's busy rebuilding itself with new strands of collagen and elastin and replenishing your cells with moisturizing HA. Within about 2-3 weeks the quality of the skin will improve.  At 12 weeks, you'll notice that your skin looks tighter, firmer, and clearer. And things just keep getting better and better as the months roll on. You (and everyone else) will see your final results after 6-12 months.
How many Profound treatments do I need?
You only need one Profound treatment to turn back your skin's clock and jumpstart its rejuvenating powers again. Most people choose to have a single treatment, but some patients choose to have an additional treatment 6-12 months later to create continued tightening of the skin.  
Is Profound just another skin-tightening treatment?
Unlike other skin-tightening treatments, Profound also increases the volume of your skin by stimulating the production of new HA. Your skin isn't just tighter, it's also thicker and more lusciously youthful-looking.  Profound also has one of the highest satisfaction rates for non-surgical tightening options and has a very high safety profile. It prevents further sagging and wrinkling of the face and neck.
Will Profound improve my fine lines and wrinkles of the neck and face?
In clinical studies, Profound has a 100% response rate for fine lines and wrinkles, leaving your crepey or lined skin looking smooth and fresh again. Profound can improve and smooth facial skin, but it is one of the only and best options for treatments of fine lines and wrinkles of the neck. Commonly, patients add Botox to smooth out dynamic wrinkles, and dermal fillers to smooth out deep creases or reshape and volumize your lips. Combining Profound with a liquid facelift will give you a degree of lift and smoothness that's unrivaled by other nonsurgical procedures.  Profound is also combined with neck liposuction and a mini-facelift to improve the result.  
Will Profound tighten my jowls and sagging neck?
Profund tightens all areas treated, including the lower face and neck. This is a wonderful treatment for patients that are experiencing early sagging of the jowls and neck.  The combination of RF and microneedling actually strengthens and thickens your skin, too, so your results last.
Can I use Profound to treat cellulite?
Profound is the only FDA-cleared microneedling RF treatment for cellulite. Because Profound stimulates your skin to rejuvenate itself with new proteins, when you treat your cellulite, your skin fills out the pitted dimples, creating smoother, plumper skin again. You only need one Profound treatment to improve your cellulite by up to 94%. You can use Profound to improve and thicken skin almost anywhere on your face or body.
How long do Profound results last?
Profound's results last 3-5 years.
Is Profound as dramatic as a facelift?
Profound has about 1/3 the lifting power of a surgical facelift. If you're in the early to moderate stages of aging, you'll look and feel years younger after your Profound treatment. If you've had a facelift in the past and want to keep your benefits after the 8-10 year mark, Profound can help you do that.
Remarkable Results, Exceptional Care 
If you have significant sagging, our team may recommend you to Dr. Kulbersh for a surgical facelift and neck lift rather than a Profound treatment. To find out if you're a candidate for a Profound nonsurgical facelift and neck lift, or cellulite treatment, contact the Carolina Facial Plastics team today. 
Next read about facial laser resurfacing