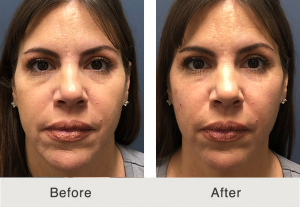 When the delicate skin in the under eye area loses elasticity and volume, the loose tissue can create dark shadows and depressions that can be difficult to conceal, particularly around the tear trough. As the tear trough or nasojugal groove deepens, it can make a person look older or more tired than they truly are, no matter what makeup they apply to the area. For years, the only way to treat pronounced tear troughs was to surgically move fat tissue to the under-eye area. Fortunately, there is a non-invasive solution available in the form of under eye dermal filler injections. Our expert injectors in Charlotte, NC, Dr. Kulbersh, Heather Bryant PA-C, and Courtney Whitley, FNP-C have great insight into the art of facial rejuvenation with fillers.
How Do Dermal Fillers Treat Pronounced Under Eye Tear Troughs?
Dermal fillers, such as Restylane and Belotero can dramatically improve the appearance of deep tear troughs. These fillers are made of hyaluronic acid, which is a substance that is naturally produced in the human body as a building block for collagen and healthy skin tissue, providing volume and lift to the skin. ncbi.nlm.nih.gov talks about using dermal fillers for the treatment of tear trough. By injecting small amounts of Restylane or Belotero around the tear trough, the skin will become plump and supple, lifting the skin and smoothing out the visible groove in the skin. To learn more about how dermal fillers can treat loose under eye skin, visit ncbi.nlm.nih.gov
Remarkable Results, Exceptional Care 
It is important to receive tear trough filler injections from a skilled cosmetic plastic surgeon in order to get the most natural, beautifying results possible. Just because a cosmetic surgeon offers dermal fillers does not mean that he or she can get the same results. If not properly administered, injectables near the eye can cause scarring, infection, and even blindness.
Dr. Jonathan Kulbersh has extensive experience with facial dermal fillers, having received a multidisciplinary training with prominent facial plastic surgeons in Beverly Hills. Dr. Kulbersh can achieve amazing results that are natural-looking and subtle, ensuring that his patients are more than just satisfied.
What to Expect After Under Eye Dermal Filler Injections
Most patients are surprised by how painless dermal filler injections are around the tear trough. However, patients who are worried about pain or discomfort can receive local anesthetic to numb the area before treatment. The procedure takes only a few minutes  as most patients only need one syringe of dermal filler. In many cases, patients will experience some bruising, swelling, or redness in the treated area, but these side effects typically fade within a few days to a whole week. In the rare case that a patient is unhappy with the results, it is possible to safely reverse the effects with
It is recommended that patients wait to have dermal fillers injected well before any important events to ensure that the bruising has had time to subside. The full and final results of the treatment can last between nine months to a whole year for many patients.
Schedule an Under Eye Filler Consultation in Charlotte, NC
People considering fillers for deep tear troughs can contact Carolina Facial Plastics today to learn more about how the treatment can achieve cosmetic goals. To get started, please call (704) 842-3644 today to schedule an initial consultation at our cosmetic dermatology office in Mecklenberg County. As a board-certified head and neck surgeon with a special training in facial plastic surgery, Dr. Jonathan Kulbersh can help achieve healthy and natural results.
Next, read about Facial Filler Injections to Temples.