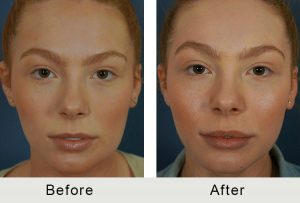 Volbella is a dermal filler part of the Juvéderm family of products. It has been available internationally for quite some time but was approved for use by the United States Food & Drug Administration in 2016. Volbella was specifically designed as an injectable dermal filler for long-term, non-surgical lip augmentation.
What is Volbella?
Volbella is a hyaluronic acid dermal filler. Other dermal fillers that are composed of hyaluronic acid are Restylane, Juvéderm, and Belotero.  Hyaluronic acid is a naturally occurring substance in the body and has been safely used for dermal filler injections for many years.
It is an exciting time to be an injector of facial lip fillers. Dermal fillers continue to evolve as companies continually create and modify injectables specifically designed for certain areas of the face. Volbella was formulated to achieve fuller and softer lips that look natural as well as to soften the lip lines, also known as smoker's lines.  Previous formulations of lip fillers typically last approximately six months.  Volbella was designed to last at least 12 months.
How is it Different from Other Hyaluronic Acid Fillers?
All hyaluronic acid fillers have subtle differences in their density, affinity for water, and their cross-linking.  These differences are important for understanding how to ensure that the correct dermal filler is used for each patient's anatomy and ultimate goals. The unique qualities of the composition of Volbella include:
Low affinity for water
Low concentration of hyaluronic acid
Low cohesivity
These features that allows Volbella to be the longest lasting dermal lip filler and help create a soft look and feel of the lip while limiting swelling after the injection. Unlike other rejuvenating injectables, this cutting-edge filler is the first of its kind specifically designed for injection into the lips with a 12-month duration.
Learn more about filler injections at WebMD.com.
Are Lip Injections Painful?
Volbella is mixed with a numbing medication called lidocaine, which helps alleviate potential discomfort. If patients experience discomfort,  it quickly resolves as the numbing medicine settles in place.  Typically, lip injections by Dr. Kulbersh take about 4-7 minutes for a smooth and stress-free session.
Lip Augmentation and Lip Enhancement with Volbella
Are Special Techniques Used to Administer Lip Fillers?
Dr. Kulbersh does not use the traditional methods for lip augmentation when administering Volbella.  At most practices, Volbella is injected with a needle.  Dr. Kulbersh believes a needle-less micro-cannula is a superior method for injecting lip fillers.  Dr. Kulbersh believes a micro-cannula is safer, decreases the chances bruising, and creates a superior result.
What is the Recovery Process Like?
There can be some swelling after Volbella lip filler injections.  Typically the swelling will last a few days. The lips can be slightly tender and patients are advised to take Tylenol for a day or so.  Generally speaking, it is not advised that patients will need to take any time off after a Volbella injection with a blunt tipped micro-cannula.  Dr. Kulbersh does not recommend having any lip fillers immediately before a special event such as a wedding or gala.  In these situations, a patient should have the injections a few weeks the big event.
Which Filler is Best for Lip Augmentation?
There are many dermal fillers and non-surgical cosmetic procedures that can be used to augment the lips. These include Juvéderm, Juvéderm Ultra Plus, Juvéderm Volbella, Restylane, and Restylane Silk to name a few. Each of these fillers has slightly different compositions and differs in their results. After a consultation, Dr. Kulbersh will take your goals and anatomy and decide on the best option for you.
How Do I Learn More About Lip Fillers in Charlotte?
Dr. Kulbersh is a double board-certified facial plastic surgeon who learned from the best facial injectors in Beverly Hills. His blunt tipped micro-cannula technique minimizes downtime and discomfort.  To learn more about Volbella lip fillers at Carolina Facial Plastics, please schedule a consultation by calling (704) 323-5090 or filling out the online form here.
Next, read about Juvéderm Vollure XC.