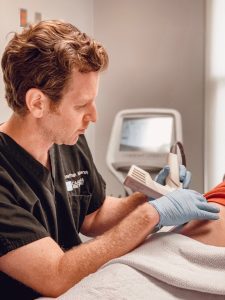 As we get older, our skin loses its elasticity and collagen, which can result in the appearance of loose and lax skin. Located in Charlotte, NC, Carolina Facial Plastics is proud to offer the Cutera Titan™ as a solution to non-surgically tighten loose skin and reverse the signs of aging.  The Cutera Titan is an FDA-approved non-invasive skin tightening and face-lifting device that uses light energy to heat the dermis deep beneath your skin's surface.  
Highlights of Cutera Titan
Used to tighten and lift the skin and stimulate collagen production
No sedation or topical anesthetic needed
Minimal discomfort during treatment
Treatments typically take less than an hour
Effectively treats all skin types
Little to no downtime
All-natural option for tightening
No surgery, recovery time, or injections
FAQ's about Cutera Titan™
How does the Cutera Titan work? 
Titan utilizes safe, infrared light energy to heat the dermis below the skin's surface. During the procedure, the skin's top surface (epidermis) is protected through continuous cooling with the Titan handpiece, while the heat travels to the dermis below the skin, causing collagen contraction and stimulating new collagen production. Heating the dermis and producing collagen helps to tighten and lift the skin in the treated areas.  Titan's light-based platform provides a more uniform distribution of energy for heating the deep dermis than other energy sources.
What areas respond best to the Titan procedure?
Most areas of the body with loose skin can be treated with Cutera Titan.  Patients have been successfully treated in many areas of the body; however, the most common areas treated are the lower face, jawline, under the chin, and the abdomen. 
What do treatments feel like? 
Unlike other skin tightening devices, such as radiofrequency or ultrasound devices, which can be painful enough to require sedation and anesthetic, the Titan procedure is comfortable enough to be performed without anesthesia.  During the treatment, the client will feel cooling followed by a short heating cycle (approximately 6 seconds) and then a second cooling phase.  During the heating and cooling cycles, the superficial skin's surface is protected through continuous cooling from the Titan handpiece to eliminate downtime. Some patients are more comfortable taking a mild pain reliever beforehand, but many patients are comfortable without any medication. 
Who can be treated? 
Virtually everyone can use the Titan for skin-tightening! Since the Titan procedure heats tissue under the skin's surface, patients of any age can be treated. The Titan can also be used on all skin types, Types 1-6, including skin that has recently been exposed to the sun.
Is the Titan an alternative to surgery?
Carolina Facial Plastics has many patients that are not necessarily "ready for surgery" or don't want to have such an invasive procedure, with the aftercare and downtime associated with surgery. Some people want to delay any type of surgical intervention for as long as possible. The Titan offers an excellent option for anyone who desires the tightening of lax or loose skin without the implications of surgical intervention.
How many treatments will I need? 
Although a single treatment is an option for some patients with very minimal laxity, it is quite common for patients to have two or three treatments over a few months. Your laser provider at Carolina Facial Plastics will examine your skin and advise you as to the number and frequency of treatments recommended for optimal results for your skin.  Typically a package of treatments is recommended for optimal results.
What happens after the treatment? 
By utilizing a safe, infrared light energy with a unique wavelength filtering design to uniformly distribute heat below the skin's surface, it has its own cooling system so there is no peeling or excessive downtime.  Immediately following the treatment, you may notice some redness and mild swelling in the treated area. However, swelling and mild redness should dissipate within a few hours. Patients are able to go back to work the next day if they choose.
How soon will I see results?
This heating process can cause immediate collagen contraction resulting in fewer facial lines, folds, and looseness of the skin and tightening.  However, full results are gradual over a three to six month period as new collagen is formed and the skin tightens. To learn more about Cutera Titan Skin Tightening, visit cutera.com
How Do I Schedule a Consultation for Skin Tightening in Charlotte?
To schedule a consultation to learn more about Cutera Titan at Carolina Facial Plastics with Charlotte plastic surgeon Dr. Kulbersh, you may either fill out an online consultation request form or contact us at 704-323-5090. We look forward to seeing you!