At Carolina Facial Plastics we have customized designed our own medical skincare line, CFP skincare. Carolina Facial Plastics wanted to offer a product line that speaks to our philosophy, healthy skin is beautiful skin. In order to do that we first had to enlist a company with a team of chemists, microbiologists, and manufacturing experts that shared that same skincare philosophy as we do. They are committed to the ongoing research and development of our products.

Next, we wanted to ensure that each product was manufactured to the highest quality. Our patients can be assured that our CFP skin care line is dedicated to providing the most innovative, safe, and effective products. All our products are FDA registered, cruelty-free, and made in the USA.
The following is a list of the CFP skin care line products and a brief description of each: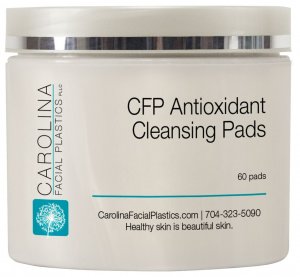 CFP Antioxidant Cleansing Pads: A blend of antioxidants and citrus extracts that gently cleanse and prepare the skin in an easy-to-use pad.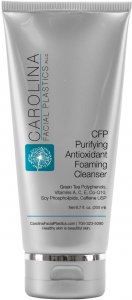 CFP Antioxidant Foamy Cleanser: Ideal for all skin types, this foaming cleanser is soap-free and contains a special antioxidant formula of green tea, citrus extracts, and cucumber.
CFP Detoxifying & Brightening Cleanser: Our clarifying Brightening Cleanser refines the skin gently and effectively. It works in harmony with the skin to accelerate its natural renewal process. This rich, creamy formula mildly cleanses the skin without stripping it of its natural moisture content.
CFP Acne Cleanser Gly/Sal 5/2: This specially formulated oily skin cleanser delivers ultra-pure glycolic acid and salicylic acid USP, 2% for gentle cleansing acne prone and oily skin.
CFP Simply Cleanse: This light foaming cleanser is soap-free, and ideal for all skin types. Contains liposome encapsulated vitamins and has a light lavender scent.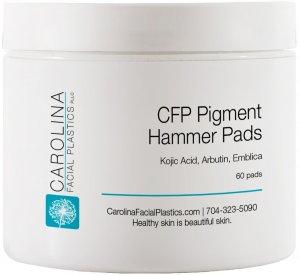 CFP Pigment Hammer Pads: This skin brightening, hyperpigmentation lightener contains natural skin brighteners which include kojic acid, arbutin, and bearberry in an alcohol and acetone-free base. It contains green tea and other soothing antioxidants as well as 4% hydroquinone in a convenient pad application.
CFP Necks Best Thing: Developed specifically for the neck and décolleté this hydrating neck cream helps to firm, lift and tighten skin that has lost definition with age. This cream is formulated with a proprietary blend of active ingredients to help support collagen and elastin production, smooth and even skin tone, and reduce signs of aging.

CFP Redness Calming Serum: Our Redness Calming Serum contains triple antioxidants that combine the power of 90% green tea polyphenols, caffeine USP, and resveratrol to give our patients unprecedented antioxidant protection. This formula visibly reduces the signs of redness and inflammation, reduces the appearance of fine lines and surface wrinkles and is moisture enhanced with hyaluronic acid. Resveratrol is a naturally occurring antioxidant found in red grapes while caffeine is used to enhance the antioxidant properties of the cream as a whole.

CFP Skin Quench: Pure, ultra-hydrating serum quenches dehydrated skin for a supple, smooth complexion and all day moisture retention. Visibly reduces the signs of aging with a nourishing blend of antioxidants and humectants. Skin appears brighter, firmer and rejuvenated.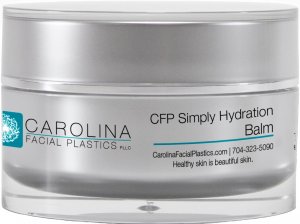 CFP Simply Hydration Balm: Our most hydrating formula with superior triple layer moisture technology. This special blend of emollients, lipids, and humectants quenches and soothes dry and undernourished skin.

CFP Silver Healing Ointment: Helps provide a moist environment that temporarily protects minor cuts, scrapes, burns and helps prevent chapped or cracked skin.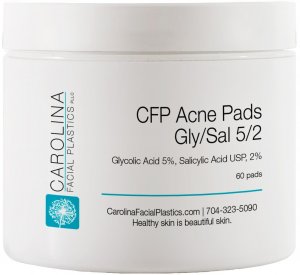 CFP Acne Pad-Gly/Sal 5/2: Salicylic acid USP and glycolic acid are used in combination with hydrating ingredients in these easy-to-use pads to promote exfoliation, control oil, reduce breakouts and clogged pores. They help enhance skin clarity and are pH balanced. These easy-to-use pads are also available in a Gly/Sal 10/2 for excessive oiliness.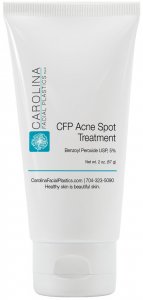 CFP Acne Spot Treatment: This gel is the perfect spot treatment utilizing the antibacterial properties of benzoyl peroxide USP, 5%.

CFP Acne Spray Gly/Sal 10/2: Both salicylic acid USP, and glycolic acid are used in combination for this body acne spray. Easy-to-use, omnidirectional sprayer allows the product to be applied to hard-to-reach areas. The spray is ideal for back and body acne.
CFP Acne Solutions Kit: This acne kit contains products with antibacterial and anti-inflammatory properties. Used together, the solutions address acne at its source to help pores stay debris-free. These specially designed products aim to alleviate existing blemishes and reduce the risk of future breakouts. It's gentle, non-irritating, and effective.
CFP Crepe-Ease Body Therapy Kit: This kit contains 3 essential products to help reduce the appearance of crepe dry, dull skin. The first is a Detoxifying & Exfoliating Body Polish Cleanser. This helps to gently exfoliate the skin without stripping it of its natural moisture.
Second, is the Crepe-Ease Retinol Body Lotion. This redefining body lotion features all-trans-retinol in a powerful delivery system for maximum penetration and age-defying results.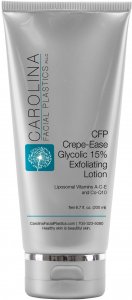 Third, is the Crepe-Ease Glycolic 15% Exfoliating Lotion is designed to help achieve a softer smoother skin texture. This body lotion contains 15% glycolic acid and antioxidants in a light, oil-free base making it ideal for covering large body area.
The CFP skin care line uses several different antioxidants in almost all of our products. Antioxidants are essential in fighting free radicals. Your skin is your largest organ, so it is important to take care of it. Antioxidants protect the skin by limiting the production of free radicals, which can damage skin cells. Antioxidants in skin care products can do a lot for the health and appearance of your skin, including reducing the signs of aging.
To find out more about our CFP skin care line and treatments offered at Carolina Facial Plastics please call 704-323-5090 to schedule a consultation with our Medical Aestheticians.