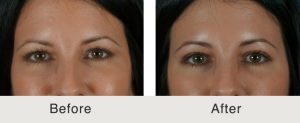 One of the most common procedures I perform at my office in Charlotte is an eyelift. An eye lift can be performed on the upper lid, lower lid or both lids. The eyes are the area of the face where many of our non-verbal emotions and feelings are portrayed. Eyes that are open and bright display an appearance of health, alertness, and youth. As we age, the eyes can become heavy and develop bags underneath them. These changes can create a look of aging, fatigue, and sadness. An eyelift is an outpatient surgery that is a great option for patients looking to restore the youthful appearance of their eyes.
What is an Eye Lift?
An eyelift is an outpatient surgery where a combination of skin and fat is relocated or removed to remove the tale-tell signs of aging around the eyes. The results of the surgery are permanent as they turn back the clock of aging, but the patient will continue to age after completion of surgery.
In Office Blepharoplasty with Dr. Kulbersh

What is Typically Completed During an Upper Eye Lift?
During an upper eyelift, some amount of excess upper lid skin is removed. After removing the excess skin the fullness of the upper eyelid will be evaluated. If the area is overly full, a conservative amount of fat may be removed or relocated; or the lacrimal or tear gland may be moved into a better position. If there is not enough fullness, then volume may be added to the area with additional procedures such as a facial fat transfer.
What is Typically Completed During a Lower Eye Lift?
During a lower eyelift, some combination of skin or fat is removed to improve the bags that transition from the lower eyelid to the cheek area. The fat from the lower eyelid is either removed or repositioned in the cheek area to improve the contour of the lower eyelid. If excess skin is present, a conservative amount of skin is removed just underneath the eyelashes.
What is the Recovery of an Eye Lift?
The recovery time of an eyelift typically lasts for 1-2 weeks. For the first week, there may be swelling and bruising. The patient will need to take it easy for this first week and will have simple instructions to keep the incision moist and take medications as prescribed.
After one week, all sutures will be removed and patients can wear medical make-up. Patients can resume exercise 2-4 weeks after surgery depending on the type of surgery.
For the best surgery and recovery options in Charlotte, look no further than Fairview Surgery Suites and Fairview Recovery Retreat. These state-of-the-art treatment and recovery centers allow Dr. Kulbersh to provide his patients with the best experience possible, during and after treatment. Learn more about these exciting facilities by contacting Carolina Facial Plastics today!
Visit medlineplus.gov to learn more about your next eyelid lift procedure.
What is the Cost of an Eye Lift in Charlotte?
To get more information about the cost of an eye lift, please click here.
Why Should I Choose Carolina Facial Plastics and Dr. Kulbersh for my Eye Lift Surgery in North Carolina?
Dr. Kulbersh was trained by some of the best eyelift surgeons in Beverly Hills. The skills and techniques he learned in the world wide center of plastic surgery are now available to his patients in North and South Carolina.
Next, read about Xanthelasmas.