Lower Blepharoplasty Overview
Treats: Sagging in the lower eyelid, bags, and some wrinkles
Anesthesia: Awake or Asleep
In/Outpatient: Outpatient
Side Effects: Patients may experience swelling or bruising. Temporary double vision and blindness may also occur, but should remedy themselves within a day. Eye itching, dryness, and other discomfort can be medicated with eye drops or other prescriptions.
Risks: Anytime a patient has any kind of surgery, there is a risk of bleeding, infection, scarring, or side effects from anesthesia.
Recovery: Recovery from eyelid surgery generally takes several weeks. Within two days to a week, the stitches will be removed. In the first week, patients will want to make sure that their eyes receive plenty of rest. The redness and swelling occurring after the blepharoplasty procedure will fade with time.
Duration of Results: 10-20 years
Remarkable Care, Exceptional Results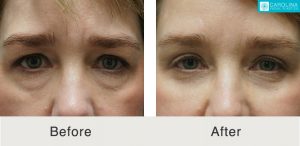 Testimonial
"I was tired of being told I looked tired due to the bags under my eyes. I would hide behind my glasses because I was so embarrassed.
Pros for blepharoplasty is the speedy recovery and very little pain.
Con the brow lift recovery was not as fast as blepharoplasty. I'm still healing from 4 months later however it doesn't keep me from doing anything just a little tender at the incision points. I'd do it again!"
-civitares, RealSelf
Video
Frequently asked questions