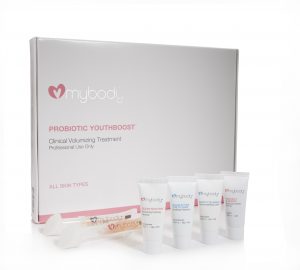 A Probiotic Youthboost treatment utilizes new, revolutionary strengthening and volumizing technology designed to regenerate healthier skin from within. This treatment is used in conjunction with a mask.  The mask chosen depends on the condition of the skin at time of treatment. This skincare treatment is aligned with the philosophy of avoiding injury to stimulate the regeneration of healthier, youthful skin.
Who is a Candidate for a Probiotic Youthboost Treatment?
Anyone who wants to maintain and/or restore the health and natural balance of stressed, aging skin.  Also, anyone over the age of 13, as well as acnetic and acne prone skin, will benefit from the Probiotic Youthboost treatment due to its detoxifying benefits.  Probiotic Youthboost treatments are safe for all skin types including Caucasian, African Americans, Asians, and Hispanics.
What Results Can I Expect to See from a Probiotic Youthboost Treatment?
Instant results from a PYB treatment include skin brightening, detoxifying, tightening, and smoothing.  The long term benefits of doing a PYB treatment every 4-6 weeks are volumizing, strengthening, clarifying, and healing.  So, the bottom line is, the more you do the healthier and better your skin looks!
What Anti-Aging Benefits Can I Expect from the Probiotic Youthboost Treatment?
You can expect enhanced oxygen uptake (which will give you that healthy glow)
Increased skin immunity protects skin from external irritants
Antioxidant activity fights free radical damage
Reduction in the appearance of photodamage
Reduction in inflammation and the appearance of redness
Reduction in the appearance of uneven skin pigmentation
Is There Any Downtime with a Probiotic Youthboost Treatment?
There is no downtime from a treatment because of its ability to work from the inside out.  After a treatment, the skin will look great.  You will feel an instant tightening effect and have a rosy glow due to an increase in the skin's circulation.  On occasion, a patient can get a little pink or have a slight frosting effect in a few areas, especially if they are dehydrated.  The pinkness and/or frosting resolves quickly.
Does the Probiotic Youthboost Treatment Hurt?
This treatment is pain-free.  There may be some mild irritation or itching, but it diminishes within 15 – 20 minutes of treatment.
How Long Does a Probiotic Youthboost Treatment with Mask Take?
The duration of the treatment takes approximately 30 minutes.
What are the Masks that Can be Combined with a Probiotic Youthboost Treatment?
There are three different masks that can be used with the Probiotic Youthboost treatment.
Glow Forward Thermal Probiotic Enzyme  Treatment
The Glow Forward mask softens and exfoliates dull skin without being abrasive.  It quickly dissolves dead skin post treatment.  The skin instantly appears brighter, cleaner, and more radiant.  This mask will also maintain the anti-aging benefits of the Probiotic Youthboost Treatment helping to reduce the appearance of wrinkles and other signs of photo damage.
Let Me Clarify Probiotic Purifying Clay Mask
A calming probiotic clay mask with purifying, detoxifying, and healing properties to draw out dirt and oil as it hydrates, soothes, and nourishes the skin.  This mask regulates the over production of blemish-causing bacteria and helps to reduce redness and irritation associated with problem skin.
Calm After The Storm Probiotic Soothing Gel Mask
An ultra-gentle probiotic gel mask that instantly refreshes, cools, soothes, and calms irritation as it infuses the skin with vital moisture and nutrients.  The Calm After The Storm Mask rapidly reduces inflammation while supporting the skin's own immunity and antibacterial action.
Remarkable Results, Exceptional Care 
To learn more about a Probiotic Youthboost treatment, or any other skin rejuvenation treatment, please call 704-842-3644 or fill out an online contact form to schedule a consultation.  During a consultation, our skin care experts will review your skin quality and goals to create a customized and comprehensive skin care regimen.
Next, learn about Retin-A and retinol.