Revision facelift in Charlotte Overview
Treats: Scarring, skin laxity, under-eye sagging, hollow eyes, and pointed ear lobes
Length: Varies from 2.5 to 7.5 hours
Anesthesia: General or Awake
In/Outpatient: Outpatient
Side Effects: Swelling, bruising, and possible numbness around the incision sites
Risks: Common side effects of any surgery include risk of bleeding, infection, scarring, or adverse effects from anesthesia
Duration of Results: 10+ years
Revision Facelift Before and After Photos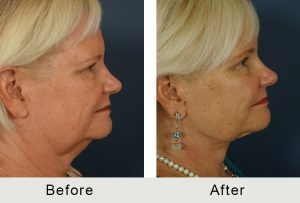 Testimonial
"I cannot say enough wonderful things about Dr. Kulbersh and his staff. Everyone was highly professional, maintained frequent communication and welcomed my questions. Dr. Kulbersh is not just a master facial surgeon; he is an artist. During pre-surgery consultations for a face-lift, he asked about my expectations and desired results. Dr. Kulbersh clearly explained and demonstrated the results."
-Sheila Joy, RealSelf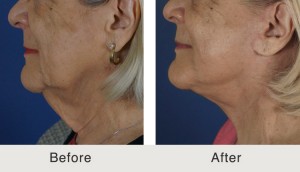 A revision facelift improves the appearance of visible scars, asymmetries, or other unfavorable cosmetic results left behind from a previous facelift. The most common problems with a facelift gone wrong include:
Sagging or banded neck
Hollowing under the eyes
Flat cheeks
Low eyebrows
Stretched appearance
Distorted earlobes or "pixie ears"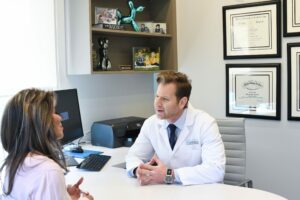 Dr. Jonathan Kulbersh is a double board-certified facial plastic surgeon who received training from two esteemed Beverly Hills plastic surgeons, Dr. Babak Azizzadeh and Dr. Paul Nassif. Dr. Kulbersh's skill and experience in advanced surgical techniques along with his 100% focus on facial rejuvenation procedures, produces unparalleled facelift results for his patients.
Instead of a one-size-fits-all approach to surgery, Dr. Kulbersh pays attention to your needs and goals during your initial consultation. He evaluates your skin quality, aging signs, bone structure, and muscle tone to customize a treatment plan suitable to your aesthetic goals.
Frequently asked questions