A surgical facelift is an intricate procedure that removes unwanted fat deposits, sagging skin and addresses other signs of aging for a more youthful appearance. Because it is a surgical procedure, you will need to allow recovery time after a facelift. Knowing what to expect from your facelift recovery will ensure you are prepared for your post-operative time so you enjoy the best possible results. 
I am a double board-certified facial plastic surgeon who performs an extensive array of facial procedures and treatments, including facelifts. My plastic surgery clinic, Carolina Facial Plastics, is a top aesthetic destination in the South with a designated surgical suite and luxurious recovery center. I help my patients understand what to expect from facelift surgery recovery to help them prepare for a successful surgery and healing process.
Watch this video of one patient's facelift journey: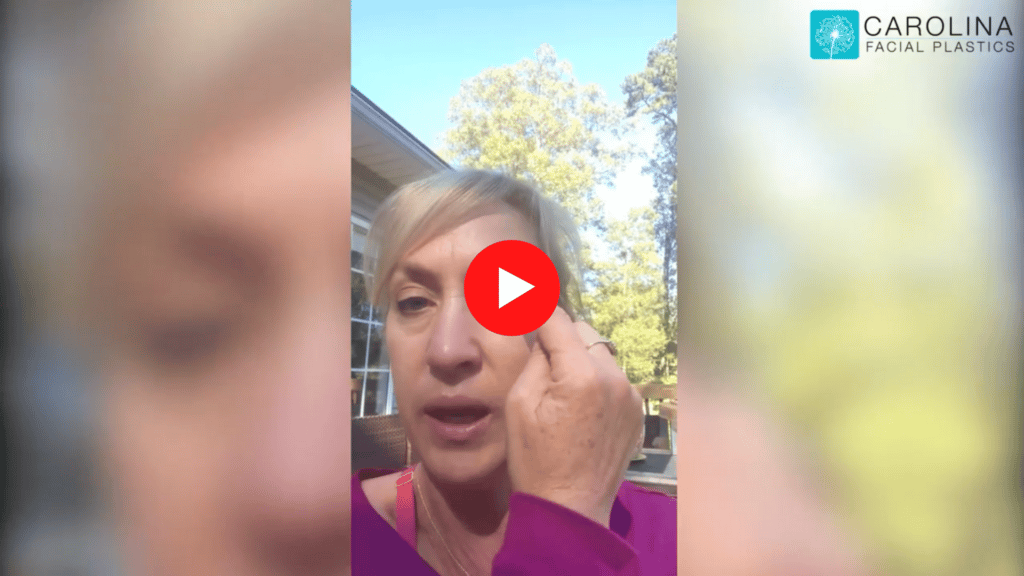 Facelift recovery time can be broken down by days and weeks so patients know specifically what to expect from each part of the process.
Facelift Recovery Week 1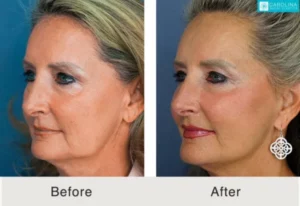 After surgery, the first week is typically the most difficult to navigate and requires the most precision when following aftercare instructions day by day:
Day 1: The day of surgery, you will most likely feel drowsy after your procedure. Ask for support from loved ones to drive you to and from your surgery. Be sure to stop by your local pharmacy and get prescribed medications to manage pain and discomfort. You may notice bruising or swelling, which can increase within the first day or two after the surgery.
Day 2: You will have a follow-up visit with me at Carolina Plastic Surgery. I will remove and change any surgical dressings and check incisions and swelling. This post-operative visit is important to review proper care and check for potential side effects.
Day 3: You should start to feel relief from pain and discomfort and want to move around your home. Rest during the first week is necessary for healing. Swelling and bruising can be the most intense by the third day but should slowly subside. Pain medications can still be helpful in the early days of recovery.
Days 4-6: You should start to see reduced swelling and bruising and feel like getting up and around a bit more. Prescription medications will no longer be necessary in most cases. While you may be more active at this point, you should not be doing anything strenuous. Ask for help around the home, caring for pets and children, and driving to appointments or errands.
Facelift Recovery Week 2
The first week of recovery after a facelift can seem very slow and tedious, but it is critical to take time to rest and follow aftercare instructions to reduce side effects and risks. The second week of recovery is typically more comfortable and allows for more activity.
Days 7-14: During this time, the sutures will be removed, possibly in stages. Many patients still have slight swelling or bruising and may feel tightness around the incisions. Activity levels can also increase with leisure walking and other mild movements. Depending on your healing process, you can:
Drive yourself

Return to work

Apply makeup
Facelift Recovery Week 3 and 4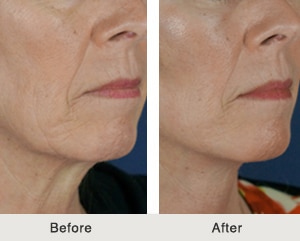 Patients tend to feel much better and more like themselves during weeks three and four. It is an exciting time when results begin to show.
Days 15-30: All sutures should have been removed at this point, and incisions may still appear slightly pink or red. Some patients may also have residual bruising or swelling that should subside during this time.
Patients can begin to exercise by week four, but running, swimming, and contact activities are still not recommended. More results should be apparent as healing progresses, and patients can see tighter, more youthful-looking skin.
What to Expect After Day 30 of Facelift Recovery
One month post-facelift surgery, patients should be returning to normal daily activities with a fresh new look. Keep in mind that it can take longer than a month for swelling and tightness to ease completely, but patients see remarkable results and few side effects at this point in most cases. Patients can expect to feel beautiful and confident with their younger-looking appearance.
I work with patients at every step of recovery to ensure they heal properly and address any concerns that might arise during the process. It is essential for a facelift surgeon to remain involved in the recovery process as side effects subside and results become apparent. 
To learn more about facelift recovery day by day, please visit plasticsurgery.org.
Contact Charlotte's Best Facial Plastic Surgeon For More Information
Carolina Facial Plastic Surgery is dedicated to patient care and recovery. Our team designs personalized treatment plans that meet your desires and expectations from your first visit. We want our patients to feel prepared for surgery, recovery, and stunning youthful results.
Contact us to schedule a consultation with one of Charlotte's best plastic surgeons and to learn more about our facelift procedure and what to expect after surgery.