Deep Plane Facelift in Charlotte Overview
Treats: Aging signs such as skin laxity, creases, and hollowing in the midface region
Anesthesia: General or awake
In/Outpatient: Outpatient
Side Effects: Bruising, swelling, and numbness around the incision site
Risks: All surgery has some risk of bleeding, infection, scarring, or side effects from anesthesia
Duration of Results: 10+ years
Deep plane facelift before and after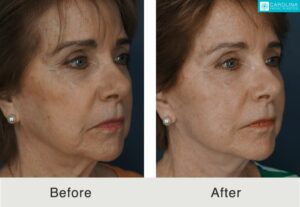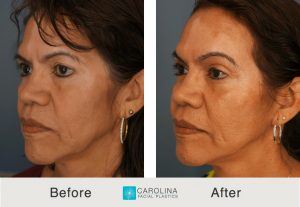 Testimonial
The absolute best decision I ever made!
Dr Johnathan Kulbersh is an artist. There was no pain and a quick recovery and before I knew it there was a prettier me staring back at me in the mirror. I also had a lower face and a neck lift procedure. The team at Carolina Facial Plastics were 100% professional and put me at ease all along the way. I can not imagine a better experience or outcome!
handymaam, RealSelf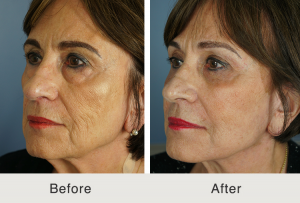 A deep plane facelift restores a more youthful and rested appearance by providing the following benefits:
Removes loose, excess skin for a smoother contour
Restores natural volume and elevation of the cheeks
Softens nasolabial folds and other lines on the lower face
Reduces sagging jowls, double chin, and crepey neck skin
Provides natural-looking results without the windswept look of a traditional facelift
Results in less bruising and swelling
Produces less noticeable scars
Provides longer-lasting results
A deep plane facelift can address aging of the mid to lower face, from the cheeks to the jawline. The procedure restores volume to the cheek area, while removing loose skin along the jawline that leads to the formation of jowls.
Dr. Jonathan Kulbersh is a double board-certified facial plastic surgeon trained by two renowned Beverly Hills plastic surgeons, Dr. Babak Azizzadeh and Dr. Paul Nassif. Dr. Kulbersh's extensive training and experience in advanced surgical techniques ensure you receive unparalleled facelift results.
Dr. Kulbersh does not use the one-size-fits-all approach to his surgical procedures. He listens carefully to your needs during your initial consultation. He meticulously evaluates your skin quality, aging symptoms, bone structure, and muscle tone, then customizes your treatment plan to achieve a natural, beautiful outcome.
Dr. Kulbersh performs all his surgical procedures at his own private and accredited Fairview Surgical Suites, a surgical center designed to exclusively cater to advanced cosmetic procedures. His Fairview Recovery Retreat is a surgical recovery center for recovering facial plastic surgery patients. These centers focus on patient safety, care, and privacy while providing a 5-star luxury environment for the most comfortable recovery process possible.
Frequently asked questions