Facelift Overview
Length: Varies from 2.5 to 7.5 hours
Anesthesia: General or Awake
In/Outpatient: Outpatient
Side Effects: Patients may experience swelling, bruising, and possible numbness around the incision site.
Risks: There are possible complications that are associated with undergoing any type of surgery. Anytime a patient has surgery, there is a risk of bleeding, infection, scarring, or side effects from anesthesia.
Recovery: Most patients return to work or school one week after a facelift. Some patients choose to take 2 weeks off. Patients are encouraged to start walking and doing light exercise starting two weeks after surgery. Full exercise can start 4-6 weeks after surgery.
B&A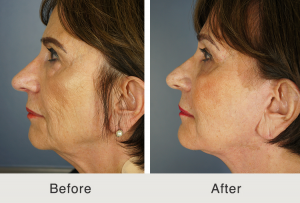 Video
Frequently asked questions