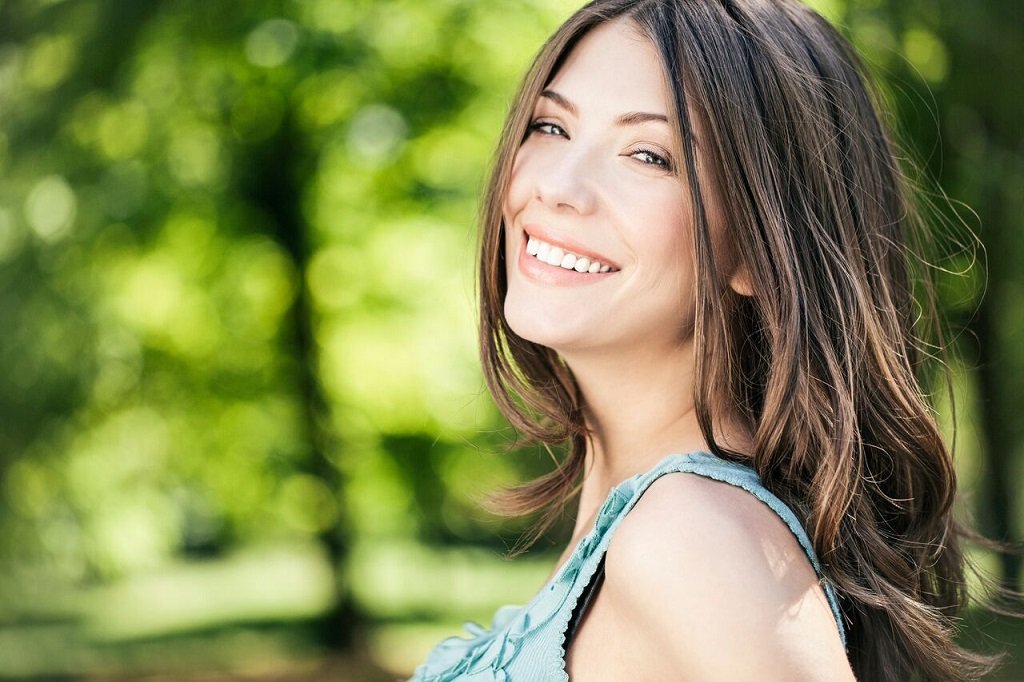 Youth-Restoring Facelift in Charlotte
As we age, the effects of gravity become more noticeable on our faces, especially as our facial support structure weakens and we lose facial fat. We begin to look older than we feel. Does your facial appearance no longer reflect your youthful personality? If not, then a mini facelift or facelift procedure might be a good option for you.
At our office in Charlotte, NC, Carolina Facial Plastics can help you achieve your facial rejuvenation goals. Double board-certified facial plastic surgeon Jonathan Kulbersh, MD, provides patients with advanced techniques in the facelift procedure to help restore their youthful and healthy appearance
What Is a Facelift?
A facelift, also known as a rhytidectomy surgery, is performed with the goals of:
Removing excess fat in the neck and jowls

Tightening underlying muscles

Elevating cheeks

Removing excess skin in the face
The results from a successful facelift include tighter skin on the cheeks and jawline, firmer skin on the neck, and smoother skin across the cheeks and mouth. You'll regain definition in your face, rejuvenate your skin, and restore the beauty of your youth.
Are You a Candidate for a Facelift?

Although a facelift is beneficial for tightening skin, minimizing facial wrinkles and lines, and restoring a more youthful appearance, it's not for everyone. You are a good candidate to get the maximum benefits from a facelift if you're in good physical and mental health and are looking to restore your facial appearance to address signs of aging like deep wrinkles and sagging skin.
You're also a good candidate if you want to have your unique features and beauty enhanced by a personalized facelift that could involve a combination of various techniques and procedures to give you the refreshed, youthful appearance you're aiming for. The best way to know for sure, though, is to schedule a consultation with Dr. Kulbersh so he can answer your questions, address your concerns, and learn your goals before developing the best treatment plan possible.
What to Expect from a Facelift Procedure
With the guidance of Dr. Kulbersh and his advanced techniques, a facelift at Carolina Facial Plastics helps get the results you want. In fact, Dr. Kulbersh opened Fairview Surgical Suites, a state-of-the-art specialty surgical facility designed to for cosmetic surgery for the best possible care and results.  It is located in the same building as Carolina Facial Plastics.
The procedure can be performed under local or general anesthesia and begins with a small incision hidden beneath the chin. Next, excess fat is removed from the neck, and neck muscles are tightened to give the area underneath the chin more definition. This part of the procedure, called a platysmaplasty, helps remove platysma bands, or neck bands.  Only patients with neck bands or turkey gobblers will need this component of a facelift.
After this, incisions are made in the temple and hairline, which are carried to the ear area and hidden inside the ear or in a natural crease. The Superficial muscular aponeurotic system (SMAS), consisting of layers of deep fascia tissue and muscle is identified and then lifted upward in the cheek and outward in the neck for a natural-looking result. This tissue is secured with sutures, and the excess skin is removed.
The deep sutures allow Dr. Kulbersh to close the incision with no tension, allowing the incisions to heal to the point of being nearly invisible. The final step is applying a protective dressing to the face, which will be removed the morning after the facelift.
How to Angulate the Neckline During a Facelift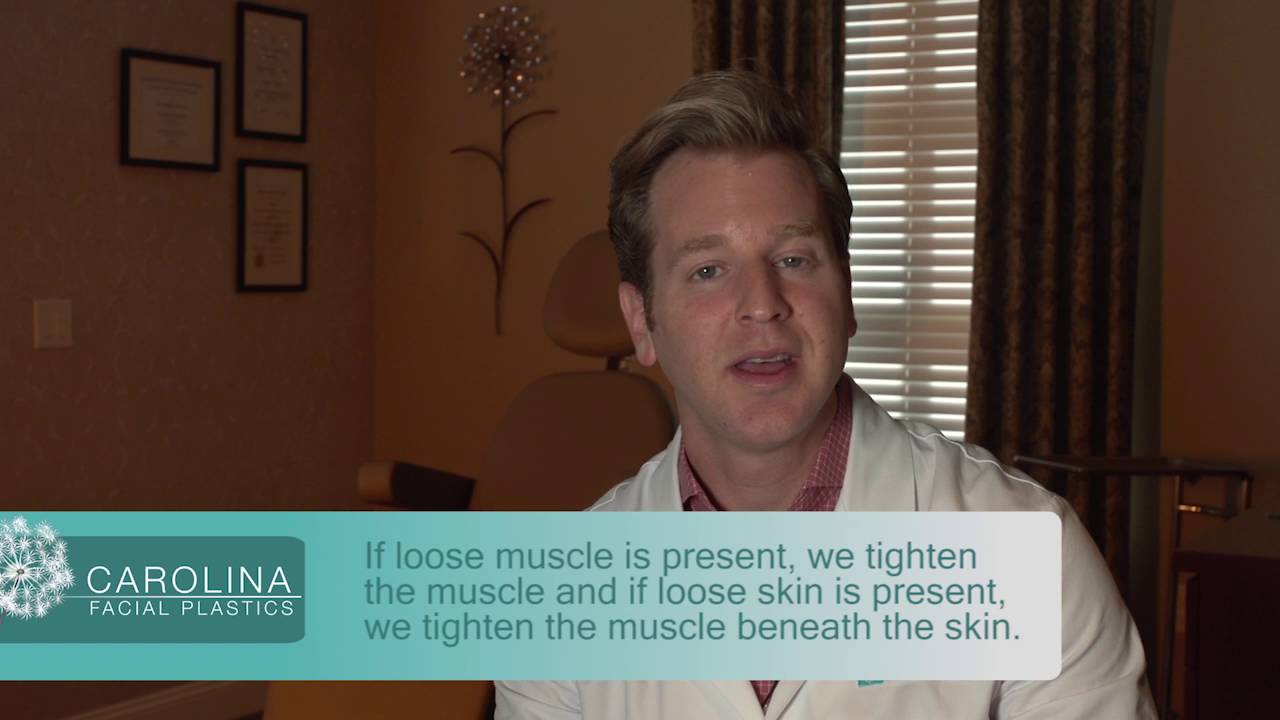 Is There Extensive Downtime or Recovery?
Traditionally, getting more dramatic results from a facelift has resulted in a longer recovery time. However, with Dr. Kulbersh's skill, experience, and advanced techniques, downtime and recovery are reduced.  
You can choose to recover at Dr. Kulbersh's recovery center, Fairview Recovery Retreat, a comprehensive post-operative retreat designed to deliver post-surgery care in a luxurious, 5-star-hotel setting. You'll receive VIP treatment as you recover, which will help reduce downtime and get you back to your busy schedule as soon as possible.
You can expect to have a bandage in place for a week, which can be temporarily removed to shower or run quick errands. After about a week, you'll return to our office for complete removal of all bandages and sutures and for cleaning of the incisions. Depending on how you've healed thus far, you may be required to wear a bandage at night to facilitate quicker facelift healing and resolve swelling and/or bruising, which may last for up to 2 weeks.
After your facelift, you'll be provided specific care instructions, which generally include avoiding strenuous activity for at least two weeks. You should also avoid coloring your hair for 6 weeks after surgery.  During your recovery and healing, our staff of highly specialized cosmetic surgery experts will be on call 24 hours a day to answer questions and address your concerns.
Side Effects of a Facelift Surgery
Side effects generally include swelling, bruising, itching, and redness as your body progresses through the healing process. Most of these issues are mild to moderate and usually resolve themselves within 2 weeks.
Dr. Kulbersh's Approach to Facelifts
Dr. Kulbersh underwent extensive facial plastic surgery training from renowned Beverly Hills plastic surgeons Dr. Babak Azizzadeh and Dr. Paul Nassif. Dr. Kulbersh's expertise in facial plastic surgery and advanced surgical techniques provide you with unparalleled facelift results. Unlike any other Charlotte facelift surgeon, Dr. Kulbersh does not use the one-size-fits-all approach to cosmetic plastic surgery. He develops customized facial wrinkle treatment plans based on your unique goals and needs.
One of the most important aspects of any surgery, particularly a facelift procedure, is the initial consultation, the primary goal of which is to establish a trustworthy connection and channel of communication between you and Dr. Kulbersh. This is the best way to develop a personalized facial surgery plan that will meet your facelift surgery goals.
This treatment plan is designed to create the least invasive, most comfortable skin tightening therapy to obtain the maximum results while also looking natural. Rest assured that you're in the hands of a facial plastic surgery expert who will customize a facelift that best suits your goals!
Natural Facelift Results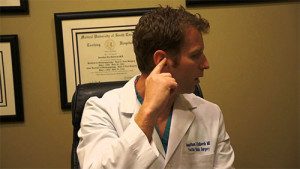 Optimizing Facelift Results
For patients looking to optimize their facial rejuvenation results, other procedures can be combined with a facelift to achieve these aesthetic goals.
Common recommendations include:
Chin Implant and Chin Augmentation
A small or weak-looking chin can appear to make a blunted neckline and shorter jawline. A chin implant can angulate the neck and lengthen the jawline for a look that's thought to be more elegant in women and more powerful in men.
Fat Transfer to the Face
A fat transfer, sometimes called fat grafting, can be the "wow" factor that makes for a truly excellent facelift outcome. With a fat transfer from another part of the body, Dr. Kulbersh can add volume to the face by increasing definition and "lift" of the cheekbones for a more youthful appearance.
Jaw or Neck Liposuction
A "turkey neck", or excess fatty tissue in the neck and jowls, can be improved with facial liposuction, which removes the excess fat for a slimmer, tighter neck and jowl region.
Cheek Implants
Cheek implants can create high cheekbones, which highlight the mid-face and add a youthful appearance to the face.
Facial Fillers, Laser Resurfacing, and Chemical Peels
Facelifts are not typically effective for improving fine facial wrinkles. However, facial filler injections (such as Restylane or Sculptra), laser resurfacing, chemical peels, or skin care products can help address these fine lines.
Dr. Kulbersh Discuss Complimentary Facial Wrinkle Procedures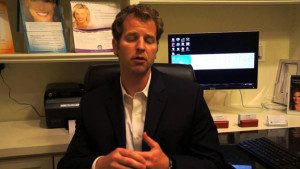 Frequently Asked Questions
What is a facelift?
A traditional rhytidectomy surgery, the more formal name for a facelift, helps to address more advanced signs of aging – such as sagging skin, neck jowls, and moderate to severe facial wrinkles and creases – by tightening the skin, restoring definition, and rejuvenating your appearance.
What areas of the face benefit most from a facelift?
With a facelift, the soft tissue of the cheek can be raised. The indentation on either side of the chin, known as the pre-jowl sulcus, can be smoothed by a facelift.
What are the limitations to a facelift?
If you have fine facial lines that you'd like to have minimized, a facelift is not as effective as non-surgical treatments like laser resurfacing, facial fillers, or chemical peels. A good daily skin care routine is also beneficial. In fact, even for deep facial creases like the nasolabial folds (the deep lines from the nose to the corners of the mouth, minimally invasive procedures like facial fillers or fat transfer deliver better results.
I have a busy schedule – how long is recovery for a facelift?
Although your healing process will be different from others, recovery from a facelift typically takes 10-14 days, although you'll have to avoid hot hair dryers, curling irons, steam baths, and saunas for up to 4 weeks. And while it's possible that you can get back to work and resume a normal schedule within a few days (although you should absolutely avoid strenuous activity during the 2-week recovery time), that's up to you if there is swelling and/or bruising that you'd prefer to keep a low profile about, so you may want to take more time off from work or your schedule.  Most people will be able to work from home 3-5 days after surgery.
Dr. Kulbersh's Fairview Recovery Retreat can help deliver post-surgery care in a luxurious, 5-star-hotel setting where you'll receive VIP treatment as you recover, which will help reduce downtime and get you back to your busy schedule as soon as possible.  This recovery center is located in the same building as Carolina Facial Plastics. During your recovery and healing, our staff of experts will be available to answer questions and address your concerns.
Are there side effects?
Side effects include swelling, bruising, itching, and redness as your body progresses through the healing process. Most of these issues are mild to moderate and usually resolve themselves within 2 weeks.
Is a facelift painful?
A well performed facelift has minimal pain.  Most of Dr. Kulbersh's patients will require only Tylenol during the healing process.  Dr. Kulbersh will provide prescription pain medications that some patients will use for the first few days after surgery.  In general, most of our patients report that the procedure is less painful than they had anticipated. This is usually because those patients are strictly following Dr. Kulbersh's post-treatment aftercare routine and Dr. Kublersh's meticulous surgical technique.
How do I know if a facelift is right for me?
It's likely that you won't know for sure until you schedule a consultation with Dr. Kulbersh so he can listen to your questions, address your concerns, and learn your aesthetic goals in addition to giving you a visual evaluation. Only after this can he and you discuss a proper treatment plan that may include a facelift to achieve your aesthetic goals.
How much is a facelift at Carolina Facial Plastics?
Since Dr. Kulbersh does not perform cookie-cutter procedures, he and our staff don't treat you like cookie-cutter patients. You are unique – different from everyone else with specific concerns, questions, and skin issues. That's why each customized treatment plan will vary in price. The best way to know how much your procedure would be is with a visit to our office for a consultation with Dr. Kulbersh.
Learn More about a Facelift at Carolina Facial Plastics
Dr. Kulbersh's skills and experience, honed and refined under the rigorous tutelage of some of the most prominent facial plastic surgeons in Beverly Hills, puts him among the most in-demand facial plastic surgeons in the country. Such skill and touch are imperative when choosing to undergo cosmetic facial treatment of any kind, including a facelift.
To find out more about facelifts and whether you're a candidate, schedule a consultation with Dr. Kulbersh at Carolina Facial Plastics today filling out our online form or calling (704) 842-3644.
Next, learn about a Mini Lift Procedure.