Facelift Overview
Treats: Aging symptoms, including skin laxity, facial creases, fallen tissue, and hollowing in the midface
Length: Varies from 2.5 to 7.5 hours
Anesthesia: General or Awake
In/Outpatient: Outpatient
Side Effects: Patients may experience swelling, bruising, and possible numbness around the incision site.
Risks: Anytime a patient has any kind of surgery, there is a risk of bleeding, infection, scarring, or side effects from anesthesia.
Recovery: Most patients return to work or school one week after a facelift. Some patients choose to take two weeks off. Patients are encouraged to start walking and doing light exercise two weeks after surgery. Full exercise can start 4-6 weeks after surgery.
Duration of Results: 10+ years
Remarkable Care, Exceptional Results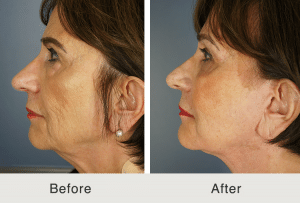 Testimonial
"I cannot say enough wonderful things about Dr. Kulbersh and his staff. Everyone was highly professional, maintained frequent communication and welcomed my questions. Dr. Kulbersh is not just a master facial surgeon; he is an artist. During pre-surgery consultations for a face-lift, he asked about my expectations and desired results. Dr. Kulbersh clearly explained and demonstrated the results."
-Sheila Joy, RealSelf
Video
Frequently asked questions