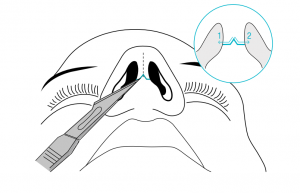 During a rhinoplasty at Carolina Facial Plastics in Charlotte, NC, there are a few main goals of the surgery:
1)  Create a nose that fits the face
2)  Improve or maintain your breathing
3)  Create a nose that will last a lifetime
The nose is composed of an underlying bony-cartilaginous framework and it is covered with tissue and skin.  The bottom part of the nose is cartilage while the top part is composed of bone. Overtime, the cartilage part of the nose can become weak and the nose can collapse many years after surgery.  This can cause nasal obstruction and/or poor aesthetic results.  For this reason, the nose has to be strengthened during surgery to prevent the collapse of the nose many years later.
What Is A Columella Strut?
One such graft that is important to prevent a nasal collapse is called the columellar strut.  During a rhinoplasty, a columella strut is created from cartilage that is harvested from the nasal septum, the ear, or in rare cases, the rib.  During the rhinoplasty, the lower lateral cartilages create the tip and nostril region.  If these cartilages are not supported, the tip may fall or droop overtime.  A drooping tip can be unattractive and make it difficult to breath.  A columella strut is placed between the lower lateral cartilages to support and strengthen them.  This provides a strong foundation to the nose and will prevent a complication many years after surgery.
A columellar strut can also be used to straighten a deviated nasal tip.  If the tip is deviated because the lower lateral cartilages are buckled or asymmetric, the columellar strut can be used to straighten and improve their symmetry.
Dr. Kulbersh uses a columella strut in approximately 90% of his rhinoplasty cases.  While this procedure may increase the time of surgery, we believe that it is worth it to create a nose that will last a lifetime. To learn more about rhinoplasty, visit medlineplus.gov
Schedule Your Rhinoplasty Consultation in Charlotte, NC Today
If you'd like to learn more about how board certified head and neck surgeon Dr. Kulbersh can help you achieve an ideal nasal appearance, we encourage you to contact our medical practice today to schedule your consultation by calling (704) 842-3644. During your first appointment with expert rhinoplasty surgeon Dr. Kulbersh, your every question will be answered and a unique plan of treatment will be developed.