Wondering what the secret to full, plump cheeks is? Look no further than cheek fillers. With age or weight loss, the cheeks naturally lose volume and can look sunken or hollow. Injectable cheek fillers offer a non-surgical solution to this common cosmetic concern.
What is cheek filler?
Cheek fillers are dermal fillers that target the midface to restore volume, lift the cheeks, and correct slight hollowness or sagging due to weight loss or age. They typically consist of hyaluronic acid, a substance naturally found in the body that helps retain moisture and add volume. Dermal fillers for cheeks are an excellent option for those who want to achieve a youthful, plump appearance without undergoing surgery or more extensive procedures.
What problems can cheek filler address?
Cheek fillers can address various cosmetic concerns. With their versatility and quick recovery time, fillers have become popular for those seeking a non-invasive way to refresh their appearance and target the following concerns:
Age-Related Volume Loss
The face naturally loses volume as we age due to decreased collagen and elastin production. Collagen and elastin are proteins that maintain the elasticity and firmness of the skin. Collagen is key for volume, and elastin helps the skin to bounce back into place after being stretched or pulled during facial movements. As we age, collagen and elastin fibers decrease, resulting in wrinkles and sagging skin.
Reduced collagen and elastin can result in flat, sunken cheeks that make us look older and more tired. Loss of volume in the midface can even prompt the early development of jowls along the jawline. Cheek fillers are an effective treatment option for addressing age-related volume loss in the face. By restoring volume and lift to the cheeks with hyaluronic acid, cheekbone filler can help to reverse the signs of aging, firm the skin throughout the lower face, and create a more youthful, refreshed appearance.
Asymmetrical, Undefined Cheeks
Sometimes age is not the cause of the cosmetic issue. Asymmetry and undefined cheeks are common concerns that can be addressed with cheek fillers. Precision injections by a skilled injector can add volume in critical areas to define the cheeks or make the face appear more balanced. A custom treatment plan will ensure your unique goals and needs are met.
What problems CAN'T cheek filler address?
While cheek fillers can effectively restore volume and define the cheeks, they cannot treat severe hollowing or significant skin sagging. In these situations, a surgical procedure like a facelift or chin augmentation may be necessary to address the underlying structural concerns. It is essential to consult with a board-certified facial plastic surgeon to determine the best treatment plan for you.
Which type of fillers is best for cheek injections?
There are many fillers available for different facial concerns, but not every dermal filler is suitable for cheek injections. Restylane is a hyaluronic acid-based (HA) line of dermal fillers commonly used for cheek enhancement. It is a versatile and highly customizable filler family that can be tailored to meet your individual needs and aesthetic goals. Restylane fillers for cheeks include:
Restylane® Contour: A filler designed for cheek augmentation and midface contouring. It can restore volume and sculpt the face for a balanced appearance.
Restylane® Lyft: This filler targets mild sagging skin and definition loss.
Other dermal fillers for cheeks include:
Juvederm® Voluma: This HA dermal filler adds facial volume and reduces signs of aging.
RHA® Fillers: These fillers are designed to work with our facial movements, resulting in a more natural look. They are the only FDA-approved dermal filler for dynamic wrinkles.
Sculptra®: This injectable treatment is made of poly-L-lactic acid to stimulate collagen production and improve volume loss and skin laxity. While it is not technically a dermal filler, it is an injectable procedure specifically designed to restore volume to targeted areas.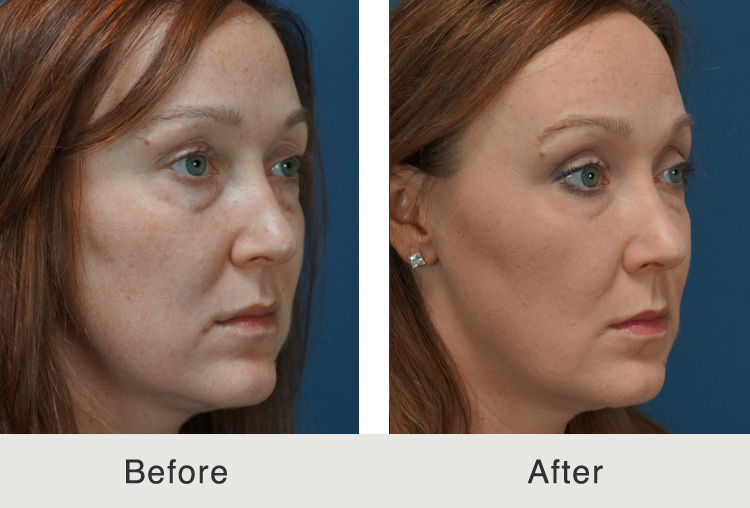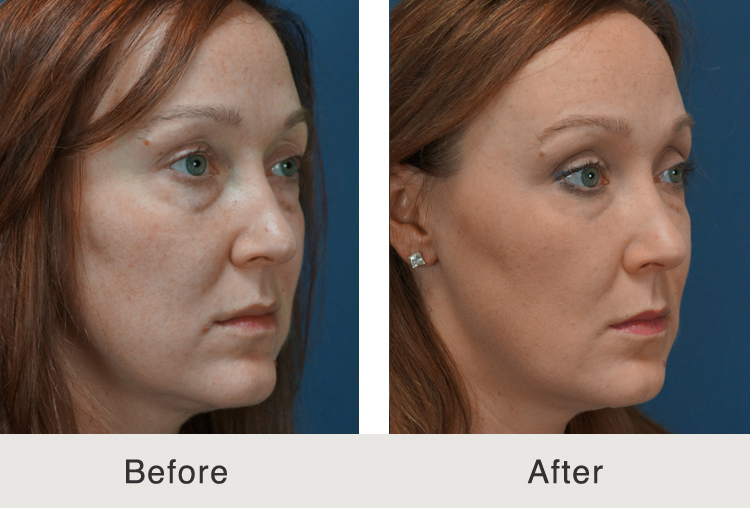 How much do cheek fillers cost in Charlotte, NC?
Typically, the cost of cheek filler can range from $600 to $2500 per treatment session. The cost varies considerably based on the specific product and quantity needed. It is essential to discuss the cost of treatment with your board-certified plastic surgeon during your initial consultation to ensure that it fits within your budget and that you understand all of the factors contributing to the procedure's overall cost.
How long do cheek fillers last?
While individual experiences may vary, most patients can expect their cheekbone filler treatment to last between 6-18 months. Restylane Contour lasts around 6-12 months, Restylane Lyft results continue for about 9-15 months, Juvederm Voluma continues for 10-24 months, and Sculptura lasts up to two years. Factors such as the product used, the amount of filler injected, and the severity of concerns can affect the longevity of the results.
Are there any risks and side effects for cheek fillers?
Cheek fillers are generally considered safe, but there are some risks and potential side effects to be aware of, such as:
Mild swelling at the injection site
Redness
Tenderness
Bruising
When side effects do occur, they typically only last for a day or two. Most patients return to regular activities immediately following their procedure.
Schedule your cheek filler consultation in Charlotte, NC
You can achieve your cheek filler goals at Carolina Facial Plastics, an accredited surgery center. I am a double board-certified facial plastic surgeon with a team of expert injection specialists who are highly trained and experienced in dermal fillers. Our expert team includes Heather Bryant, MPAS, PA-C, Amanda Piligian, PA-C, and Courtney Whitley, FNP-C,
Contact us to schedule a consultation and learn more about cheek fillers or book your appointment online today.